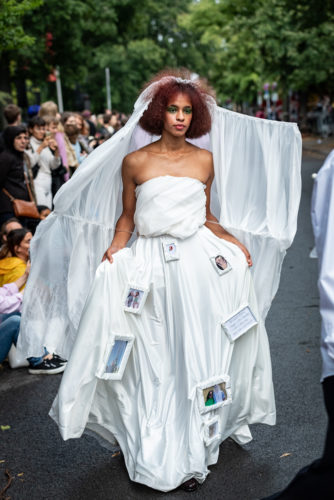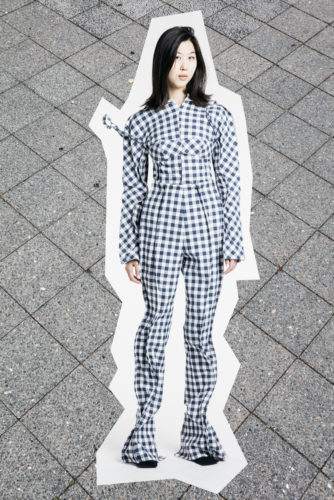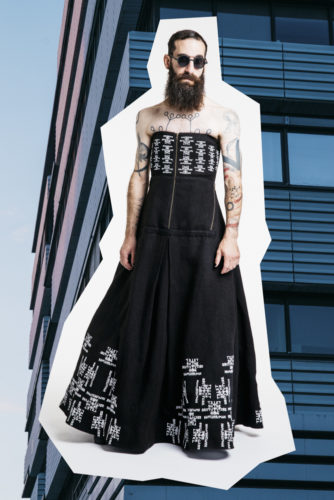 Dear Shaded Viewers in Diane,
On a rainy evening last month in Berlin, I sat outside the Universität der Künste, admiring the models from their graduate fashion show who braved through the showers for our viewing pleasure on Straße des 17. Juni. Later Lars Paschke, Assistant Professor at the UdK's Institute of Experimental Fashion and Textile Design, asked me and fellow attendee Zuzanna Czebatul, a Berlin-based Polish sculptor and artist, about our first impressions.
L.P.: Silvia, you have been coming to the UdK's fashion shows for many years. Zuzanna, this was your first show instead. This year it took place in front of the institute's building, on the street where usually cars are parked, it was raining and the guests sat in truck trailers. What were your impressions on the overall atmosphere of SCHAU19?
S.B.: I think I preferred it this way. Maybe in previous years we had the chance to see the students' work more closely, but there's something to be said about being in front of the building where these works have come from, where the students have grown over the semesters and developed their style. I didn't mind the rain at all, fashion needs to pass the test of getting wet, and here it did.
Z.C.: I was pleasantly surprised by how the presentation matched the collections: the trucks resembled the commodity character in some of them in a gloomy way, as if the audience had been transported to the site to look in and decide what might later be loaded back on the trucks. It had a hue of a political awareness, which I saw mirrored in many of the garments. Silvia you're right: out of school, on the street walk, into the LKW.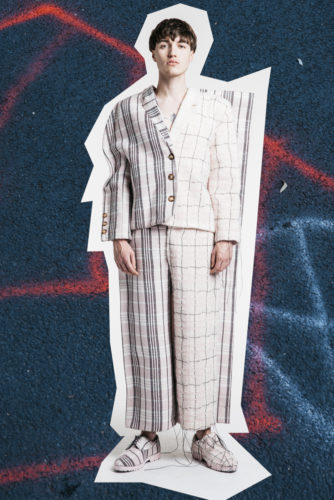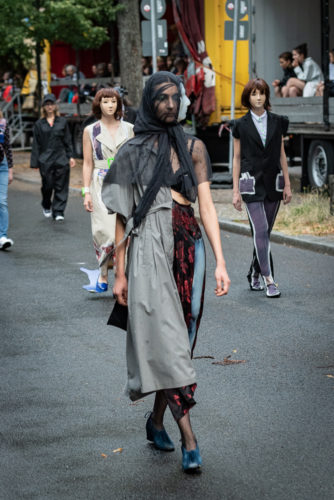 L.P.: I had a similar impression when watching the show. What was your opinion regarding the designs? Was there something you found particular about the UdK's SCHAU19?
Z.C.: For me there was this Mad Max feeling about them, a dystopian collage of fabrics and ideas: from a working-class cleaning team to the techno samurai, to the slogan 'let the future be human' that sounded like a cry-out for an industry which is so conflicted in so many ways: it's great to see how the students deal with some of these problems.
S.B.: I find it always difficult, or not quite difficult but maybe as if I'm trying to force a common ground where there isn't any, to try and read into a graduate show a common theme. Because, what's great about graduate shows, is that unlike more established designers, who might one season be inspired by something or other, graduate collections are always deeply personal: you see childhood, family history, cultural background. And inevitably, present concerns seep into this as well, and inevitably they influence the audience's interpretation of the works they're seeing too. So for instance, what Zuzanna said about the politics of the show – when I looked at Paula Keilholz' trailing tents, I thoughts about the refugee crisis, when I saw Vi Nghiem Tuong's apples and oranges encased in jewellery, I thought of food scarcity and globalised resources… but I'm not sure how comfortable I am to presume this was in their intentions. Maybe it is fine to propose it purely as a point of view.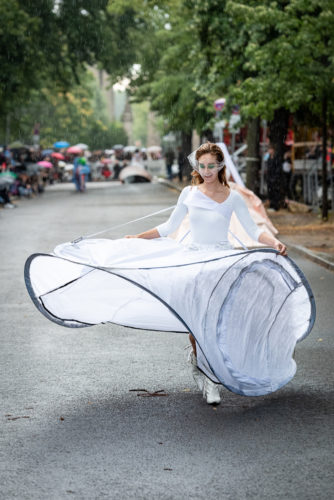 L.P.: I too recognise the political undertone which you Zuzanna talk about, which was more present here than in other shows I have seen recently. I understand your point of view too though Silvia on why it might best not to put an extra narrative on top of so many personally motivated works. Were there any works in particular however, that stood out for you? And why?
Z.C.: I liked the women's collection with the draped men's shirts, which had this Rococo feel of fluffy blouses, but for women. The historic references there where combined with these silicone poured laces, which looked very unusual but worked perfectly – and for me that was a new take on latex and rubber stuff.
S.B.: I agree about the silicone swirls. That aside, the ones I mentioned above where probably those that resonated with me personally the most, though Kai Gerhardt's 'let the future be human' collection too looked very sharp, it showed great confidence for a recent (or soon to be?) graduate.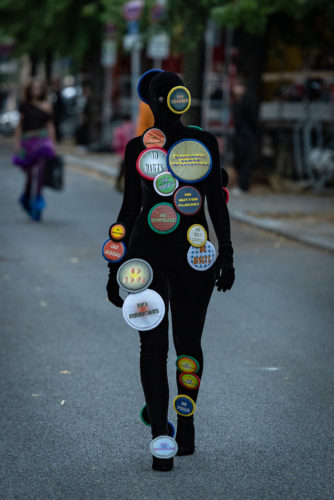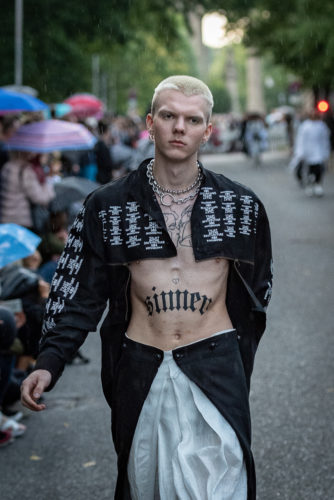 L.P.: Now for a more personal question, Zuzanna, you are an artist and Silvia, you write about fashion often as a cultural phenomenon. How would you each describe your personal relation to fashion or fashion design?
Z.C.: My personal relation to it is a bit schizophrenic: on one hand I see it as the epitome of formerly western, capitalist consumerism, and as a battle field for social classes. And on the other hand, as a source of fun and inspiration. As a sculptor I value the endlessness of shapes, colours and textures, as much as I question the function of it in relation to capitalistic self-fulfilment.
S.B.: I'd describe my relationship with fashion as troubled! It's tough to reconcile fashion with my political views, as Lars I'm sure you're aware. But I must try, first because fashion can be awesome. And also, because I like to think that anti-capitalist potential best resides there where capitalism appears, as Zuzanna rightfully says, to be at its strongest. Fashion as a subcultural medium – as in Berlin you must be well familiar with – fashion as a form of protest, as community, as tradition, as a feminist tool. Our desire for it itself might even become liberating. It is too wide an industry and cultural field to narrow down to a simple feeling, so 'troubled' will have to do it.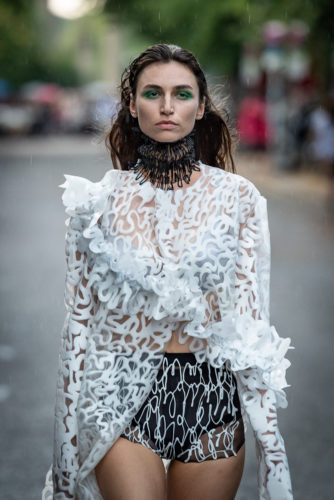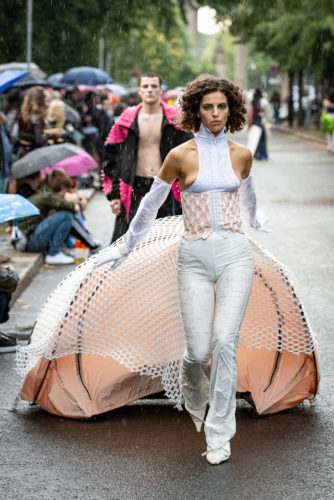 L.P.: Ok thank you to you both – and one last question I have is: what would be your advice to a student today?
Z.C.: Trust your intuition, don't forget the craft, and go to every party!
S.B.: I'd advise them to push a bit further whatever they think is the furthest they've pushed. Not to adopt a style too soon, not to feel like they ought to be consistent. Those are worries for later. In school they should experiment, and their signature will come out on its own. I'd advise them to question everything they like, everything they wear, and why they desire to work in the field. I'd advise them to read a lot, to learn a lot, and to let their true interests come through, so that work won't become a burden and they'll never get tired of it.
Z.C.: Silvia, one last thing. We talked so far about the contents of the show or of student works in general, I'd love to hear your thoughts on the technical or formal aspects. When you look at the show of the art department, which takes place simultaneously, you see different states of 'finished' or well-produced works. I wonder how this works in the collections of fashion students: what role does it play if a great idea is badly executed, or if a suit perfectly tailored but boring as hell?
S.B.: It's hard to say without having seen them closely or looked at the details and touched them, but I was impressed by the wide variety of techniques, the wide range of materials the students' have tried their hand at. There was some beautiful knitwear there. And fabrics not necessarily the easiest to work with too. Bravery is worth applauding to, sometimes over something perfectly executed but too safe. Draping is always exciting to me as well, there's something about it that truly comes to life in motion.
Z.C.: I agree, knits were so fresh and light! A lot of collages of fabrics and even entire garments tucked together…
S.B.: This is another way how fashion is often too wide to judge. There's certainly something to be said about a perfectly tailored suit – it's the reason why the suit still is a staple, and virtually never changes. Fashion isn't art in that it needs to agree with the body that wears it, and in many occasions a good suit is said to make the man. But, for some collections the make matters less. You've got a concept, you've got a show, fashion can be preformative. Even though it's often best when it lasts, like the suit, fashion can be wonderful and ephemeral too.
L.P.: Thank you again for taking the time for this interview.
S.B.: Sure, thank you Lars and Zuzanna this was fun.
Z.C.: Thank you Lars for inviting us, and yes Silvia, I feel that I learnt a lot here!