( Left : Robin Tallendier, Right : Wilfried Buiron, co-founders of Atelier Wen)
Dear Shaded Viewers,
If in the past China felt somewhat absent from the  international fashion conversation, that nolonger holds true, now this country has become the inspiration of many designers and fashion entrepreneurs, for instance: Wilfried Buiron and Robin Tallendier, two young Frenchmen who set up a lifestyle brand, Atelier Wen, celebrating both Chinese culture and products Made in China.
Buiron was born and raised in Hong Kong until he was six and  has always felt attached to the Chinese culture. He started learning Chinese when he was in middle school and now he speaks Chinese fluently.
"My parents have lived in China for many years, we moved back to France when I was six years old. However, the interior decoration of our house is still China-inspired. I can not understand why Chinese products are still being underestimated by many westerners since both Chinese people and foreigners have difficulty separating their daily lives from things that are made in China." Buiron says.
Being an entrepreneur has always been his dream. With his affection for the Chinese culture, Buiron came up with the idea of creating a lifestyle brand committed to promoting Chinese culture. Buiron went to the University of Warwick to study international management that is where he encountered his classmate and now business partner Robin Tallendier, a watch collector, who has been obsessed with watches since he was a teenager.
On his 14th birthday, Tallendier received a gift, a China-Made Seagull chronograph from his parents and this is where the whole story began. He said, "since then, I started browsing all kinds of information related to watches everyday. At that time, few people paid attention to Chinese brands but I have learned from an early age that Chinese watchmaking is not inferior to that of the Swiss, German or Japanese. In 2014, during his summer vacation in China, he ran into Canadian watch collector Mr. Ron Good, who also showed a great love for Chinese watches. He then presented Liwei to Tallendier, an expert from the China Horologe Association, who is dedicated to placing Chinese watches into the foreign market.
Mr. Liwei has become Tallendier's mentor and a good friend. "He took me to visit many major watch manufacturing factories in China and this precious experience gave me an insight into this country." Tallendier says.
Neither Buiron or Tallendier had ever thought that one day they could become business partners until  they both participated in a one-year exchange program  at Peking University in 2015. At that time, Tallendier has already become the youngest foreign member of the CHA.  Buiron shared his entrepreneurial dream with him. Two years later, the duo founded Atelier Wen, focusing on promoting the products "Made in China" as well as Chinese culture. They then decided to start with watches  since it is the field that both of them are familiar with.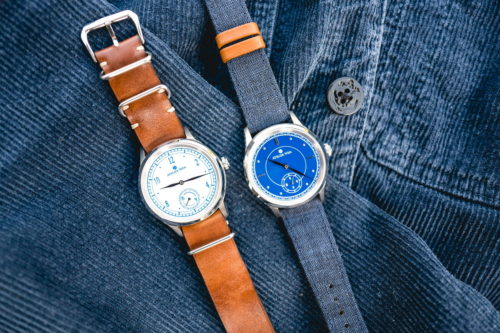 The word "Atelier" means "studio" in French and "Wen" means "Culture" in Chinese. "When it comes to Modern Chinese style, the first thing that occurs to our mind is street or sportswear. However, we would like to focus on premium products because it can reflect the exquisite side of Chinese culture and manufacturing. Trends are necessary, but that is not enough. Modern Chinese style should also be based on its historical and cultural heritage and it is something we want to explore." Buiron says.
Cooperating with two young designers Li Mingliang and Liu Yuguan from the Beijing Institute of Fashion Technology, the very first series of Atelier Wen, Porcelain Odyssey, was born in 2018, which includes two watches made of porcelain in order to pay tribute to China's ceramic manufacturing technology. Each model is named after a single Chinese character. The blue dial watch is named Ji(霁). Its colour was said to look like that of the sky after a storm and was only used in porcelain of the highest quality. The white model is named Hao(皓), which denotes a white that is resplendent and without blemish.
Balance is often the key defining aspect of Chinese theme.The watches are NOT a superficial appropriation of dated code but a representation of ancient China imagery in a modern way. The most interesting aspect of Ji is definitely the sub-dial. It is composed of different Chinese symbols and characters, which come from an ancient Chinese concept called Bagua that offers a structure through which to interpret reality and is used throughout numerous fields ranging from Taoism to astronomy. Here, each symbol represents a direction and each character a cardinal point. These directions reflect the sun's position in the sky: it rises in the East, reaches its zenith up in the sky and eventually fades away towards the West, disappearing into the ground.
Hao's design is inspired by traditional Chinese Qinghua ceramics(青花瓷) in Yuan Dynasty. What makes it special is the heat-blued hands. They are difficult to produce and normally their cost is around 15 times than that of regular hands.
Rather than an exhibition case-back, Kunpeng, an animal from Chinese mythology, often used as an allegory of Yin and Yang, is engraved on the case-back of each watch.
The mechanical movements of the two watches were made by Peacock, a watch manufacturer based in Dandong, Liaoning Province in China, which is one of the top in the industry.
Tallendier says, "Fashion is about thinking and moving forward. While some others hide the fact that their products are actually manufactured in China, we truly bring "Made in China" from behind-the-scenes to the front stage."
Buiron and Tallendier hope that people from different countries can feel the beauty of Chinese culture." In addition to watches, we will develop other items such as accessories and clothes. We hope to bring more surprises to our audiences and light up their passion for Chinese culture. Also, we would like to cooperate with more young Chinese designers who have a voice and who can represent the country."
The watches can be ordered directly : https://www.indiegogo.com/projects/atelier-wen-watches-porcelain-dials-chinese-soul#/
For more details, please go to the official website of Atelier Wen : http://atelierwen.com/
Later,
Runzhou