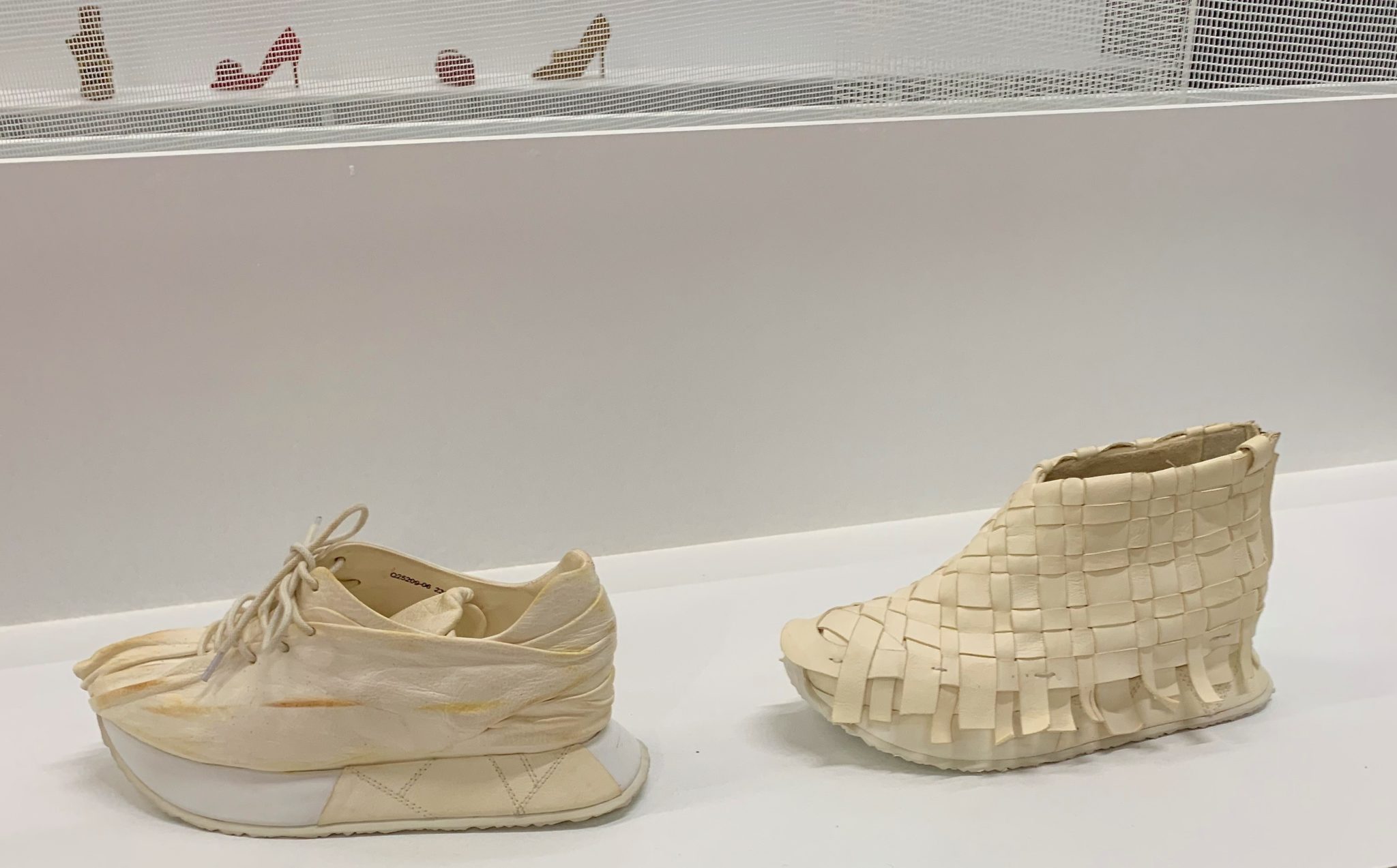 Dear Shaded Viewers,
I was recently invited by the Italian Trade Commission to attend MICAM, a twice-yearly trade show held in Milan devoted to shoes—over 2,000 footwear collections stretched out across four cavernous halls. MICAM is considered the most important international exposition devoted to shoes.
After winding my way through the hundreds of stalls showcasing both Italian and international brands—designs ranging from handsome to coquettish to outright garish—I finally made it to the back of Hall 4 to check out the Emerging Designers showcase.
Twelve international designers were chosen by a panel of fashion and communication experts, such as stylist Francesco Casarotto and Massimo Bonini CEO Sabrina Scarpellini, presided over by designer Ernesto Esposito.
"Of all the various items in our wardrobe, shoes are the the most revealing of trendiness and they have a lot of clout: They can make an outfit appear either banal or cool," remarked Casarotto. "It is the object that defines and describes the person wearing it, reflects their personality and distinguishes them from all the rest."
Based in Guangzhou, King Ping is China's first made-to-measure unisex footwear brand. Creative director Wang Ping works between Europe and China, leveraging his in-depth knowledge of design, art, mechanics, ergonomics and shoe-making technology.
The Spring/Summer collection he showed at MICAM was clearly geared toward both China's nouveau-riche and deep-pocketed international trendsetters, with prices ranging from $3,000 to over $6,000 USD per pair.
Wang Ping's charming wife was on-site to represent the brand—I love her style!
From King Ping's Pyramid line, an Iceberg Sneaker with pony hair.
"The Chaos all comes together" from King Ping's The Road Trip Sneaker line.
A signature piece from the new line, the rubber outsole Pure White Wing sneaker boot will set you back $6,298.
Seven All Around is a New York City-based brand by Korean designer Heesung Choi. The new designs she showed at MICAM are made from 100% recycled filament yarn constructed from post-consumer material.
The brand also produces stylish shoes made from traditional Italian leather, and as I am a fan of both leather and recycled materials, I don't like to elevate so-called eco-friendly materials as a way to demonize the leather industry—and I think it's important for consumers to educate themselves about issues regarding certain recycled materials.
Seven All Around's founder Heesung Choi started her career at Rag & Bone and was also the head of design at Public School. Originally from Seoul and based in New York, Choi always considers the demands of city living when designing each piece in the line. "We believe that comfort and style can be synonymous," she says. "When you find pieces that embody both, you wear them seven days a week, morning to night."
The Emerging Designers panel members were wise to choose designs that weren't just fashionably politically correct—and it was a relief to see a touch of mink amongst the "ethically responsible." France-based designer Marie Weber employed dyed-mink accents on her supple leather designs that were also punctuated by colorful leather piping.
Marie Weber grew up in Munich before moving to Alsace with her family at age ten. She recently learned that her great-great grandfather Martin Weber was a shoemaker in Soultzmatt, a commune in the Haut-Rhin department in Grand Est, in north-eastern France.
She graduated with a license in product design at the École supérieure de design de Troyes before studying in Polimoda, Italy, where she earned a masters in shoe design. Originally from a theoretical background, it was in Italy that Marie became passionate about craftsmanship: "I discovered I was able to use my hands."
It warmed the cockles of my heart to see this gesture of stealth luxe from Marie Weber: dyed mink lining for the wearer to enjoy privately. That is true luxury. (It's why I always loved, but could never afford, those denim jackets lined in mink.)
I was over the moon for Ballūta's flashy-chic designs. Catarina Pedroso designs and produces the shoes in Portugal, and her big idea—crafting shoes from eco-friendly faux-leather—was inspired by her childhood. Catarina grew up in a family of bullfighters and decided one day that she would stand up for the rights of the animals she so strongly wanted to defend. As an adult, she shopped for "vegan shoes" but couldn't find any she liked. The light-bulb moment: "Why don't I design them myself?"
I dislike the term "vegan leather" because it reeks of greenwashing—and indeed, much so-called eco-friendly "vegan leather" is made from polyurethane, which is produced with highly toxic solvents that go back into the environment, quite the opposite of eco-friendly. This type of "vegan leather" also does not biodegrade and cannot be recycled.
Thankfully, Ballūta does not make their shoes from this common type of "vegan leather."
"Made in Spain with no solvents, our microfiber is crafted from recycled polyamide which looks and feels exactly like, or arguably better than, leather," states the brand on their website. "Shiny vegan leathers have been quite infamous for years as their main ingredient is Polyvinyl Chloride, the most toxic and hazardous plastic still commonly used today even though its entire life cycle is toxic, leaching lead, cadmium, dioxins, phthalates and mercury into the environment.
We are proud to have found an alternative for the beautiful smooth and crisp patent leather finish without nasty PVC.
The lining of some of our shoes is made from a microfibre made in Italy, recognised by its outstanding antibacterial performance. Extremely soft and breathable, it is the only material that passed our test when it comes to keeping the feet fresh and clean all day long!
Our continuous search for well-performing materials that are also kind on the environment, lead us to recently discover a new lining made from cereal seeds and renewable PU sources produced with zero carbon dioxide emissions. We are thrilled to already be using this material in our new designs!"
Ballūta
Is non-binary, trans, queer footwear a trend or the future? Raphaële Lenseigne, founder of the Antwerp-based brand Adult, plays with "gender and appearance codes, using them and breaking them, proposing with Adult a universe where dressing up becomes playful disguise. Supporting people's freedom to dispose of their appearance (and feet) as they please, Adult produces every design in size range 36-46EU, thus allowing customers to choose for themselves if the shoe fits. Because size does not always matter."
As a former drag queen with big feet (US 12, or EU 45/46), I can only applaud this effort. In my day (cue sepia-toned newsreels), we bought our big-size lady shoes at Lee's Mardi Gras, a clandestine boutique in NYC's meatpacking district that catered to drag performers, cross-dressers, transsexual prostitutes and other denizens of that era's demimonde. (Sorry to use such out-of-fashion labels, but the term "transgender" didn't really exist in those days).
Lee's was accessed via a nondescript elevator that faced the street which whisked you up to a 2nd-floor loft bursting with boas, wigs, makeup and the aforementioned boat-sized shoes. Lee's, ahem, titular proprietor was a frumpy, wisecracking delight. Before I was to perform at Hallwalls, a contemporary art center in blizzardy Buffalo, I said to Lee, "I would love a pair of black velvet opera-length gloves." She snorted back, "And people in Hell want ice water!"
A graduate from the Royal Academy of Fine Arts Antwerp, Adult's Raphaële Lenseigne produces shoes that are entirely handcrafted from carefully selected materials.
Adult
Andrea Mondin, winner of the 2017 Accessories prize at Who's On Next?, the competition staged at AltaRoma in collaboration with Italian Vogue, brought the glamour to MICAM's Emerging Designers showcase. Mondin hails from Treviso and his ultra-feminine designs bear the proud mark of Made in Italy.
Mondin completed a European Fashion Course in Pordenone, which granted him an internship in the style department of Roberto Cavalli in Florence. After this experience he moved to Milan where he attended the Istituto Europeo di Design. When he completed the courses, he was contacted by Dolce & Gabbana, where he gained experience in the shoes and accessories field, working as a designer for the D&G brand. After three years with them, during which he was employed as a designer and worked very closed to the productive process with the different professional figures, he was contacted by Gianni Versace.
He became the designer of the Versace women's shoes collection and then of the Versus accessories. The collaborations, first with Christopher Kane and then with Anthony Vaccarello for Versus Versace, marked very important phases in his working experience. With the Fall Winter 2016/2017 Ida Collection, he launches his first luxury shoes collection and creates his own brand. For Andrea, the most important thing is to create his shoes following the Italian handmade tradition and the technical process including the cut and the drapery. These key values give Andrea the power to enhanced femininity by looking at the world of haute couture.
Andrea Mondin
Andrea Mondin
Maison Ernest is not exactly an emerging brand—they've been around since 1904, located just a garter belt's throw from the Moulin Rouge in Paris—but the brand's recently appointed creative director, Isabelle Bordji, has brought a fresh perspective to this well-established house. The shoes are designed in France and handmade in Italy.
Maison Ernest
I thought these styles were especially sexy….there's something erotic about zippers and a slim silhouette.
Thanks for reading.
Later,
Glenn Belverio