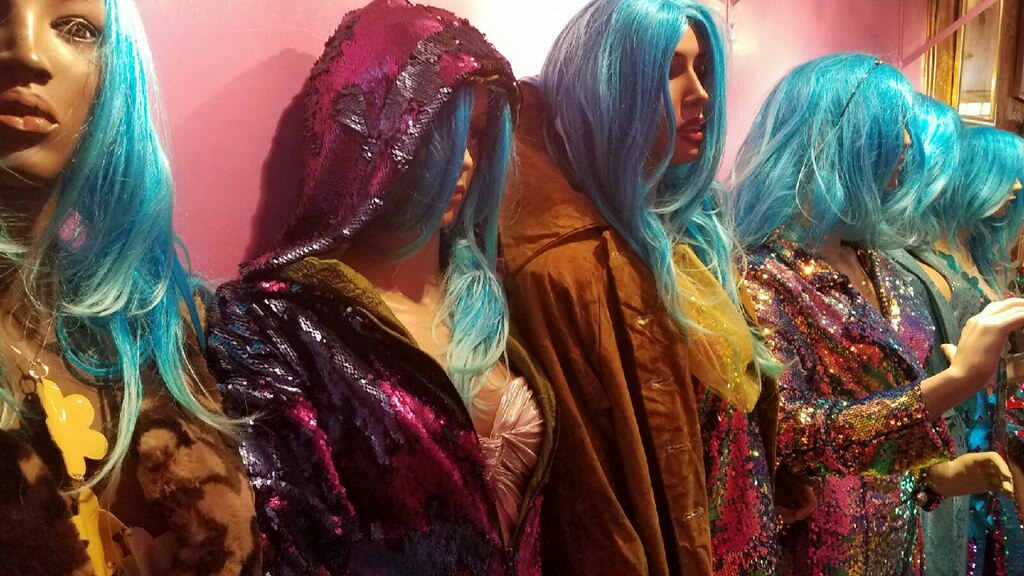 Photo: Deirdre Read

Designers Ela Erdoğan and Nile Cmylo. Photo: Drew Gardner

NYC fashion icon Lauren Ezersky. Photo: Drew Gardner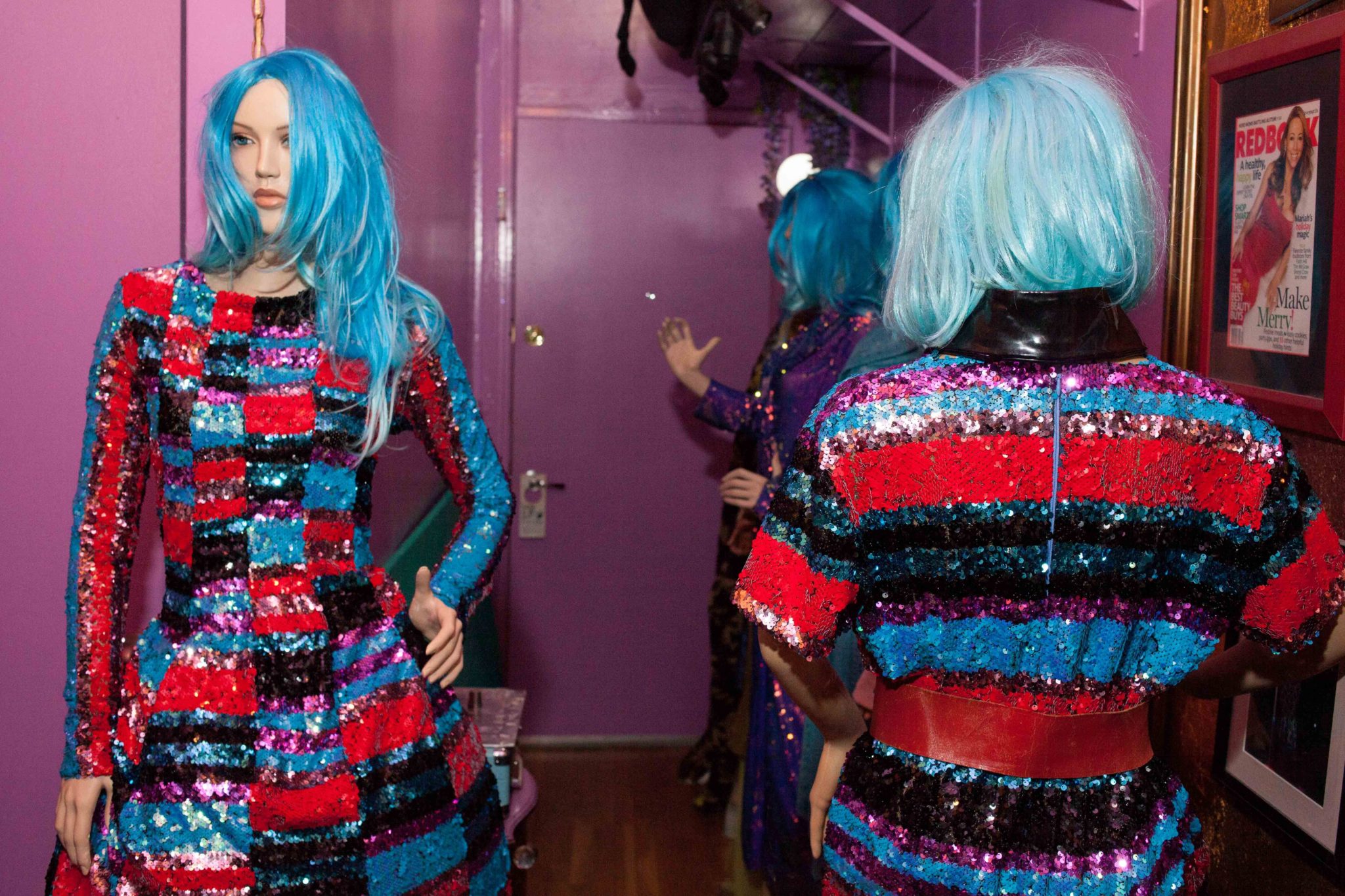 Photo: Drew Gardner
Dear Shaded Viewers,
Last Thursday, designer and Chelsea girl Nile Cmylo invited me, my MoMA colleagues and a few intimates for a private viewing of her new capsule collection, "Moon Over Dystopia," before she opened her salon the next day to press and assorted VIPs. I was grateful for this exclusive preview as I had to jet off to Milan the next day, to attend MICAM.

Photo: Deirdre Read
On my third day in Milan (this morning, in fact), a telegram arrived at my hotel—Nile had thoughtfully sent her full explanation of this latest edition of her ongoing MERMAIDPUNK™ project:
"In astrology, the moon represents the mother. The heart of this capsule collection is inspired by the moon; the soul is through the lens of glamorized nostalgia brought on by the harsh realities of the current Dystopian Administration," the telegram began.
"Sequins are a great way to capture the moonlight. I found a classic polo stripe of sequins on tulle. To not let the stripe overwhelm my design, I used it three ways. A classic late '60s polo horizontal stripe style dress is through the looking glass with black patent," explains Nile.
"The fabric is then turned vertically and the 1968 type bell bottoms virtually made themselves. Topped with a turquoise leather flower powered vest, the beat goes on. The acid trip quality of cable news put me in a mood to disrupt the fabric reflecting psychedelia: 'Go Ask Alice' is draped over crinolines. An aqua iridescent leather mermaid trench with 1968 lapels is spy-proof."

Photo: Deirdre Read
"Heliotrope sequins reflect purples and blues in the slinky trench on tulle, which moves and flows color changes like a mood ring. Is it too pretentious to have made a raincoat by over-dying a painter's drop cloth army green? What if you add army green rhinestone buttons? A hooded parka of navy/purple mermaid sequins is surprisingly warm. The army green dyed lining provides continuity as well as the patterns made by the mermaid sequins. Swinging this all home is a camouflage faux fur coat for chic warmth in the polar vortex."
(The following photos are by Drew Gardner)

Writer Katie Degentesh.

Yours truly surveying Nile's "lizard"-embossed leather trench….very directional for lounge lizards such as myself.

The fabulous Alenia enjoying her trip to the Chelsea.

Josh Casey of MoMA Design Store did a Warhol Factory-like screen test under Drew's direction.

Lauren regaled us with tales from her recent two-week excursion across Morocco, where she snagged these show-stopping earrings.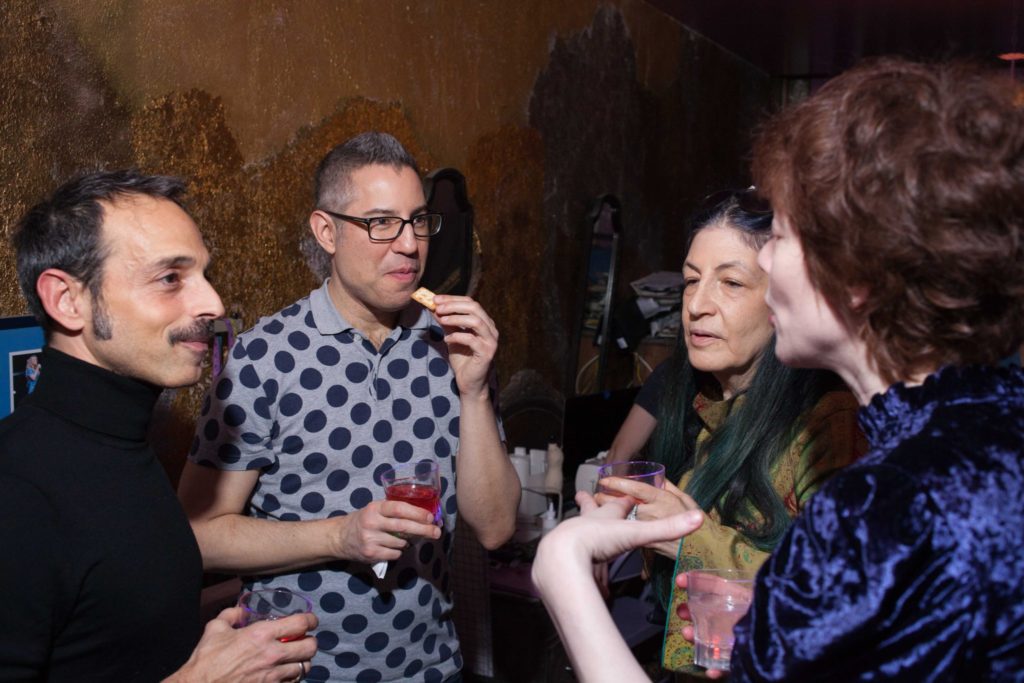 My pal Rinaldo Rocco, the Rome-based Italian screenwriter, was in town before jetting off for a writing sabbatical in a tree house hotel in the jungles of Nicaragua.

Katie was very excited to see Rinaldo!

Alenia & Cathy Citarella of MoMA Design Store with Lauren.
Nile's cat Jezebel is named after a rumored former resident of this room: Bette Davis.

Photo: Deirdre Read
"'Go Ask Alice' is draped over crinolines. An aqua iridescent leather mermaid trench with 1968 lapels is spy-proof." —Nile Cmylo
Nile is a glamorous punk-rock fashion sorceress. Photo: Deirdre Read
Thanks for reading.
Love,
Glenn Belverio