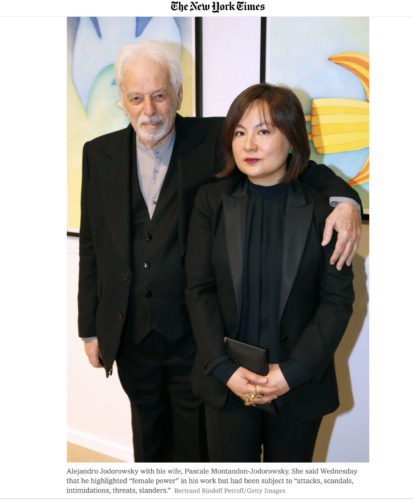 Dear Shaded Viewers,
I was so saddened to hear of the cancellation of the 50 year retrospective at El Museo del Barrio. I think it would be good if you read what Alejandro's wifePascale Montandon-Jodorowsky has to say about this ordeal.
"The man I married, Alejandro Jodorowsky, is the artist I admire the most for his integrity, his honesty, his courage, and for never selling out either to the rules of the market or to advertisement.
In this world of hyper-communication, where successes are made and unmade, where one is made into a god as quickly as one is executed, scandal has often little to do with truth.
An artist's life is long, especially for those who hold their way and stay straight as Alejandro has done. Becoming a cult artist has led him to confront attacks, scandals, intimidations, threats, slanders, all the while staying on track with his oeuvre.
Every will to destroy is unscrupulous, up to the point of inventing fake statements, fake tweets. This sometimes happens, and Alejandro confronts it.
Most often he prefers to stay silent in order not to feed infamous polemics and focus on the making of his oeuvre, which will remain when everything else will be gone.
Keeping one's dignity does not prevent from being upset. I am upset.
A retrospective of all of Alejandro Jodorowsky's oeuvre, prolific and generations-defining for artists, was set to take place in New York at the El Museo del Barrio. The museum and its director Patrick Charpenel have just announced the cancellation of this event, less than a month prior to its inauguration, because of their fear of scandalous rumors they have fed themselves by not stating the truth and by parting ways from the artist they were about to honor. The cancellation has happened, and articles spread on the cancellation of the exhibition, referencing the scandal they said they wanted to avoid. How useful has this decision been, taken out of cowardice or for other reasons unsaid…
The scandal is this absurd rumor according to which Alejandro would have raped the co-star alongside him in El Topo, this mythical film which will celebrate its fiftieth anniversary this year. To this slanderous accusation published on the Mexican blog CCNews less than two years ago, Alejandro responded in the form of an open letter on his Facebook account, detailing the conditions of filming, which made utterly impossible the rape of an actress in front of a crew of a hundred people who would have done nothing to prevent it… To think that the scene in the movie, which was not in fact a scene of rape, would have been real, would amount to thinking that every action filmed is true, including murder in an action movie or a bloody scene in a horror movie… It would amount to taking viewers for idiots, who would not make any difference between the simulation in an actor's performance and reality.
CCNews withdrew its article and released a public apology to its readers.
But this story, even though it was then set straight, left traces, like any scandalous story, even when the victim is finally acknowledged to be innocent.
This did not prevent journalists, thirsty of scandals, to spread the story without any consideration for truth. It did not prevent people on the internet to accuse Alejandro without any evidence, instead of worrying about whether the story was true or not.
The Telegraph published a piece on this topic detailing, once again, without any scruples, what they call "statements" from Alejandro who would have said at the time that he raped his actress… But is it possible to be gullible enough, not to stay stupid enough, to think that, if this had been the case, he would have stated it to the press without it ever being investigated?
Alejandro is a free man. His word is free, using metaphors, as in his art. But since when have words been actions?
It has happened to him to respond to the commentary of journalists with what they wanted to hear, with irony, and annoyance.
Words are not acts.
And Alejandro Jodorowsky never raped anyone.
Alejandro had decided to stay mute: his life is dedicated to the making of art, not to honors, nor to the feeding of polemics.
He stayed still in front of these accusations of machismo, even though he is one of the only artists who has depicted women, as much in his films as in his books, other than as objects of sexual seduction. He has highlighted their female power.
For the fifteen years we have been living together, I have seen him write every day to millions of followers on social networks, bringing together poetic and philosophical thoughts, reading the Tarot and giving his time for free without expecting anything in return… I have seen thousands of people state their gratitude because he helped them, young artists, famous and not famous, whom he had inspired, people. I know his good heart, his generosity, and his absolute sincerity.
I have united my destiny to the one of this loving, respectful, generous, and deeply good man. Never will I let anyone say the contrary, never will I let him be accused of being a man capable of rape, because I know who he is.
Trust consists in being able to give everything because we know that the other will not take anything away from us without our consent.
Alejandro does not take anything away from me, he gives me everything. He gives everything."
Pascale Montandon-Jodorowsky