Dear Shaded Viewers and Diane,
Ye Olde Cheshire Cheese is a sheltered London pub dating back to the 17th century, if it isn't older still. Dickens' Charles Darnay dined there in A Tale of Two Cities, and so did Hercule Poirot. On Sunday, some of us stepped out of London Fashion Week Men's official venue to gather at the pub instead, for a off-schedule, but packed, presentation of John Alexander Skelton's latest 'Collection VI'. Time-worn wooden interiors and candle light offered some welcome respite from the sleek and sheen we've grown accustomed to at menswear shows: the rubbers and nylons in which thoughts of the future, streetwear and sportswear routinely converge. Skelton's collections are better suited to dimly lit environments, his models thrive in the shadows like Rembrandt's characters. Indeed, up close as it needs to be seen, this designer's work has the texture of a canvas – grainy where others are glossy, it rewards the onlooker with the anticipation of friction. Patchworks of washed Welsh and Scottish wools, repurposed antique French grain sacks. Skelton had been looking into the sumptuary laws, that well into the 17th century in England, forbid the poor from wearing fine clothing, that is, from deception by way of dress. As a tribute to the conmen who nonetheless did, and like them, Skelton set out to turn the humblest of materials into high-court fashion. Those grain sacks became a voluminous coat, and worn waxed jackets were upcycled into slender tailoring. Performers wore them well with Stephen Jones' softly weathered wide-brimmed hats, as they walked down the pub's stair humming a tune, ogling and sniffling at the guests. The counterfeiters of yore, fashionable at last.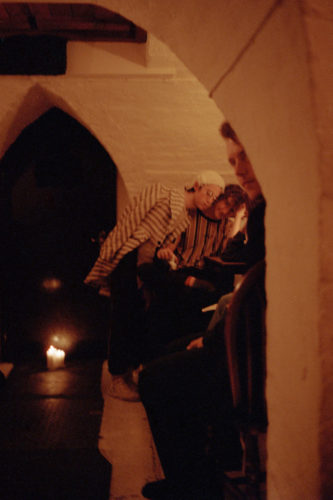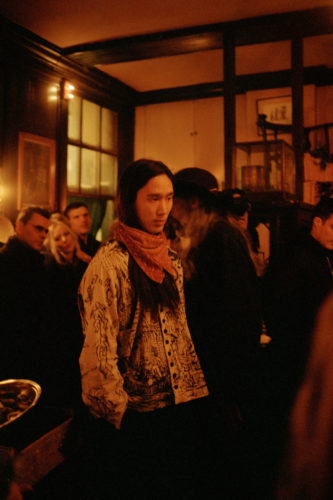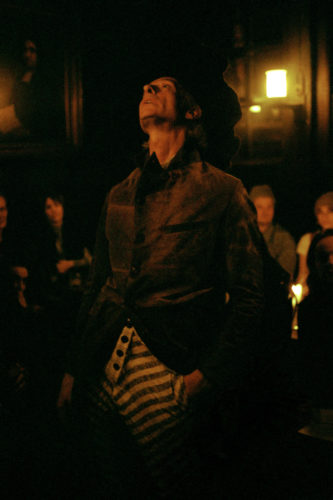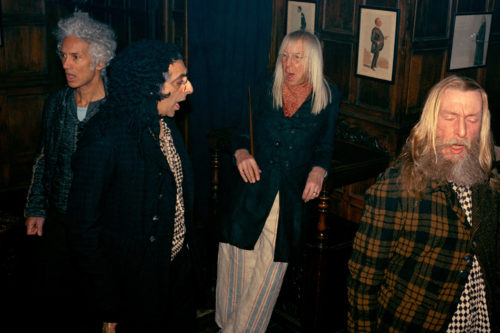 Photography by Oscar Foster-Kane.
Later,
Silvia