Dear Shaded Viewers,
What a driller-killer thrill it was to spend the night with crazy and charismatic director Abel Ferrara, a very New York night with the king of New York (even though he now lives in my second favorite city, Rome). Abel arrived at the Roxy Hotel with his young Moldavian wife, Christina, and their daughter. ("Met a chick, knocked her up, and now I'm stuck there," Abel put it with his signature bluntness during the Q&A, edited video posted above.)
My pal Kelly Cutrone, Abel's friend and former publicist, invited us for a private screening of Abel's new and very excellent documentary Piazza Vittorio, an intimate look at the residents who live around Rome's largest square. The neighborhood of the Piazza Vittorio Emanuele II, where Abel now lives, is home to immigrants from all over—Africa, the Middle East, China—making it a perfect locale for a dialogue about the often contentious issues raised over immigration in Europe. Abel does this in a most natural way, without letting dogma or preachiness get in the way.
We meet many residents of the area, including Romans with both bigoted and tolerant attitudes, and the misguided members of an Italian neo-Fascist squat (CasaPound), who seem to be foot soldiers for Italy's version of Trumpism, the Five Star Movement.
One of my favorite moments in the film is when a cheongsam-clad Chinese woman named Sonia, owner of the restaurant Hang Zhou, tells a very animated and rather hilarious story in Italian (she's lived in Rome for about 20 years) about being held up at gunpoint in her restaurant.
After mentioning Sonia via Facebook to my pals in Rome (I absolutely must dine at her restaurant the next time I'm there), I found out that she's a big star among my gay and fashion friends—and she's featured in the recent Gucci campaign. (I was heartened to hear her staunchly defend Chairman Mao in Abel's film. The walls of Hang Zhou resemble my Mao Room!)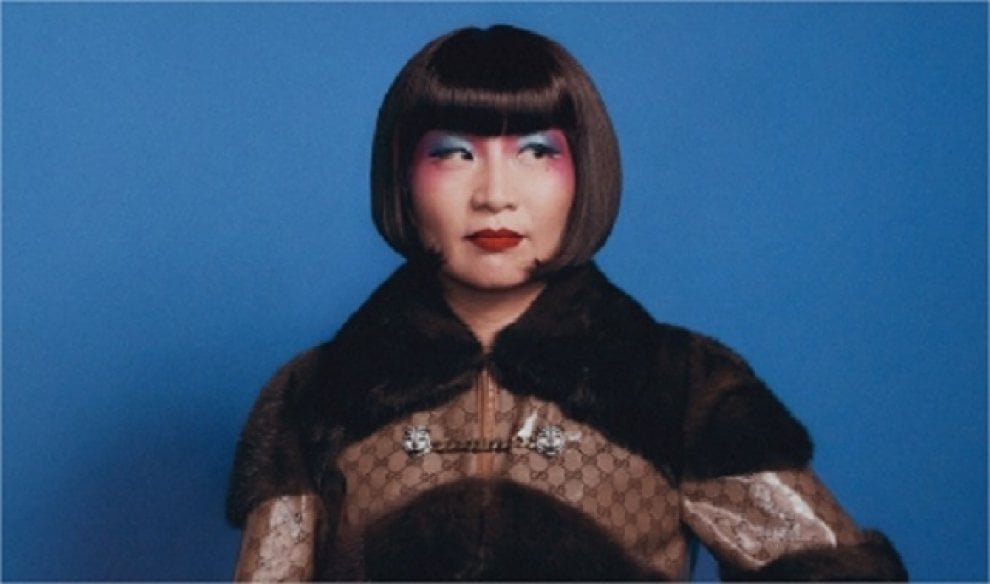 Abel's interviews are intercut with archival post-World War II news clips about the Piazza, from Luce Cinecittà, that show the area as no stranger to urban decay. Perhaps because I am spoiled by diversity here in NYC—especially in my particular corner of Alphabet City—I seldom find the time to visit the Piazza Vittorio during my twice-yearly trips to Rome. I do recall a rather phantasmagoric stroll through the area, in 2001, while on my way to an anarchist squat in San Lorenzo, accompanied by a Colombian Marxist whom I met at a gay sauna that is now owned by the Vatican—but that's a story for another time!
Even if my personal experience with Piazza Vittorio is lacking, I can recommend a rather excellent novel by the Algerian writer Amara Lakhous called Clash of Civilizations Over an Elevator in Piazza Vittorio, which I read about eight years ago.
The actor Willem Dafoe, the godfather of Abel's daughter, also lives by the Piazza Vittorio. He played Pier Paolo Pasolini in Abel's 2014 film Pasolini, a great choice because he really looks like Pasolini. He has a memorable scene in Piazza Vittorio:

Photo: Glenn Belverio
"Piazza Vittorio is a microcosm of a local community, spotlighting global displacement, xenophobia, culture, tradition, resiliency of the worker—big themes with such a loose but exact hand. Says a lot about a lot without pushing. Poetic…masterful." —Viva Ruiz, actress and activist

Photo: Glenn Belverio
Abel and one of my dates for the evening, designer Nile Cmylo. Nile worked with Abel about ten years ago on the film Chelsea on the Rocks, a documentary/docu-drama about the Chelsea Hotel, where Nile lives. She did the costumes.
My other date for the evening, Viva Ruiz, could not wait to meet Abel. She's a huge fan!
Just in time for Halloween, Nile was serving us Morticia, one of her own creations.
Thanks for reading.
xxx
Glenn