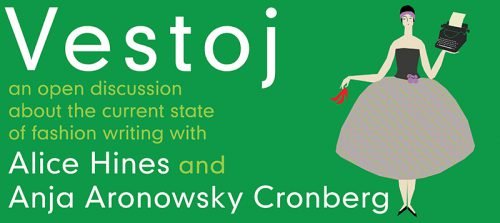 On the evening of Sunday, August 27th McNally Jackson held a fashion forum in the basement level of New York's darling bookstore. Among the children's illustrations, self-help and religious subjected titles was a fashion scene. Editors and fellow makers gathered as Vestoj's Founder and Editor-in-Chief Anja Aronowsky Cronberg and online Editor Alice Hines sat leading a dialogue they titled "the current (sorry) state of fashion writing."
Vestoj's interview with former Vogue Editor Lucinda Chambers  provoked shared stories and comments that highlighted the struggles of fashion journalism. Chamber's perspective referenced the lack of forthright expression in the fashion-publishing world governed by economic and social support. Vestoj's experience uncovers how these influencers also make the work of fashion writing, and the opportunity for criticism oppressive. Alice sites the origination of fashion journalism as a commercial ploy at the runway shows in Paris. Reporters, regarded as insiders having access to the private runway shows must keep their "insider status" by producing kind reports on the collections and socially engaging within the community of fashion. This tactic, alongside the economic support of published advertising controls the conversation about fashion. Reports on fashion remain as statements of adoration for designs and trades. The opportunity for blatant criticism exists with scandal and humble gatherings shared in personal experience such as Vestoj's.
Serving the industry in the direction of anticipated change is one way to console such distress. Understanding the role of a fashion writer is another consideration. With honest approach and transparency, Vestoj is a testament to the cause.
Later,
Valerie McPhail