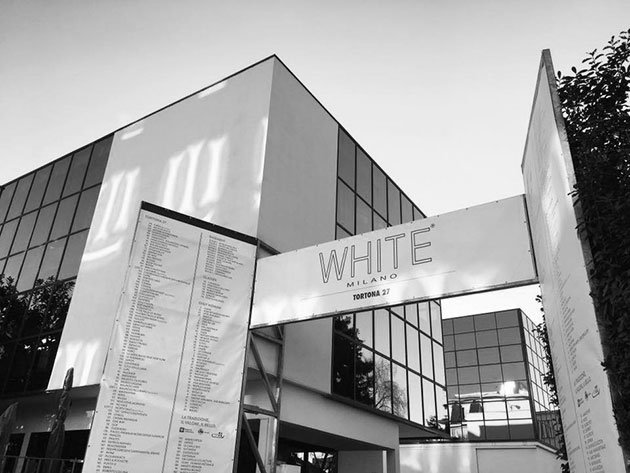 Dear Shaded Viewers,
The cities are emptying out and you are probably in some exotic location taking full advantage of what nature has to offer but…I thought you'd have a little time to think about your September planning. I'm sure you already know this, but just in case you don't, WHITE Milano focuses on scouting international designers and providing the platform where they can garner the most attention for their brands. The September edition provides a special area for 5 designers in 5 special areas all holding the flag of Made-in-Portugal. The area is called Focus on Portogallo and the 5 designers are: Carla Pontes, Katty Xiomara, Luis Buchinho, Pé de Chumbo and Pedro Pedro. Everything can be found here: WHITE MILANO-T27.
Carla Pontes's style features 3D research, she is a graduate from Milan's Polytechnic and from Porto's CITEX/MODATEX. Katty Xiomara puts her focus on aspirational but also accessible design, Luis Buchinho's designs are both classic and innovative.  Pé de Chumbo designed by Alexandra Oliveira develops textiles which then direct what she designs. Her approach merges technical advances with the traditional. Pedro Pedro is a brand that takes the adage 'elegance is simplicity' to heart with a collection minimal and pure.
ONEONONE
The knitwear brand ONEONONE, was launched in Greece in 2013. Aris Rakas is the designer behind the label. The brand might be new however his family has been operating in the fashion industry for 3 generations. Perhaps that is what accounts for his nearly instant success with his one-of-a-kind jerseys.
DORATEYMUR
Dora Teymur is the force behind Dorateymur, a women's footwear brand. Teymur was trained by Cordwainers at London College of Fashion and likes to tread between the feminine and the manly in her footwear designs. WHITE Milano/T27.
As WHITE Milano takes over the Tortona Fashion District you will find the WHITE ARTISAN Lounge at Tortona 27 and WHITE STUDIO at Tortona 54. Both the WHITE ARTISAN Lounge and the WHITE STUDIO were created in collaboration with Confartigianato Imprese in the framework of the project MIAC -Moda Italiana Artigiani Contemporary.
The WHITE ARTISAN Lounge/ Tortona 27, like its name infers, features a selection of fully made-in-Italy apparel and accessory brands. Brands like Pourquoi me and Yesicily will present their debut collections. In addition, brands with generations of experience will showcase their collections. The brands represented here are: ilike Kyara, La Belle, Montegallo, Sikuly Art&Tradition and Sosud. And the creativity of Alex, Anna Siciliano, Giorgio Fabiani, Giovanna Nicolai, Laura di Maggio, Le Dangerouge, Patrizia Pozzato, Sergio Amaranti, Shamur and Valentino Orlandi.
WHITE STUDIO/Tortona 54, has 11 young Italian houses all of which have gained recognition at various prestigious international competitions. The brands are: Arnoldo][Battois, Greta Boldini, Miahatami, Moi Multiple, Rossorame, San Andrès Milano and Filippo Laterza,  SETTE, Alarico Gentili, Decata, Civico LXXVI. What is really special here is that each of the 11 young designers will be supported by nine of the top Italian retailers such as: Bernardelli from Mantua, Penelope from Brescia, Le Noir from Treviso and Giglio from Palermo, to name a few. The designers will become Ambassadors for the Italian retailers.
Continuing WHITE MILANO's world trip we bring you Aika Jaxybai the designer behind the brand Aika Alemi. Jaxybai from Kazakhstan. Jaxybai creates her lifestyle brand drawing inspiration from her kaleidoscope of passions which include cinema, architecture and music. Her creations are crafted in local workshops in Astana, the capital city of Kazakhstan. Jaxybai works with natural fibers, favouring wool and silk cut in geometric shapes often using embroidery and patchwork. Special Area – WHITE MILANO/T35.
Back to Europe with SHOWROOM LES BELGES a special area – WHITE MILANO/T27. Five Belgian designers will join WHITE MILANO for the third season, they are supported by the Government agency Wallonie-Bruxelles Design Mode. The five designers are: Annemie Verbeke, Gioia Seghers, Moutton Collet, My Bob and Passerin. Verbeke is known for her sculpted shapes while Seghers moulds her silhouettes using natural and precious textiles. The accessory collection Moutton Collet features graphic and punk touches and is designed by the duo Matthieu Moutton and Nicolas Collet. If you are looking for straw hats, a new entry this season is My Bob proposing hyper-feminine and romantic ones. Finally, another debut at WHITE MILANO is Passerinis which means an exotic bird and the name mirrors the creativity of the brand designed by three architects, Adrian Cruz Chavez from Mexico, Carolina Jemenez from Colombia and Francesca Neri from Italy.
That is enough for your cyber trip around the globe by way of WHITE MILANO. See you there.
Later,
Diane