Dear Diane and Shaded Viewers,
Over the past couple of weeks, I was backpacking with friends in Japan. Now back in rainy London, I thought I'd share some memories and impressions before my sunburn fades.
TOKYO
For a day or two after landing, we slept jetlag away in a old-style guesthouse by the Sensō-ji temple in Asakusa. It is Tokyo's oldest, and the whole area seems pleasantly quaint. We ate okonomiyaki and sizzled in the heat. At night the wind chimes jingle and folk songs rise up from the neighbourhood's basements. As the shops' shutter drop, they're painted all over with traditional caricatures and characters. Aside from sleeping, we visited the pottery market in Kappabashi (Kitchen Town) Street. It sells all sort of things. There's a shop there that specialises in the plastic rendition of various meals that are found in the windows of most street food restaurants in Japan. A finely crafted set of three carrot-based dishes reaches up to 80,000¥, about 550£. Later we wandered further, to the Meiji Shrine in Shibuya and the woods nearby, Harajuku, and looked up from below to the Prada store in Aoyama designed by Herzog & de Meuron, like a giant glass beehive.
NAOSHIMA
When I said I was going to Japan for the first time, my friend Marko Matysik said I should visit Naoshima, so we did. It's like a surreal slice of paradise – all lush and peppered with contemporary sculptures. There are some by Niki de Saint Phalle, but the most famous ones are two Yayoi Kusama pumpkins found facing the sea on both sides of the island. We got bikes to get from one to the other, underestimating the 'steep slopes' noted on our map. At night we stayed at a guesthouse in a farm that grew pumpkins, obviously a source of pride for the islanders. We ate vanilla ice-cream served in a sliced pumpkin, and drank local olive soda. We were eaten by mosquitos. We swam twice in the Pacific Ocean.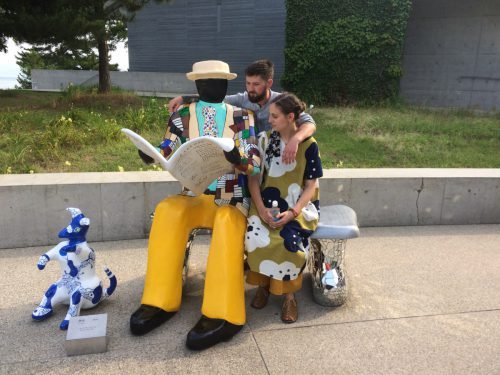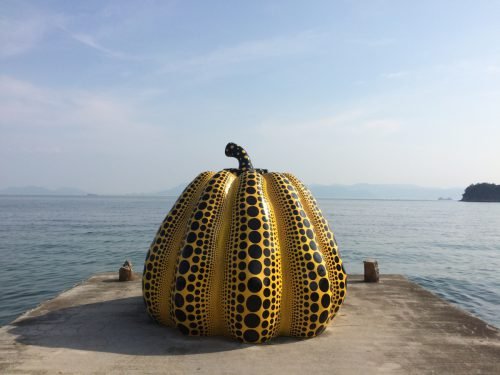 KYOTO
The next day we arrived in Kyoto, in time for the Gion Matsuri parade of July 17 – an annual event to appease the gods since 970. The forecast predicted thunderstorms, but we felt not a drop throughout the day. We had pancakes and matcha lattes at Yojiya, then walked through the Nishiki Market, where stalls sell roasted chestnuts even in summer, and little ruby octopuses on a stick. We drank soba water. We walked the Philosopher's Walk in the northern part of Kyoto's Higashiyama district, and the next day visited the rock garden of Ryōan-ji, that dates back to the late 15th century. Its meaning is open to interpretation – even John Cage composed about it. Some say the rocks are swimming baby tigers, peaks of mountains, theorems of geometry. I say they're constellations. We then visited the Kinkaku-ji temple, the one of Mishima's novel The Temple of the Golden Pavillion.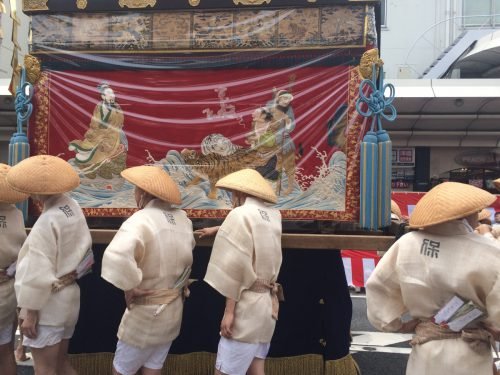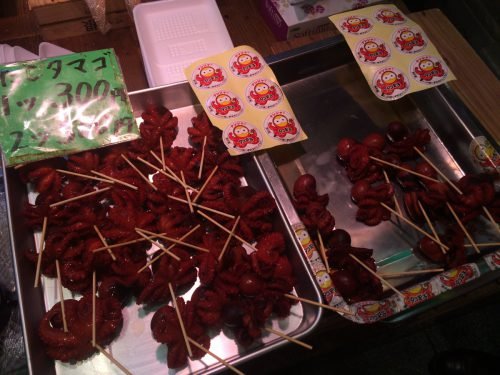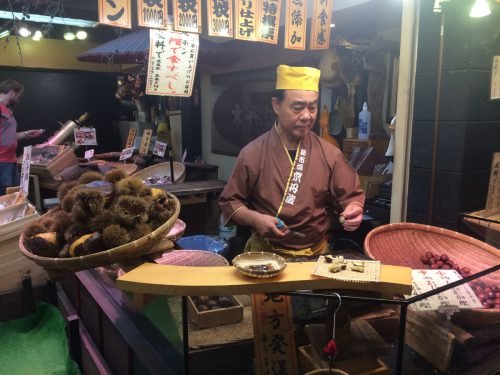 NARA
We went to Nara because I really wanted to pet the deer. They're wild and clean, and if you give them crackers they will follow you out of the park and into the city's streets.
MAGOME
Up to the mountains next. We were staying in Magome, a picturesque post town in the Kiso Valley. From there a three-hours hike through bamboo forests, water mills and rice fields takes you to Tsumago, the next picturesque post town in what was the Nakasendo trail in the Edo period. There are bells on the side of the path to ring to scare away bears, and ancient teahouses welcome visitors with warm tea and plum wine along the way.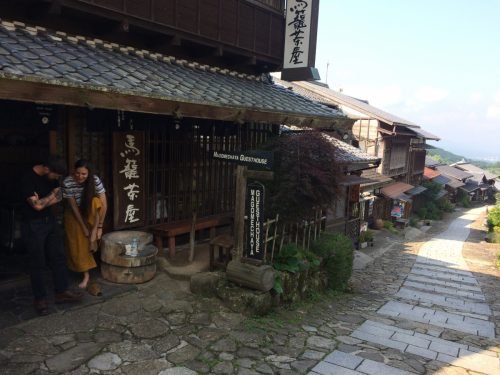 NAGANO
Further up still we slept in Nagano, famous for its wasabi roots and the 1998 Winter Olympics, and in the morning took a train through the hills to the Jigokudani Monkey Park. The macaques looked drowsy and docile in the summer heat, and didn't steal our sunglasses even when we got too close. A lot of them were nursing little ones, some were busy picking fleas to eat from one another's furs.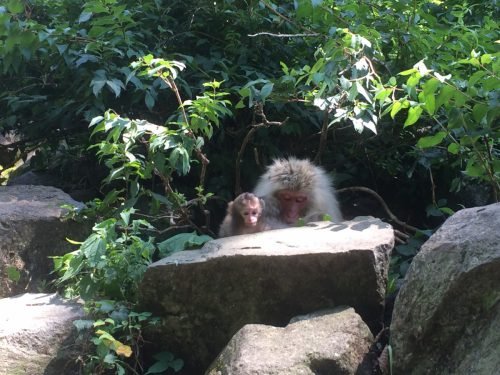 TOKYO
Back in Tokyo, we were staying in Shimokitazawa this time, were all the coolest vintage shops are. We bought a little, but tried on a lot. We also went to Roppongi to see the Giacometti exhibition at the National Art Center, and had a surprisingly tasty sweet potato ice-cream at a 'vegetable confectionery' in Azabujuban. They even sell spinach, tomato, and celery ones, but we weren't that brave. I had a lovely dinner with Akiko Hamaoka in Shibuya on my birthday eve ♥
MOUNT FUJI
On my actual birthday, we climbed Fuji-san. Because the buses to the Yoshida trail, the easiest, were fully booked, we took the Subashiri one, that's said to be not as crowded and somewhat more beautiful as it starts below treeline and wades through the forest. We were ridiculously unprepared – this became clear as we started to meet other hikers en route. Nevermind that I had never climbed a mountain before, but I missed all of the required equipment: I had no mountain boots, no walking stick, no flashlight. It was perhaps the hardest, but most rewarding thing I have ever done in my life. As we went up all vegetation disappeared, and clouds climbed the slopes of black volcanic sand side by side with us. Further up still and we left them below. We had to stop now and again to snack on candy bars, or breathe into oxygen cans – in the end we only had a few coins left for water bottles. We reached the 8.5th station, and all of a sudden my friends dug out of their backpacks 27 candles and some red bean sweets, because they're mad like that. We slept there, crammed like sardines with countless others, and woke at 2am to climb the remaining two hours to the top. It was pitch dark, and we only had our phones to light the way. Against all reason, that's when I felt most invincible: all fatigue had left me somehow, and nothing hurt. I reached the summit at a speed – 3776 metres, and the most stunning, roundest crater. We waited for dawn holding our breath, then slowly made our way back home.