"All Over Over All" – A Fashion / Sound / Art Performance liberating visions of growth, circulation, contemporary collaboration and exchange between Kunsthalle Basel and the Fashion Institute at the Academy of Art, 13th May, 2017, Basel.
"WE CAME HERE ALL BROKEN HEARTED, WANTED TO HEEL
BUT ONLY ARTED." Djana Covic
Young Fashion Designers, contemporary dancers and choreographies, a Chick on Speed, a group of artists, plants and a wild professor dissolved for one hour the disciplinary bounderies of art and design. Presented looks by the Fashion-Department Students which were featured and immersed in temporary sculpted installations, worn by the performers and merged in playful bondage-like configurations.
The fulminant spectrum of formal aesthetic expressions was musically embraced by shifting synthesized soundcapes by Nico de Rooij, analog synthesizer and turntable musical vibrations from Marco Papiro, theremin and bass acoustic landscapes by fashion designer and professor at the Institute of Fashion Design Priska Morger, Alexandra Murray-Leslie's magical computer enhanced footwear music and the otherworldly sounds of the plant synthesizer performance and praxis AVANTGARDENING by Djana Covic. Together with the studends and the dancer and choreograph Kihako Narisawa all joined into this temporary field of artistic resonance, where visitors could move around freely in the three upper rooms of the neoclassical building of the Kunsthalle, becomming an onlooker, a spectactor, a performer themselves.
"IN THE RITUAL OF MUTUAL BEHOLDING, THE MAGIC OF THE GAZE UNFOLDS." Priska Morger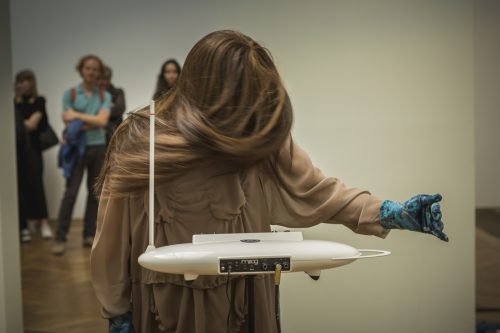 Attracting as an act of communication and reaction as an intuitive play with identity and identification, as part of or in opposition to our culture, Kunsthalle Basel engaged a sizzling collaboration with these artists, the Academy of Art and Design in Basel and their industrious students. The Institus Leitmotiv DOING FASHION is since 2017 contuered by the Motto LOOK THERAPY, which introduces an even deeper view on acts of expressing oneself through fashion, truely valueing the process and counscious views on cultural knowledge and their transfer.
The institutional admixtures´ core for the artistic collaboration and the students designs was informed by artist Maria Loboda's exhibition "HAVOC IN THE HEAVENLY KINGDOM". Maria Loboda's installation included among other objects three monumental gates, a Molotov cocktail, a ring and photos of shoes in mud portraying simultaneously, calmness and explosiveness. Maria describes her own method of working as "sampling", as she works with found artefacts, magical stories, nostalgia and contemporary ideas; she extracts and reuses, transposing them into different cultural and spacial contexts of meaning. Maria's approach to critical practice was adopted by the students, who took Marias's work and ideas, using the "other" to create new forms and meanings of dressing, styling, undressing & physicality.
As dramaturgical and strategic compass Djana Covic´s praxis of AVANTGARDENING merged and forged with Maria Lobodas installation in this performative presentation. A performative praxis that works with states and affects, lives by experiments and research, and is practiced with accomplices and collaborators with collectively allow sustained and fleeting moment of affects to emerge simultaneously. Connected in their intentions Djana Covics practice of AVANTGARDENING, Priska Morgers vision LOOK THERAPY and Alex Murray-Leslie´s practice based research project DEMAKING, which expolores the design potential of high heeled shoes as waerable musical instrument, share the approach of counteracting the society of the fatigued, avoiding the middle way, keeping eye contact through digital deserts and analogue skies, staying vigilant in real time towards the other, towards the unknown.
"IF SHOES ARE ABLE TO DEFORM AND PAIN OUR FEET, THEN THIS UN-FREE EXPERIENCE WILL AFFECT A PERFORMER'S SENSORY PERCEPTION AND INFLUENCE THEIR ACTIONS ON STAGE. WITH MORE SENSORIAL EXPERIENCE, THE FEET WILL BE IN A MORE EXPRESSIVE STATE." Alexandra Murray-Leslie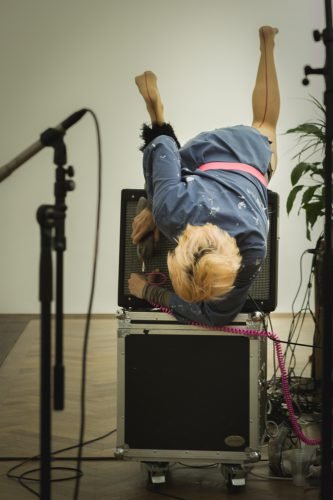 The experimental, fulminant performative cross- collaboration was crowned by the launch of the DOING FASHION PAPER Nr. 6, the annually pupblished instituts publication, edited by Andrea Sommer and Priska Morger. The wonderfull artefact visualizes the understanding of design of the Institute and sets its foot into ongoing international fashion theory discourse.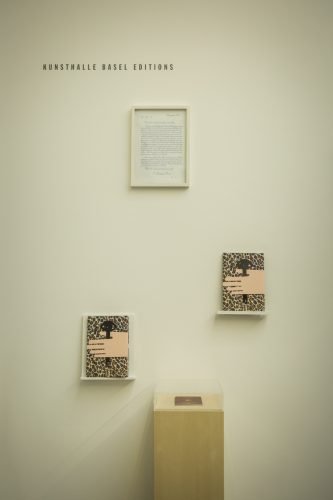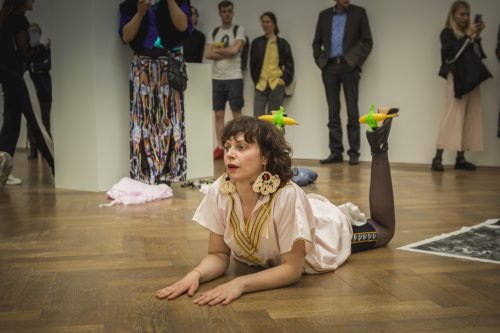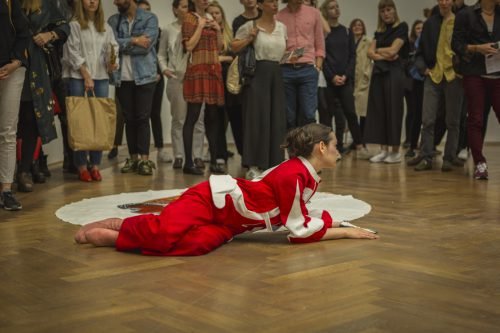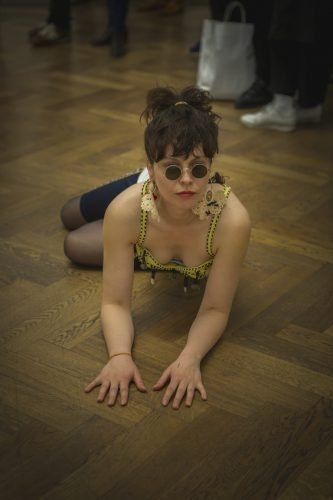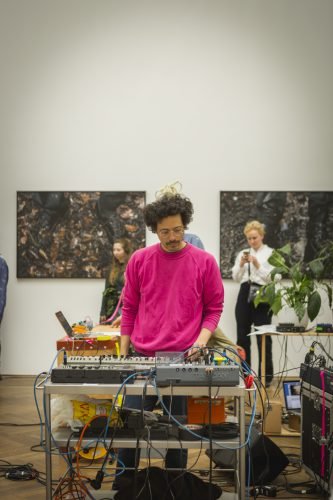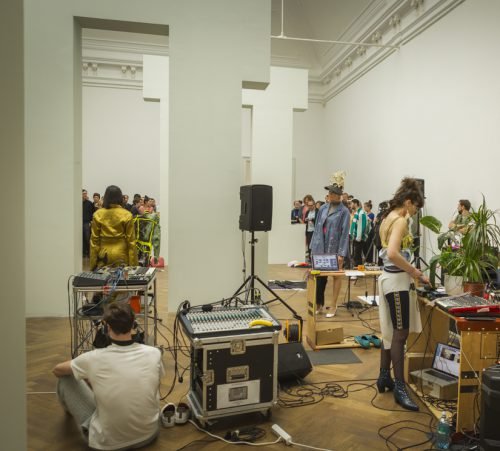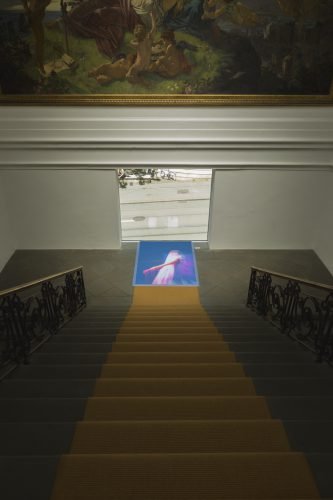 The performance Look Therapy – All Over Over All is a cooperation of the Kunsthalle Basel and the Institute of Fashion Design, Academy of Art and Design, FHNW in Basel.
This collaboration was initiated by Kunsthalle Basel's education department team.
Thanks to the team of Kunsthalle Basel with her director Elena Filipovic.
With special thanks to Maria Loboda.
Kindly supported by SIDF.EU.; Konnex GmbH, event technic; Yanik Soland; and HGK / FHNW.
Contributions by third-year students, Institute of Fashion Design, Academy of Art and Design FHNW in Basel:
Anja Bodenmann Trample the Surface, carpet
Nina Britschgi Of cial Sponsor, poster
Wendy Buck Bon Ciel, accessory
Hannah Campbell Comfort in Skyscraper Heels, shoes
Maya Christofori Pyromaniac, overall, bag and fabric samples
Marion Ihly Die beruhigende Möglichkeit zur De-Konstruktion, Foulard
Nina Jaun
WE NATURE. WE INDUSTRIE., act with collage
Ronja Kösters Silhouetten Portrait, poster
Michèle Merz Stay Royal, poster
Lea Metzger
War All Over?, video
Nadine Möckli A Conversation, poster and shoes
Nina Savenberg Nice Body you have, body
Julia Stöcklin Love Issue, overall and poster
Chiara Strozzega Dirt for take away, overall, garbage, backpack, and grime
Lina Widmer L'eau décadente, bag
Avantgardener Performers: Djana Covic: Avantgardening-concept, plant-synthesizer soundscapeing, Priska Morger: soundscaping theremin and bass guitar, Marco Papiro: Pierced on analog synthesizer and turntable, Alexandra Murray-Leslie: performing high heeled shoe guitar and computer enhanced foot appendages, Nico de Rooij: soundscape.
joint
& reconstruct boundaries action: Manon Criblez, Matthias Waldhart, Jacqueline Loekito, Jonas Schneider, Lisa Preisle, Kihako Narisawa.
Team Institute of Fashion Design, HGK / FHNW in Basel: Prof. Kurt Zihlmann: head of the Institute of Fashion Design, Prof. Priska Morger: creative direction, Evelyne Roth: docent, design / lead, cooperation project, Christine Rösch: guest docent, editing, presentation of the students' works, Matthias Waldhart: academic staff, presentation forms / lead, presentation exhibition, Marlis Candinas: academic staff, design, Prof. Dr. Bettina Köhler: docent, theory / concept & process, Andrea Sommer: docent, visual communication / editor in chief Doing Fashion Paper, Linda Dagli Orti: academic assistant, video, Swen Keller: academic assistant, photography, Jacqueline Loekito: creative assistant, François Schaffter: docent / cut and realization, Jacqueline Brechbühl: docent / material handling, Therese Baumann: studio supervision, Carolina de Giacinto: studio support, Danielle Dreier: docent, accessories / lead communication, Monika Dujmovic: intern, communication, Julia Sommerfeld: academic assistant, creative direction, Fréderique Janthur Custers: head, administration, Martina Paternostro: intern, administration. Press Contact: Academy of Art and Design, FHNW in Basel, Institute of Fashion Design, Freilager-Platz 1, Postfach, 4023 Basel, Contact Press: press.doingfashion.imd.hgk@fhnw.ch.
Doing Fashion Paper: Priska Morger: creative direction, Andrea Sommer: editor in chief, Kurt Zihlmann: head of the Institute of Fashion, Swen Keller: editor, Jiri Oplatek: art direction (Claudiabasel), Doing Fashion Paper Installation: Andrea Sommer, Manon Criblez (alumnus), Melvin Zöller (alumnus) Pastry Catering: UNDSIE: tasting the six Doing Fashion Paper through the fabulous pastry treats of UNDSIE (Doing Fashion Alumni Nadine Michelle Scherer and Samuel Dober).
Follow us on our website, Instagram, and Facebook: website: www.doingfashion.ch, Instagram: @doingfashionch, Facebook: Doing Fashion, Social Media Handles: #looktherapy #doingfashionpaper #kunsthallebasel #alloveroverall #doingfashionbasel #hgk.
Contact Kunsthalle Basel: www.kunsthallebasel.ch
www.instagram.com/alexmurrayleslie