Dear Shaded Viewers,
Mark Baigent is launching a kickstarter campaign Fair produced Humanwear https://www.kickstarter.com/projects/1166973987/fair-produced-humanwear with the intention to improve the working conditions in the asian fashion business.
Text by Mark Baigent:
"As a child, I often asked myself why do we divide clothes by gender? Why do stores separate who can wear what? Wouldn't it be easier and far more fun if anyone could just wear anything they want?
I began creating human wear; unisex apparel to empower men and women to shift the lines between genders and their stereotypes. 
Working in the fashion industry for over XY years, I noticed many things that I didn't feel were right. I wanted to create affordable apparel for everyone but simultaneously I struggled doing things the way that was expected from me. I wanted to create affordable fashion without making people suffer on my behalf. 
Last year, I began researching on how to offer the best possible quality while knowing the behind-the-scenes people who produced my designs. Before coming to Bali to oversee the production of my own collection, I spent some time in India where I had the time and space to think about what I've accomplished with my work. People who know me personally know that I have compassion for helping others. I was never the person to shut up about injustice, I truly believe that fair working conditions are the future of this industry – It has to be! – If we do not change the way we work and treat each other, we will suffocate in our own waste and kill generations only because we are too focused on making money.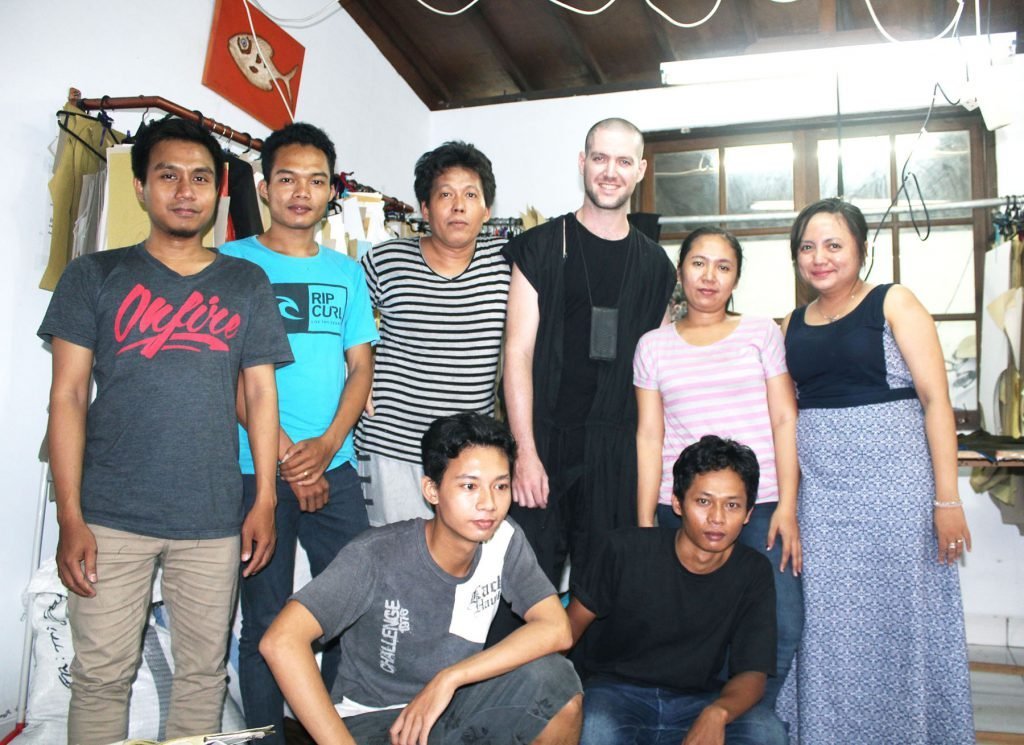 Making other people happy with my work and using fashion as a tool to create happiness and support is what keeps me going. I don't want my fashion to be produced under inhumane conditions. Being responsible for such a lifestyle for people wasn't something I signed up for when I decided to become a designer. I knew I had to stay close to the production site to make sure the fashion I produce is fair and of the quality that I want you to have in your closet. 
I decided to go live on Kickstarter to start a dialogue. I wanted to show you who makes your fashion. I'm here to listen to your needs and what you're looking for. Together with my team here in Bali, I want to produce human wear that you're proud of owning. 
Some of the workers have been with us for over 18 years and we ensure the income of about 20 families every month. The factory is like a big family and we all work together, everyone here is on a first name basis and we take time for each other. The employees get a fair wage and they themselves can set the prices on the garments they sew for us. We ensure that the financial needs of our employees are met, while also making sure we don't overwhelm them during high season. 
It's my aim to stay as transparent as possible and I have nothing to hide about the way we produce. With your support, you are being a part of creating a fair work environment.
Let's make a difference together!
Being locally present enables me to oversee the production and quality of the garments and also deliver on time. When I started working with this factory, I was worried because my collections are dedicated to the highest finishings and craftsmanship. However, after sampling a few pieces, I was sure that I found the right factory to work with.