Dear Shaded Viewers,
Who among us does not love kimonos? Kimono – The ladies' delight will outline the evolution of the kimono and its accessories and their reinterpretation in contemporary Japanese and French fashion. The Matsuzakaya collection, which was founded in 1611, played a major role in producing and diffusing the kimono. 150 prestigious pieces outline the story of the evolution and the growth of this essential garment in the Japanese wardrobe dating back to the Edo Period (1603-1868) up to the contemporary period. On display will be Japanese fashion designers, like Issey Miyake, Kenzo Takada and Junko Koshino who have garnered inspiration from this iconic garment that has found its way into Western haute couture today. Other  designers influenced by the kimono are Yohji Yamamoto, Yves Saint Laurent, Jean Paul Gaultier, John Galliano and Franck Sorbier.
The kimono was first worn as an under-garment by the aristocracy before being adopted by the Samurai class as outer clothing. Soon the kimono was adopted by every class of the population. In the mid-19th century fashionable French women began wearing kimonos as dressing gowns. At the turn of the 20th century the French haute couture adopted the kimono with designers like Paul Poiret and Madeleine Vionnet.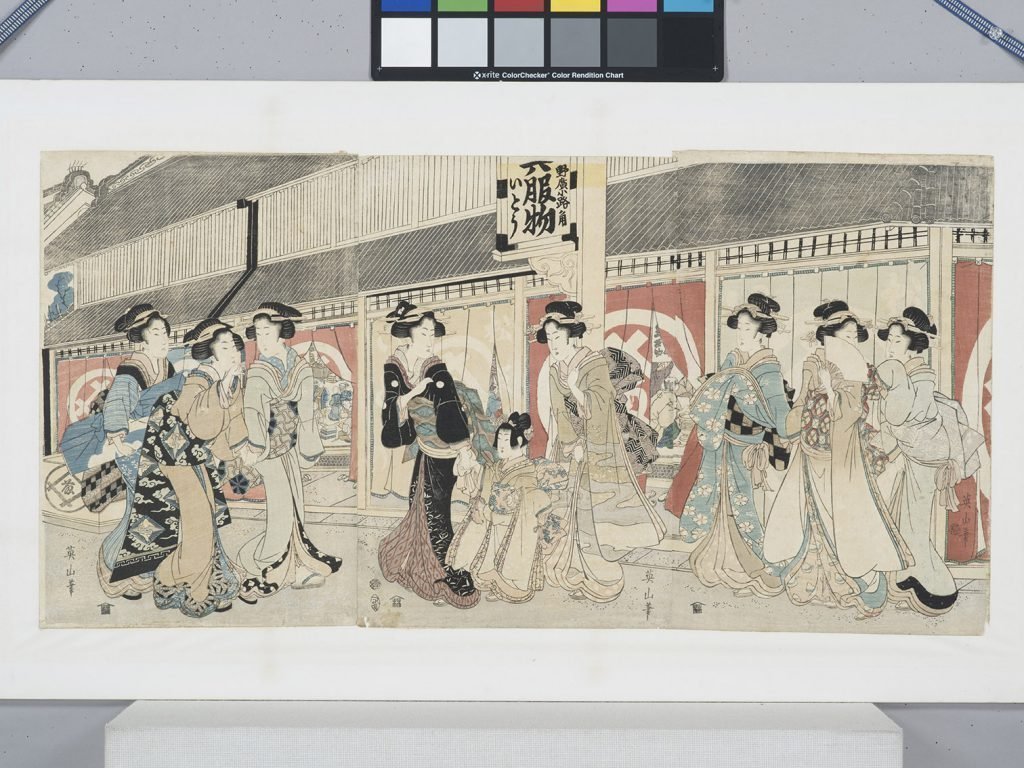 Eizan Kikukawa (1787-1867)
Belles Femmes devant la boutique Matsuzakaya
impression polychrome nishiki-e, triptyque, 1813-1814, H. 38,5 ; l. 78,2 cm, Daimaru Matsuzakaya Department Stores Co., Ltd.
Crédits : J. Front Retailing Archives Foundation Inc./Nagoya City Museum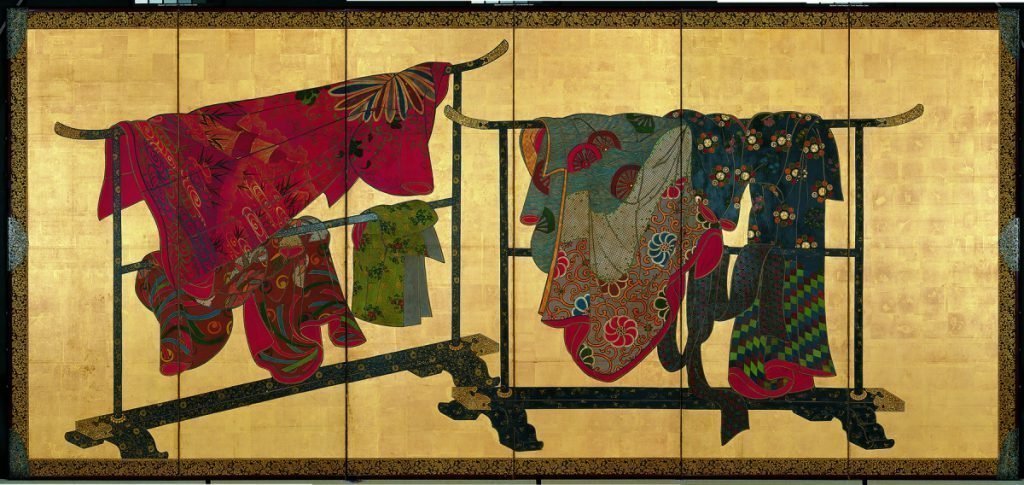 Paravent à six panneaux représentant des kimonos suspendus (tagasode) (paravent droit)
couleurs sur papier, première moitié du XIXe siècle, H. 153,7 ; L. 349,2 cm, Collection Matsuzakaya.
Crédits : J. Front Retailing Archives Foundation Inc./Nagoya City Museum
There will be a catalogue of the exhibition co edition MNAAG/Gallimard under the direction of Aurelie Samuel. The curators of the exhibition are Iwao Nagasaki, curator, professor of textile arts, Women's University of Kyoritsu, Aurelie Samuel, heritage curator.
Musee national des arts asiatiques – Guimet
6 place d'Iena, 75116 Paris
Later,
Diane