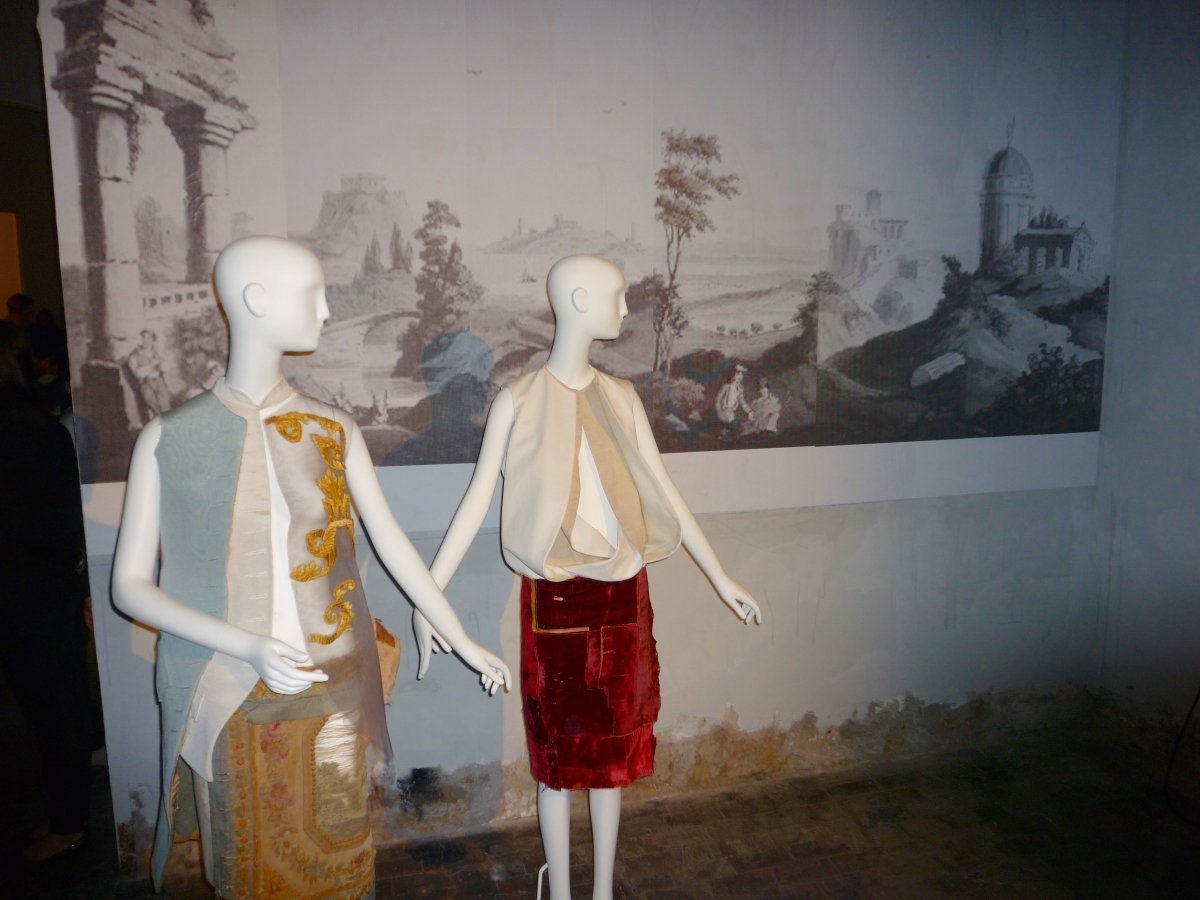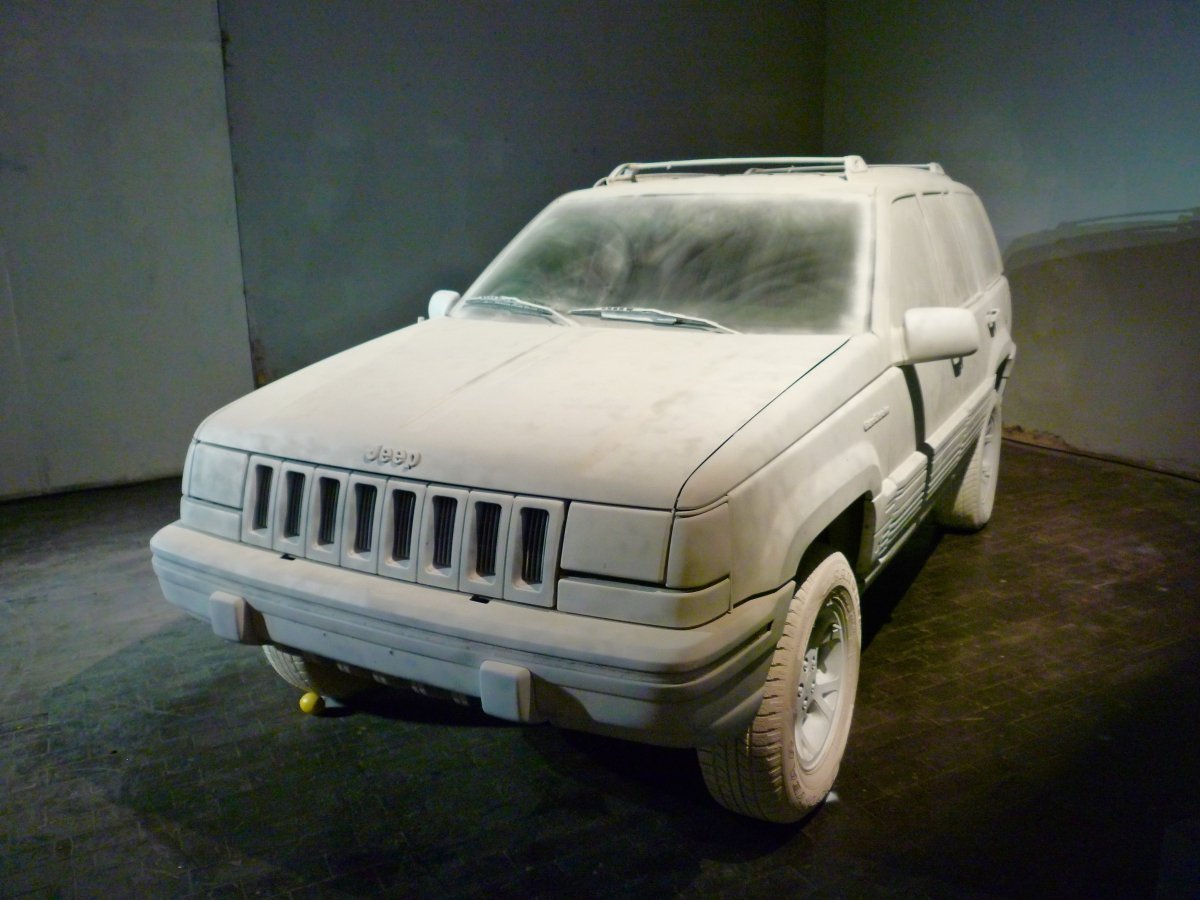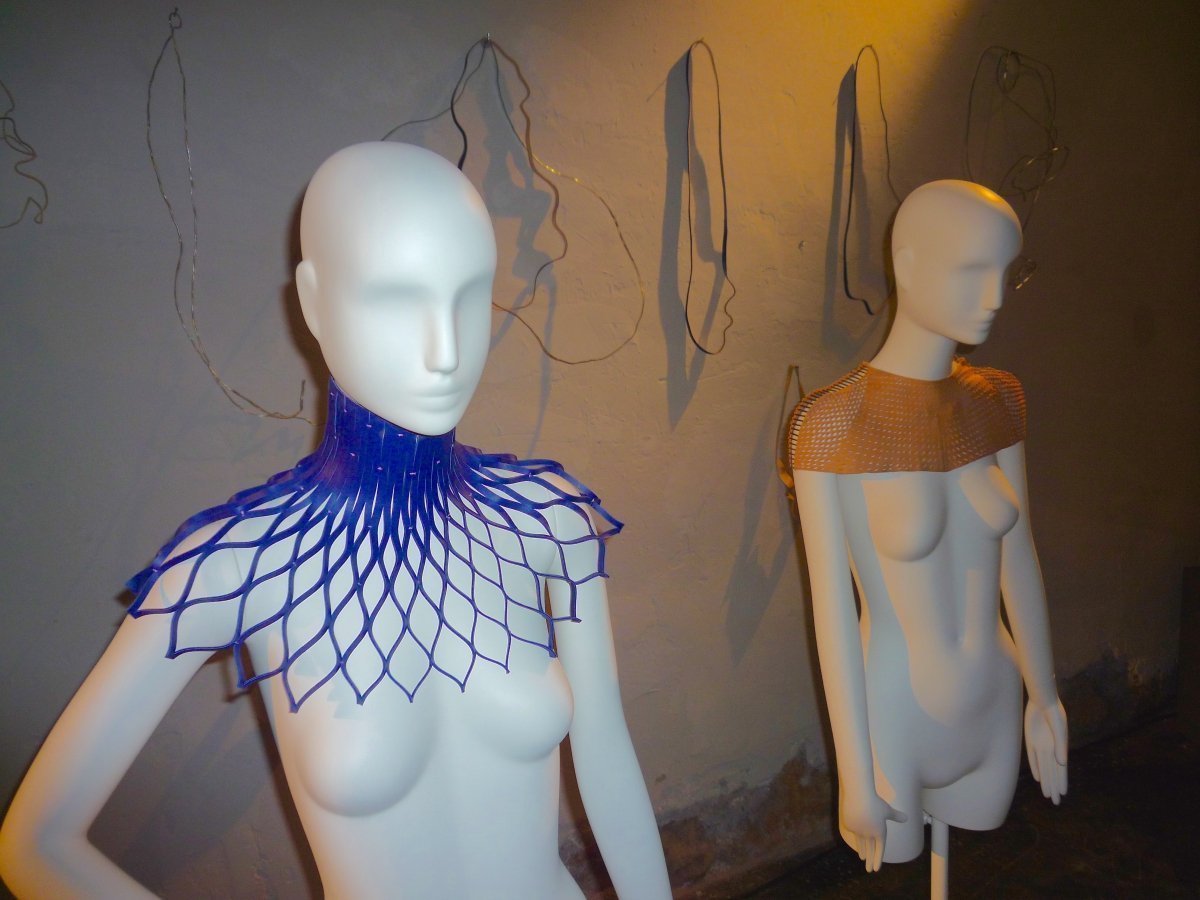 Above: Ensembles inspired by 19th-century dandies by Gergei Erdei, Hannibal's elephant reborn as a Jeep by artist Ophelia Finke, neo-Renaissance collars by Maria Sole Ferragamo, trailer for Journey To Italy by Roberto Rossellini.
Dear Shaded Viewers,
One of the highlights of every Alta Roma edition is the A.I. Artisanal Intelligence exhibition curated by Clara Tosi Pamphili and Alessio de' Navasques, and this season was no exception. The theme this time around: Famous journeys through Italy, with Rome as a key stopover of a trip destined to transform one's identity—whether it's Ingrid Bergman and George Sanders' characters in Roberto Rossellini's Journey To Italy, or today's artists and designers.
The exhibit's archetype for such a journey is the one taken by German philosopher J.W. Goethe. This A.I. show marks and pays homage to the 200th anniversary of the publication of Goethe's Italian Journey and comments on the immortality of the power of travel and tours in Rome.
"The Grand Tour is the exploration of a place or of ourselves," write curators Pamphili and de' Navasques. "It is the romantic search for experiences dictated by other memories, other forms of architecture and other monuments: a personal quest that involves finding the courage to look beyond, aided by beauty."
The show's statement also references Charles Dickens' infamous tour of Italy in the mid-19th century, which he documented with unflinchingly picaresque prose and published as Pictures from Italy. I am delighted to report that last January at my birthday dinner in the Eternal City, Clara Tosi Pamphili gifted me a special edition excerpt from Dickens' book—the long chapter, Pictures from Rome.
I spent a few enjoyable spring afternoons poring over this book in an Italianate garden on Elizabeth Street in New York. Much to my delight, Dickens had commented on many places in Rome that I know well, most notoriously the  Basilica di Santo Stefano Rotondo. During my visit in the summer of 2013, with boutique tour company Roam Around Rome, I pronounced the church's gallery of propagandistic 16th-century frescoes the finest examples of Christian torture porn I had ever seen. Dickens writes in 1846:
"To single out details from the great dreams of Roman Churches, would be the wildest occupation in the world. But St. Stefano Rotondo, a damp, mildewed vault of an old church in the outskirts of Rome, will always struggle uppermost in my mind, by reason of the hideous paintings with which its walls are covered. These represent the martyrdoms of saints and early Christians; and such a panorama of horror and butchery no man would imagine in his sleep, though he were to eat a whole pig raw, for supper."
And Dickens doesn't hold back when describing a Mass at St. Peter's Basilica:
"The singers were in a crib of wirework (like a large meat-safe or bird-cage) in one corner; and sang most atrociously. All about the green carpet, there was a slowly moving crowd of people: talking to each other: staring at the Pope through eye-glasses; defrauding one another, in moments of partial curiosity, out of precarious seats on the bases of pillars: and grinning hideously at the ladies. The faces of the greater part were as coarse and heavy as their dress; their dogged, stupid, monotonous stare at all the glory and splendour, having something in it, half miserable, and half ridiculous."
And now, let's have a look at the exhibit….
Maria Sole Ferragamo's architectural designs seem to echo that ecclesiastical birdcage observed by Dickens. Indeed, she refers to them as "natural 'cages' that surround the neck or hips, consisting of geometrical, interwoven leather: vegetable tanned leather which resulted in her winning 1st Prize at the 4th International Design Competition 'Craft the Leather'."
Maria was born, in Florence in 1990, into one of the most important families in the history of fashion. She has managed to create something new based on the past: evolutions of Elizabethan costume elements, such as starched ruffs and crinolines.
The headgear from the Dutch brand Haetts display feats of crocheting and the use of organic fibers. They represent a contemporary version of the hats worn by elegant, eccentric travelers of ye olden times.
A coat and dress worn by one of my favorite actresses, Ingrid Bergman (I discuss the garments in the next caption) displayed before a projection of Roberto Rossellini's Journey To Italy, the 1954 film (loosely based on Colette's novel Duo) which is credited with having an important influence on the upcoming New Wave. You can watch the film on Hulu, or catch an airing on TCM, oddly dubbed in Italian. But don't watch it in Italian. One of the greatest pleasures of any film starring Ingrid Bergman or the perpetually bitchy George Sanders (his tour de force was as Addison DeWitt in All About Eve) is listening to them speak: Bergman's heavily Swedish-accented voice manages to sound at once wooden and sultry; Sanders is a wry delight, dispensing one acidic bon mot after another that require his intonations to work.
One of the main points of the film is that of a British couple re-discovering themselves in a foreign milieu. (Sanders complains how Italy "poisons people with laziness"; Bergman wanders wide-eyed through aristocratic cocktail parties, museums and fields of bubbling sulphur pits.) Hearing them do so in dubbed Italian simply doesn't work.
The story concerns a couple approaching the end of their marriage during a trip to Naples where they are trying to sell a recently inherited property. At one point, Sanders abandons his wife for a jaunt to Capri, leaving a note explaining that "museums bore me." Strangely, this seems to prophesize the real-life suicide note Sanders left behind in 1972 after swallowing five bottles of Nembutals: "Dear World, I am leaving because I am bored. I feel I have lived long enough. I am leaving you with your worries in this sweet cesspool. Good luck."
This splendid silk velvet coat, designed in 1952 by Roman couturiers Fernanda and Raniero Gattinoni, was in Bergman's personal wardrobe. The dress—white macramé lace embroidered with rhinestones and sequins—was worn by Bergman in another Rossellini vehicle, Europe '51 (1952). It is also from the House of Gattinoni.
Maria Frederica Bachiddu's cape-centric collection, for her brand Theodora Bak, is inspired by the wardrobe of early 20th-century world explorers. I would add that this hooded, bat-winged leather jacket, complete with a sexy utilitarian harness, seems appropriate for other-world adventures, too, such as a desert romp with Hans Solo on Tatooine (to be dis-robed for a Death Valley-style orgy ala Antonioni's Zabriskie Point.)
Aided by skilled Made in Italy master craftsmen, Bachiddu disassembles and reassembles her creations, adding unusual elements to create easy-to-wear, timeless capes.
Theodora Bak
Bachiddu apprised me of her cape obsession.
Masakatsu Tsumura's life must be a flurry of boarding passes, from Tokyo to India to Rome. An artist and designer, Tsumura has founded the brand Period Features which features beautiful men's shirts tailored in Kolkata and embroidered in New Delhi. The idea came from his earlier travels in India, where he was mesmerized by the art of making textiles by hand: colorful, fine fabrics with unique textures that are delicate to the touch.
Period Features
Period Features
German artist Ophelia Finke poses next to part of her installation I've toyed with being a filmmaker, a stockbroker, even an explorer. The whitewashed Jeep, she told me, is meant to represent the elephant that Punic military commander Hannibal rode to cross the Alps during his route of invasion to Italy in the 3rd Century B.C.
Finke, who works between London and Berlin, made a name for herself in the fashion world following her collaboration with McQ Alexander McQueen for the brand's Spring 2015 campaign.  She likes to think of the all-white objects in her art as "dream-like disasters."
Do you know the land where lemon blossom grows?
Amid dark leaves the golden orange glows.
A gentle breeze drifts down from the blue sky,
still stands the myrtle, and the laurel high.
Might you know it?
There, there
Would I with you, oh my beloved, go.
Goethe wrote of lemons to symbolize his love and longing for Italy; Finke references that here in the second half of her installation. The Roman god Faunus overlooks the proceedings.

Steampunky and sinister, Stefano Russo's jewel-like instruments remind me of a super villain's torture devices, or Peter Lorre's hands in the 1935 film Mad Love.
Russo's illustrious resume includes collaborations with Louis Vuitton, Prada, Miu Miu, Armani, Jil Sander eyewear, and also GSE, for whom he designed a luxury submarine. A luxury submarine! I'm imagining a remake of Operation Petticoat featuring the wives of Russian oligarchs.
And no super villain's wardrobe is complete without a deadly chic monocle.
A gold monocular is a must for drone spotting from the terrace of your $50 million penthouse in Manhattan.
Thank you for reading.
Baci, baci,
Glenn Belverio