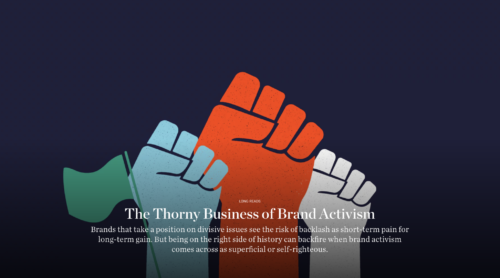 Dear Shaded Viewers,
Thought you might enjoy this article in BOF:
LONDON, United Kingdom — As far as insults go, it doesn't get much worse than this. "You, hypocrite."
The word cuts deeper and stings longer than even the sharpest of obscenities. Questioning someone's integrity is a serious business and to be labelled a hypocrite suggests a quiet but profound sort of contempt that no person — and certainly no profit-seeking brand — wishes to hear. The awkward irony surrounding the notion of hypocrisy, however, is that the more passionate and vocal you are about a cause or injustice, the more exposed you are to be called "the H-word" in the first place.
Pioneers like Stella McCartney, Vivienne Westwood and Katharine Hamnett know this all too well. Having helped shape our understanding of what it means to be a "designer with a purpose," they have endured the wrath of the sanctimonious few for years. By aligning their namesake fashion brands with the kind of earnest evangelism and rowdy social activism that they undertake, these businesswomen have become easy targets. Vitriolic mudslingers find them irresistible.
In 1984, when Hamnett wore a T-shirt with a nuclear missile protest message to a reception at 10 Downing Street hosted by then prime minister Margaret Thatcher, she was regarded by many of her industry peers as a troublemaker or an attention-seeker. 20 years later, attitudes hadn't changed much. Stella McCartney says she was "blatantly ridiculed" for her vegetarian approach to fashion in the noughties. And as recent as 2015, prominent members of the fashion establishment once again rolled their eyes at Vivienne Westwood when she flamboyantly drove a military tank through the winding lanes of Oxfordshire to former prime minister David Cameron's home in a protest against fracking.
Finish reading it here:
https://www.businessoffashion.com/articles/professional/brand-activism-without-hype-or-hypocrisy
Later,
Diane