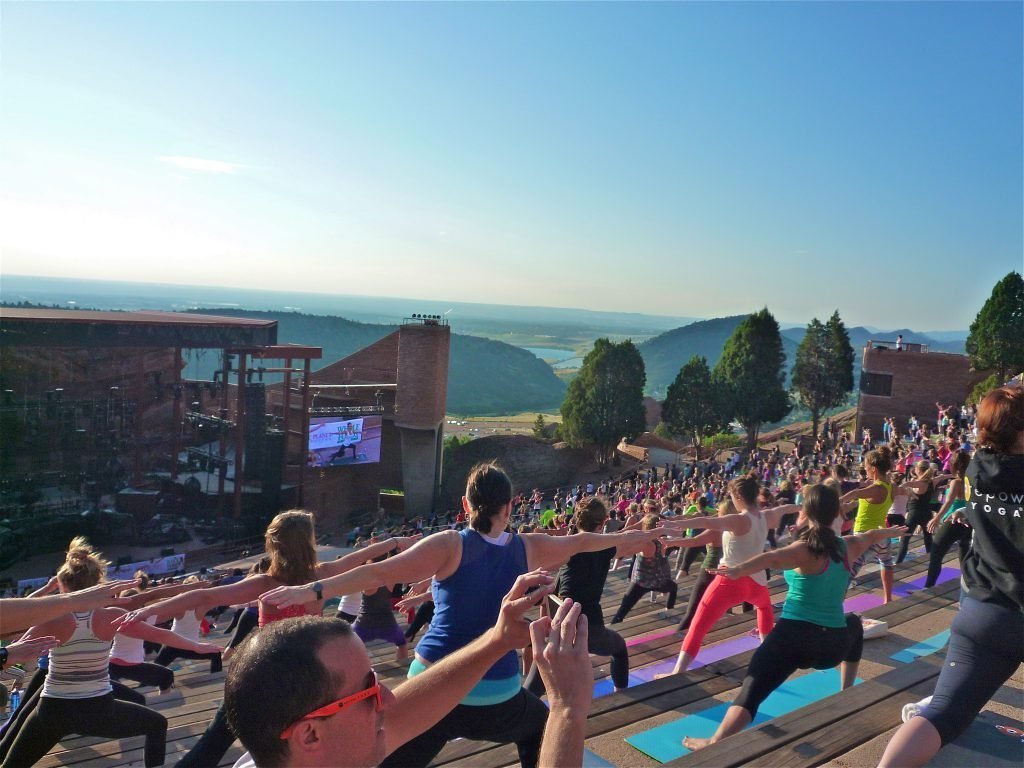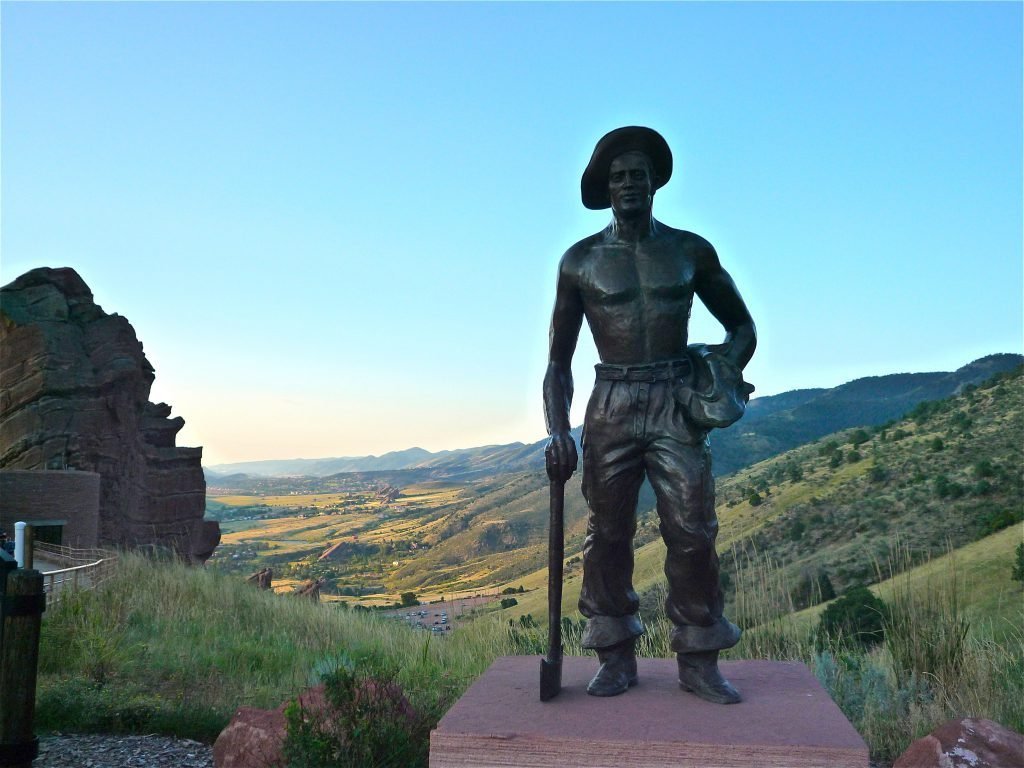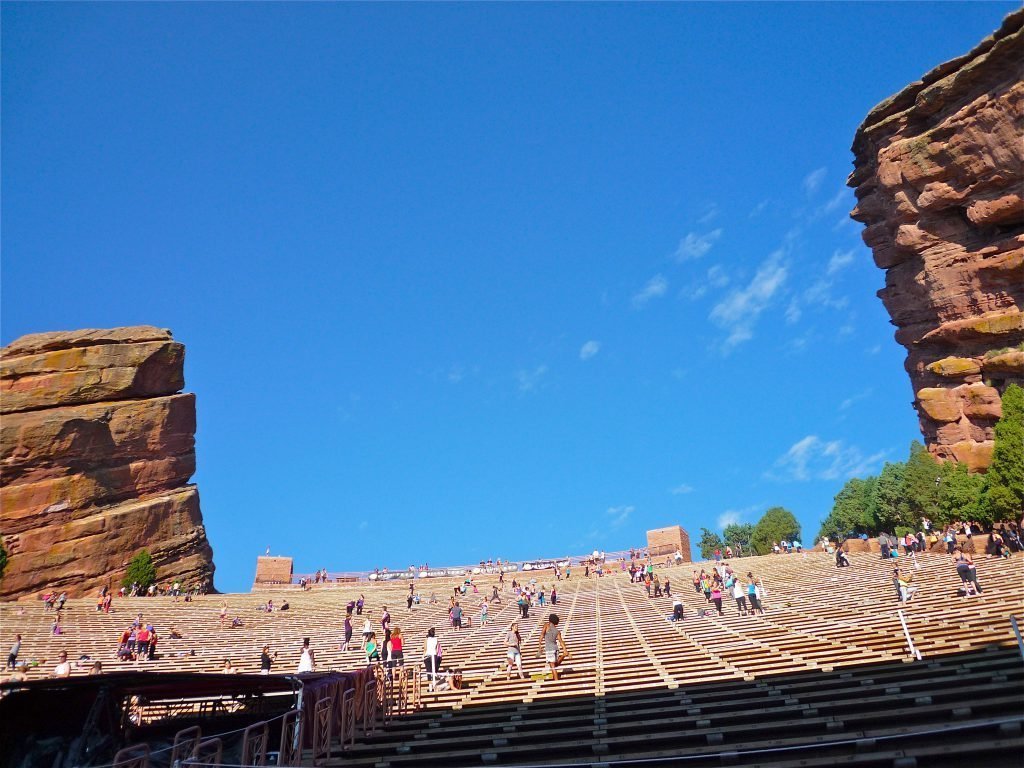 Dear Shaded Viewers,
This past weekend I was invited to Denver, Colorado by Core Power Yoga and People's Revolution for an adventurous morning of yoga, an afternoon of spa treatments at the Four Seasons Hotel (don't hate me because I'm luxurious!) and a fun Italian dinner with the crew at North Italia in Cherry Creek. At first I was hesitant because, truth be told, I've never done yoga before and I didn't want to make a fool of myself in front of 2,000 people (yes, there were that many yoga fans there!)
But when I found out we would be doing yoga outdoors in the legendary Red Rocks Amphitheatre, I decided I could probably take a crash course in it by re-watching my old video of Jacqueline Susann doing exercises on her living room floor in between writing chapters for The Love Machine. I've always wanted to visit Red Rocks ever since my new wave babysitter bought me a copy of the live U2 album Under a Blood Red Sky which was famously recorded at Red Rocks in 1983, along with a filming. (Whatever you think of U2 now, they were brilliant in the '80s. I have fond memories of dancing in my playpen to "I Will Follow.")
A geological phenomenon, Red Rocks Park is a unique transitional zone where the Great Plains meet the Rocky Mountains. The monumental red sandstone rock formations (the most prominent are nicknamed "Ship Rock" and "Creation Rock") have stood sentry over this area for 250 million years. The idea of turning them into an amphitheatre for concerts started in 1927 when George Cranmer, Manager of Denver Parks, convinced the City of Denver to purchase the area of Red Rocks from Walker for the price of $54,133. In the 1930s, Denver architect Burnham Hoyt designed the Amphitheatre with an emphasis on preserving the natural beauty of the area. The Amphitheatre was dedicated in 1941. Musical legends have been performing there ever since. (After our yoga class, we got an exclusive backstage tour so we could view the names of all the performers scrawled on a tunnel beneath the stage—I will post those photos in my next report.)
Core Power Yoga was founded in 2002 in Denver and they provide a challenging yoga practice that allows students to see benefits in all areas of their lives.  In addition to the LoHi studio in Denver, CPY also has locations all over the United States (and they now have their eye on New York.) Yoga on the Rocks is a class they started in Red Rocks last year, with four summer Saturday sessions that start at 7am sharp. Good news if you act fast: there is one more session this season that hasn't sold out yet—this coming Saturday, August 16th.  You can only book online, so here's the info: Yoga on the Rocks.
Above: Moi on the mat
Yoga on the Rocks welcomes first-timers like me, but I did not realize how advanced the class would be. It was a whirlwind of stretches and poses (star, doggy, happy baby, something that was like a crab pose, headstands, etc.) and breathing commands. It is a very challenging workout and with my sensitivity to Denver and Red Rocks' notorious altitude (Lady Gaga was hospitalized with altitude sickness after a show in Denver last week) I almost toppled over a few times while rising from a crouching long stretch position to a star man pose because I was a bit lightheaded. Or, as my friend Rebecca Voight put it: "Weren't you afraid of falling off your perch and creating a domino effect—flying tanks and tights—all the way down to that giant flat screen?" It sounds like something from a Jerry Lewis movie and in point of fact, Jerry Lewis did his show at Red Rocks back in the '60s.
But the good news about Yoga on the Rocks is that it doesn't matter if you can't keep up with the instructor. It's about doing what feels right for you and if you need to take a break or skip a pose, it's okay, no one is going to judge you. (Well, maybe in New York they will!) So, I did the best I could (and I know it because muscles I didn't even know I had were sore that night) and took a break to snap some photos when I felt like I was absolutely going to keel over and die. After it was over, a wave of calm swept over me. I've always sneered at New Yorkers who do yoga, but there's a chance I might be sneering at myself soon! I definitely could benefit from regular yoga classes.
Me looking a little shellshocked after that workout. Emily Bungert of People's Revolution is behind me, still in a tranquil lotus position.
I felt a little lost at the Denver airport.
Thanks for reading!
Love,