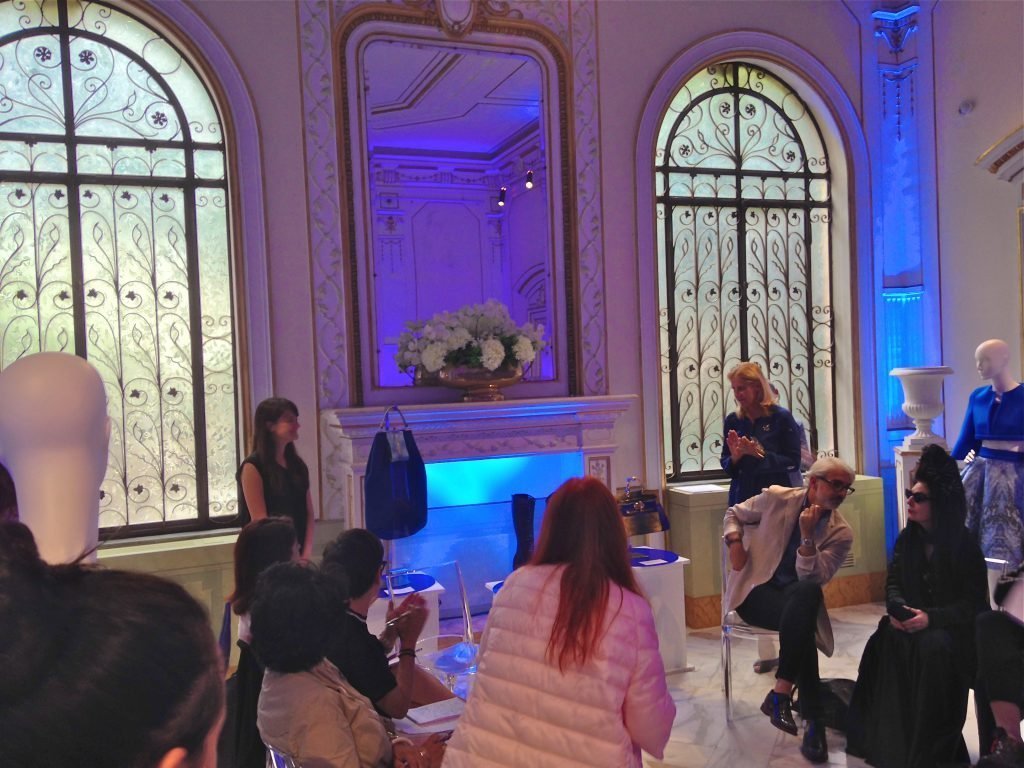 Dear Shaded Viewers,
Diane and I were asked to be on the jury for the second edition of "Be Blue Be Balestra," an homage to Renato Balestra in collaboration with AltaRoma and the Talents 2014 of the Accademia Costume & Moda (where my dear friend Paola Balzano studied before she went on to establish her now-thriving fashion brand).  Master Roman couturier Renato Balestra offered the time-honored experience of his fashion house to the young graduates of the academia and also to a new generation of students enrolled in a course on fashion communication.
"A generous example of a dialogue between a master couturier and young people seeking to gain a foothold in the world of fashion and build their careers," says AltaRoma president Silvia Venturini Fendi, "while drawing upon a legacy of unique, invaluable experience."
After the press conference at the lovely Maison Balestra on via Cola de Rienzo, Diane and I met the students and evaluated their work. (I had seen some of the these student's work last season during the runway show at Santo Spirito.) I asked each one of them what they hoped to translate into their work after their 30-hour course at the prestigious Atelier Lésage in Paris (the prize of the competition), a cultural exchange between Rome and the City of Light, the two cities in the world that boast an immense historical legacy of haute couture.
Design by Ambra d'Oro. I loved her collection from last January. A little bit André Courrèges, Rollerball, Clockwork Orange and dystopian baseball. Divine.
Design by Martina Belpassi. Sort-of a foam rubber type of fabric, super-light, has to be great to travel with.
Design by Flavia Collatina. She likes to experiment with tribal-tattoo prints.
"An extremely interesting project that confirms the desire to create the synergies between institutions, companies and fashion schools with the sole objective of creating opportunities for young people," commented Lupo Lanzara, General Manager at the Accademia Costume & Moda. "Happy to have participated and proud of our designers."
A few days later we learned that the winner of the competition was Giulia Geria. Congratulations, doll! May your training at the house of Lésage be a rewarding experience.
The winner: Giuilia Geria.
xxx
Glenn Belverio