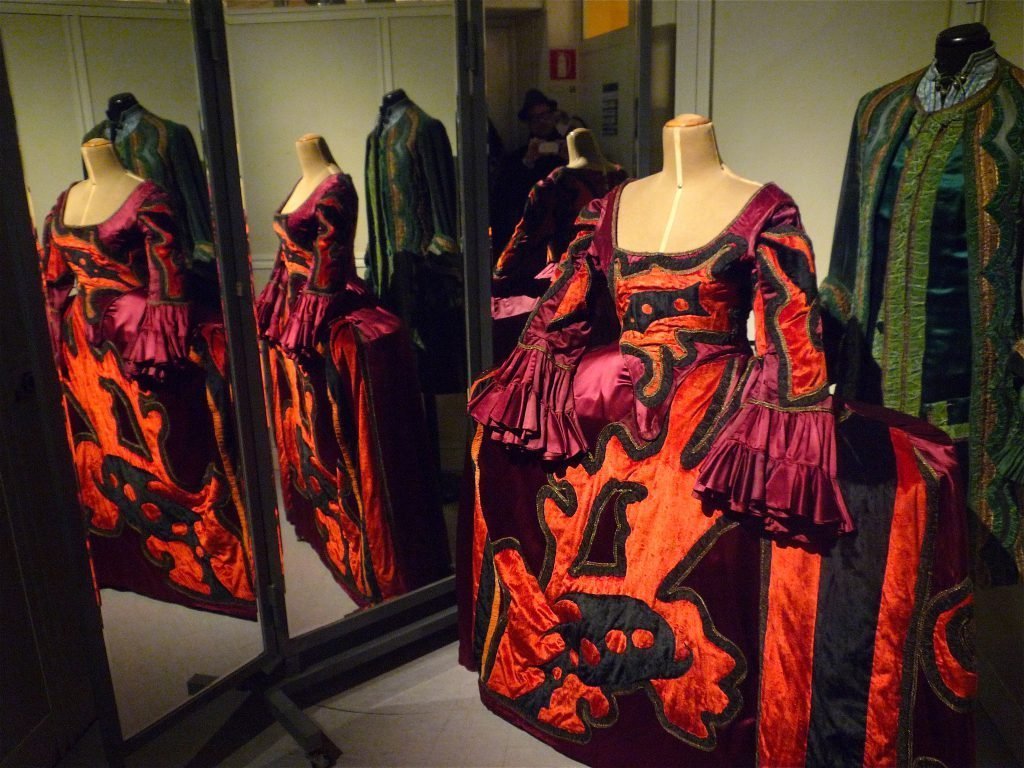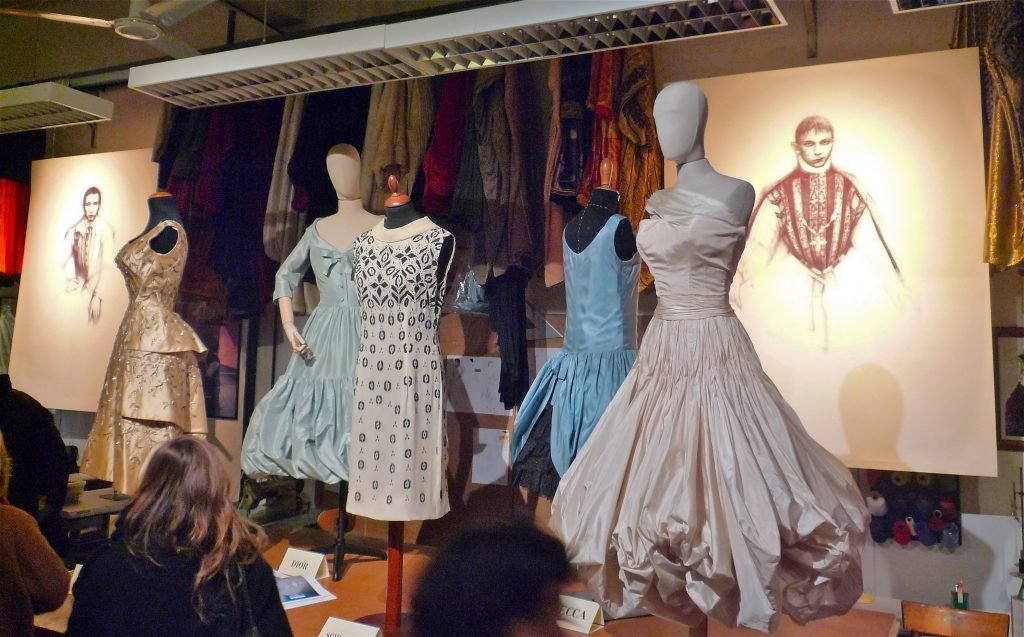 Above:
1. Costumes from Federico Fellini's The Clowns
2. Costume from Fellini's Casanova. Costume designer Danilo Donati won an Oscar for his costumes for this film in 1977.
3. Vintage couture framed by illustrations by Luca Cruz Salvati
Above: Soldier costume from Pier Paolo Pasolini's deliciously erotic Arabian Nights
Dear Shaded Viewers,
While I was in Rome for AltaRoma last month, we were all treated to a rare event: a visit inside the legendary Sartoria Farani workshops and archives in Trastevere. If you love the films of Federico Fellini and Pier Paolo Pasolini, as I do, this was a film fan's dream. For more than 50 years, the Farani workrooms have been producing costumes for some of the biggest names in Italian film and stage. They also possess an astounding collection of couture pieces, dating back as early as 1700.
This exhibit, "From Costume to Couture," curated by Clara Tosi Pamphili and Alessio de'Navasques for the ongoing A.I. Artisanal Intelligence series at AltaRoma, also included work by contemporary fashion designers, young artists and artisans. It was a delightful combination of past and future.
Luigi Piccolo, who took over the reins from Piero Farani when Farani passed away in 1997, runs the workshop where costumes are sewn and welded, and where tailors translate the visions of directors and costume makers by inventing new materials and employing myriad artisanal techniques.
Costumes from Fellini's The Clowns, his 1970 TV film that was part-fantasy, part-documentary. I recently bought a DVD copy of the film (it's not available on Netflix, Amazon Instant and Hulu) and it's a bittersweet look at the European clown crisis of that era–a crisis that is only hitting the U.S. now!
More costumes from The Clowns. The winged costume is featured in a scene where some clowns are performing before an audience of insane-asylum patients.
Costume designer Alessandra Torella created this gown for the 2009 Italian-Spanish supernatural thriller Imago Mortis which was influenced by an early Dario Argento film Four Flies on Grey Velvet (which features an exquisite slo-mo car crash scene set to an Ennio Morricone piece.)
A Watteau-style dress from 1700, one of of the oldest pieces in the Farani archives.
Left: Chanel dress from 1920; right: dress from Farani's private collection, circa 1920, designer unknown.
One of Farani's pattern makers working in front of an illustration by Luca Cruz Salvati.
Vintage Dior
Illustrations by Luca Cruz Salvati from his series Principi senza princìpi – large drawings of young men in 17th-century costume with the faces of young Eastern European prostitutes.
Luca Cruz Salvati attended my 35th birthday party last month, so I reached out to him (when we were going to press, he was luxuriating in a villa on Lake Como) to find out everyhing about his inspiration for these intriguing and darkly charming illustrations:
"The idea for Principi senza princìpi came spontaneously to me. The faces of these boys came from various sites, LiveJasmin, Cam4, they appeared in pop ups so frequently on my computer screen that their presence it seemed was expected and, for the most part, ignored. And yet one day it seemed absurd to close a window on my computer screen and find image of a young shirtless boy staring back at me. It seemed to me that their youthful arrogance could be that only of 17th-century princes, smiling at me, waving their fingers for my attention, playful in a way that only the ignorance of their age could produce.
All this in juxtaposition of the reality of their situations, some of which was made somewhat clear to me during several communication attempts on my behalf. It struck me as oddly un-erotic at times. The idea of 'immortalizing' these boys on paper, could only be done because they had no meaning. It's easy to create a portrait of someone whose presence in some way affects your life, and the process becomes in a way an exchange, from the subject to the artist and vice versa. These boys had absolutely no idea that I created them as princes, something which they will never become.
The time frame for each drawing varied piece by piece–based on the complexity of the costumes. What interested me the most about the 17th-century attire was, aside from the obvious beauty of each intricate piece of wardrobe, was the almost sacred ritual of dressing at the time. Each detail held its own meaning in the confrontation to its wearer, in respect to their status and role in the community of that era.
I'm continuing to work on this project, the objective would be to have a series of at least 10 portraits. In the meantime I'm working on several other projects which hopefully will be public in the near future."
The gold dress was designed by Mauro Pagano for a 1983 production of the opera Capriccio.
Top: Gown by Oscar-winning costume designer Danilo Donati.
Jackets by Fabrizio Talia, one of the designers whose work was hosted by Farani for this event.  After collaborating with several of the best-known names in fashion–Dior, Cavalli, Moschino and D&G–Talia developed his (es)*Artisanal project, which involves combining contemporary art with fashion. These jackets are treated with gold and silver leaf and rich embroidery featuring original fin de siècle crystals.
When I saw these two costumes I literally gasped and nearly fainted–Jane Fonda's costumes for the sci-fi camp masterpiece Barbarella. The legend has always been that Paco Rabanne designed the chainmail piece on the right (or both), but apparently the real story is that the costumes were produced here at Sartoria Farani based on sketches by costume designer Jacques Fonteray (who is listed as the costume designer in the film's credits). Fonteray passed away last year in Paris at the age of 94.
Biographical material abounds in which Paco Rabanne is credited with designing the film's chainmail costumes. It does make one wonder. After all, legendary Hollywood costume designer Edith Head sometimes took credit for pieces she borrowed from other designers. It's also been said that for Barbarella, Fonteray was probably inspired by the metal designs of Paco Rabanne, which debuted in Paris in 1966 with Rabanne's "12 Unwearable Dresses" collection (which was hilariously spoofed in the opening fashion-show scene of William Klein's Who Are You, Polly Maggoo?).
Sex-on-a-stick with wings, John Phillip Law, and Jane Fonda in Barbarella.
A major metal moment from Who Are You, Polly Maggoo?
Two current pieces from designer Mirko di Brandimarte. The hallmark features of his brand include exclusive embroidery, light feathers and sensual diaphanous fabrics.
Another current piece, this one from haute-couture brand Augustin Teboul. The brand's collections are produced in Germany by a design duo and stem from a "combination of poetry and gravity, a delicate balance between eccentricity and sobriety." Would be great to see this number on the red carpet at the Oscars next month instead of the usual crop of blah frocks. Judi Dench, want to give it a shot?
Costumes from Franco Zeffirelli's 1990 production of Hamlet designed by Maurizio Millenotti.
The curators of the exhibit chose to put this new work from Rui Duarte near the Millenotti costumes because they are all made with boiled leather. Duarte's first love is cinema, then literature: Céline, Genet and Pasolini inspired the creation of these leather pieces that are devoid of stitching or glue. Three of these pieces are dedicated to Pasolini. Each piece is crafted by hand and painted by the designer himself.
Photo of Totò, Pasolini and Ninetto Davoli from the production of Pasolini's 1966 film The Hawks and the Sparrows.  The photo used to hang over Clara Tosi Pamphili's bed but she dontated it to Sartoria Farani because the costumes for the film were produced here.
Helmets from Pasolini's Arabian Nights.
Emilio Schuberth gown circa 1950. Schuberth designed for a glittering galaxy of stars and royalty during the '40s & '50s: Princess Soraya, Rita Hayworth, Ingrid Bergman, Bette Davis, Brigitte Bardot, Sofia Loren, Gina Lollobrigida and Anna Magnani.
The white dress was designed by Danilo Donati for Pasolini's infamous Salo: 120 Days of Sodom.
Hats by Danilo Donati for Pasolini's The Gospel According to St. Matthew
Dior-inspired gown by Irene Galitzine from the late '50s.