Me in the Princess Bed during a chat with Isabelle
Dear Shaded Viewers,
Always one of the highlights of Beijing Design Week is a visit to Wuhao Curated-Shop. Last year, Wuhao's founder, Isabelle Pascal, organized a pop-up teahouse in a gorgeous old house on Dashilar Alley. This year, she brought it back home to her shop located in an historic courtyard house, nestled within Dongcheng district in Mao'er Hutong, where she has been for over 2 years.
We were invited to the launch of Mao'er Ji Guan, the special BJDW project that celebrated the arrival of fall. (Lucky for me, a Capricorn, the project is dedicated to the Earth Element.)
Of course, Isabelle being Isabelle, she made sure that the international press made a colorful and dramatic entrance to her event. This would be no hum-drum van ride or languid stroll through the hutongs. It started like an Agatha Christie novel, where we were all mysteriously told to wait on the main road, outside of the hutongs, under the full moon by the gorgeous Lama Temple…
After several long, confusing minutes, the tranquility of the temple and the bright moon were interrupted by the loud roar of a squadron of motorcycles. Ancient China once again interrupted by the crash of modernity. I'm sure Buddha, despite everything, was loving it.
Yes, we were to ride through the hutongs in stylish side cars and make a rock-star-like entrance at Wuhao…
Needless to say, our honky convoy of motorcycles and side cars drew a LOT of attention from the local hutong dwellers….everyone stopped to see what all the commotion was about.
We drove through the lovely yet touristy Houhai Lake area
When we arrived at the red-lacquered entrance hall of Wuhao (Mrs. Vreeland would have loved it), all was tranquil again…
I was over the (full) moon for these skyscraper candles by Naihan Li. She needs to do a Chrysler Building one, though (to go with my view of the Chrysler Building from my bedroom).
Naihan's motivation for designing these candles is that she HATES skyscrapers. (Maybe because she's like my friend lesbian rock star Carole Pope and regards them as penises.) Before the event at Wuhao, Naihan commanded Isabelle to "light ALL the candles because I want to destroy all skyscrapers!" Oh, and uh-oh….do I spot the World Trade Center up there?! As Prince once sang: Controversy!
A black version of the red Tang-Dynasty-influenced by Nick Wu that I saw in the pop-up teahouse last year.
A fold-away-crate vanity table by Naihan Li
Some fox faces and Innovo-Pinwu's paper tableware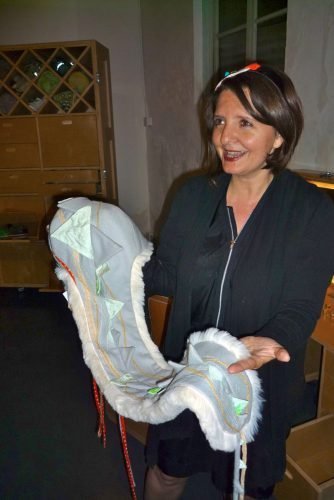 Isabelle Pascal showed us the clothing and accessories she's currently selling…
…including this cute hair pin from Capouche!
It was Mooncake Festival time and Isabelle served these elegant mooncakes on a beautiful tray printed with a ram's head. My favorite was the green-tea cake.
A member of Ibride's cat family
The Princess Bed is all pimped out in metallic golden brown, just in time for glorious autumn. On display were Wu Mian's 55 exclusive rings.
The festive vegetable-dyed dumplings were delicious, each with a different kind of filling.
Federico Chiara, the Culture & Travel Editor for Italian Vogue, having a wine-fueled romantic moment with Isabelle's cat.
Thanks for reading.
My previous coverage from Beijing:
Beijing Design Week at Caochangdi Village & Red Bricks Complex
Beijing's #1 dandy gives a swanky cocktail party for the Party on China's National Day
Rem Koolhaas' CCTV Tower gives the international press a collective hardon
Love,
Glenn Belverio