Dear Shaded Viewers and Diane,
With his first "Advanced Style" book officially coming out on April 17 (but we can pre-order it here), Mr. Ari Seth Cohen's unique, radiant and inspiring portraits are just about to get printed. In the meantime, he gently shared with us a few precious gems of wisdom from his irresistible ladies, along with his hopes and thoughts about the future, freedom, aging and personal style.
S.B.: Since 2008, your blog has inspired and delighted the creatures of the web, definitely becoming a must read for fashionistas and street-style photographers all over the world. Your book though will now finally bring your work back to its very true protagonists, making it easier to reach for those elder elegant souls not so familiar with the blogosphere. Perhaps they will feel proud, a little braver in their look, you will revive a bit of that healthy feminine competition that never really disappeared. What do you hope for? Would you dedicate your book to anyone?
A.S.C.: I hope that it changes people's ideas of aging and allows them to feel better about themselves. These ladies provide inspiration for living life to the fullest. I dedicate this book to both my wonderful grandmothers who had great style, but more importantly great spirit.
S.B.: A splendid Gitte Lee will be the cover star, and I know it will feature an interview to your friend Ilona Royce Smithkin by no less than Dita Von Teese, a gorgeous diva we hope we'll see on your blog 40 years from now. What do these two talented artists have in common, and whose idea was it? What else should we look forward to?
A.S.C.: First of all Dita and Ilona are performers who use dress as an integral part of their art. Ilona is an artist, but as a cabaret performer, she incorporates wonderful and colorful costumes into her work and everyday life. Dita was inspired by Ilona's individuality and spirit and I asked if she would like to interview her for the book. They are both known and appreciated for their originality and personal style. Dita and Ilona are both nonconformists who have shared passion for unconventional beauty and glamour.
http://www.powerhousebooks.com/site/?p=11640
http://advancedstyle.blogspot.com/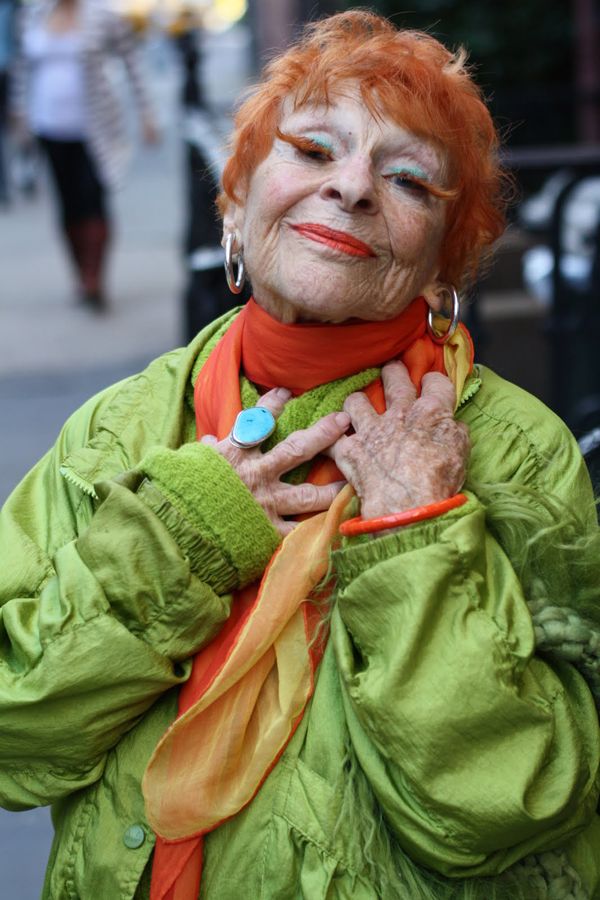 S.B.: Whether the great age of your muses could certainly surprise, what's really charming about the women you photograph is their irresistible, surreal strength, their lighthearted indifference to any trend or critique. You said that confidence is the best accessory, still, it's not for sale. How could we attain such a blessed state of mind?
A.S.C.: The ladies I interview always tell me that they have come into their own over time. I think we can definitely learn from them, but most important is to accept ourselves and celebrate life everyday. 91 year old Ilona Royce Smithkin says that the last ten years have been the happiest of her life. She feels a new sense of freedom, has let go of her insecurities, and can be more giving of herself.
S.B.: Very young people could sometimes approach life in a somehow hasty, impatient way, hungrily, and demandingly. Clothes turn into statements on their sensitive flesh, and the quest for one's own identity is carried out through several daring, unlucky fashion ideas. Do you believe your teenage audience may learn from the wise, glamorous women in your blog and book, or do you think one's own personal appeal could only be achieved through experience and some rather embarrassing missteps?
A.S.C.: We can definitely learn from the advanced style ladies. They always say that style is an ever evolving process. The more we know ourselves, the better we feel. The better we feel the better we look.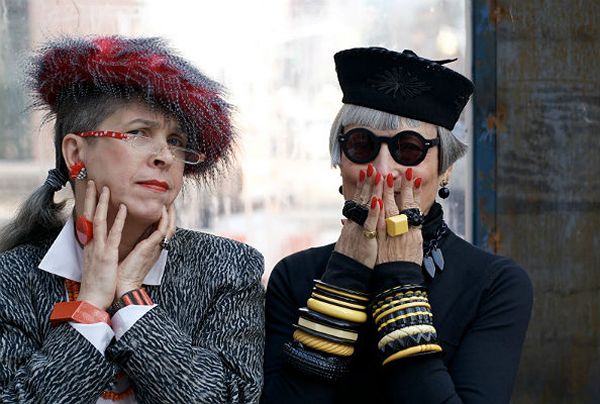 S.B.: Your blog has nurtured our naive minds with priceless fashion tips, bright creative suggestions and a kind of resourceful wit young generations will always lack. I've just seen a fantastic video of Ilona turning a broken umbrella into matching shawl and bracelet and one of Jean making a turban out of a pair of leggings. Absorbing such a rare, unique and graceful wisdom, did you notice your own personal style changing throughout the last three years? What will you be wearing in your eighties?
A.S.C.: I have always been very free with my style. If anything I have toned it down to shine the spotlight on the people that I photograph. In my Eighties, I hope to be a mix of Quentin Crisp and Cary Grant.
http://advancedstyle.blogspot.com/
Later,
Silvia