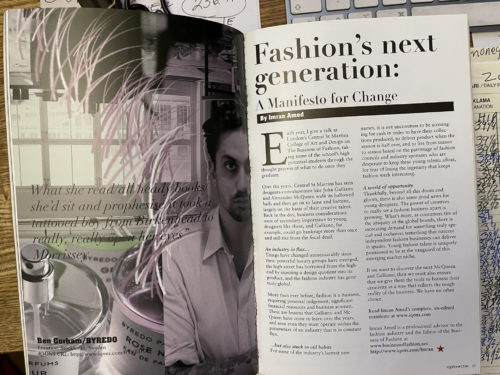 Dear Shaded Viewers,
This morning, as I tuned into the BOF weekly podcast titled "Why Entrepreneurial Success Is About More Than a Big Exit," featuring Ben Gorham of Byredo and Monique Rodriguez of Mielle Organics, a nostalgic memory from 2006 or '07 washed over me.
In those days, Stockholm was a melting pot of emerging talents in the fashion world. I found myself in the city, courtesy of an invitation from Sthlm45—a distinguished platform for budding designers. It was here that I first encountered Ben, not as the fragrance mogul he is today, but rather as my designated driver. The idea? As a journalist, I could shine a spotlight on his nascent career.
The Berns Hotel, our lavish accommodation, resonated with Ben's touch. A peculiar black soap and a range of exquisite bath products, all created by him, adorned the bathrooms. It's fascinating to recollect that before his fame with fragrances, Ben was immersed in the world of basketball.
Around the same time, Imran was taking fledgling steps with BOF. I remember suggesting he write an article about  the business side of fashion for IQONS —an arena surprisingly unexplored then.
Their journeys have interwoven beautifully. In a serendipitous alignment, both Ben and Imran graced the pages of IQONS magazine. A small tidbit about IQONS—it was a groundbreaking online fashion network brainchild of Rafael Jimenez. I had the honor of being its Editor-in-Chief, overseeing its lone printed magazine which extended narratives from the website. "It was a paper edition of the online community put together in 10 days and distributed for free at the shows of members of IQONS community in main fashion weeks. What a ride!" said Rafael Jimenez.
Ben was a revelation. His debut advertisement in our magazine is still fresh in my mind. Given his striking features, I was adamant he be the face of his brand. Imagine—a visual where buyers could not only admire his creations but also get lost in the allure of the creator himself. Although hesitant initially, Ben relented. I even coaxed him to include a cherished quote, lending a personal touch.
A fleeting memory, one of slight regret, also emerges from those days. Ben had proposed crafting a personalized perfume for me. My naive dismissal of the scent as 'too sweet' saw him retracting the offer. Later, he designed a signature fragrance for Fantastic Man, but that's a tale for another day.
The testament to his perseverance and dedication materialized in 2022 when Spanish luxury behemoth Puig acquired his brand for a staggering $1 billion.
The tapestry of success stories is intricate and awe-inspiring. Ben, alongside Monique Rodriguez of Mielle Organics, recently conversed with Priya Rao, the executive editor of The Business of Beauty, at the 2023 Business of Beauty Global Forum. Reflecting on these journeys, it's a humbling reminder of the boundless possibilities the fashion world holds.
Later,
Diane