https://jeudepaume.org/evenement/expo… © Jeu de Paume 2023 Réalisation : Chaï Chaï
Dear Shaded Viewers,
Paris, the World and Fashion is an extraordinary exhibition that brings together 170 prints and 70 archival documents of renowned photographer Frank Horvat. I had the privilege of attending the press preview earlier today, where I had the opportunity to speak with  Fiammetta Horvat, Frank Horvat's daughter and custodian of his archives. This exhibition, hosted at Jeu de Paume from June 16 to September 17, marks the first comprehensive showcase of Frank Horvat's work since his passing on October 21, 2020. It specifically focuses on the formative years of his career, from 1950 to 1965.
Although Frank Horvat is widely recognized for his fashion photography, the exhibition delves deeper into his multifaceted oeuvre. Chardin, the curator of the exhibition,  walked us through the exhibition and at one point explained that Horvat's early work as a photojournalist reveals a self-portrait of the artist himself, showcasing his choice of subjects and the situations he captured. By contextualizing his photography within the history of the medium and the post-war illustrated press, this exhibition provides a comprehensive understanding of Horvat's artistic evolution.
Stepping into the exhibition space, you'll be greeted by a collection of one hundred and seventy prints and seventy archival documents, including publications, writings, books, and contact sheets. The breadth and depth of the selection is truly remarkable, giving visitors a chance to explore Horvat's artistic journey and the profound impact he had on the world of photography.
As I wandered through the exhibition, one particular subject caught my eye—Simone D'Aillencourt. Speaking with Fiammetta Horvat, I discovered that Simone was her father's favorite model, and they maintained a connection throughout his life. I couldn't help but be captivated by the numerous images of Simone on display. In fact, I recall featuring her as the cover girl for JOYCE back in 1996 when she was in her sixties but still retained the same captivating presence she had in the 1950s. It's a memory that remains etched in my mind from my days as a fashion editor for the magazine JOYCE and styling with the photographer Gustavo Ten Hoever.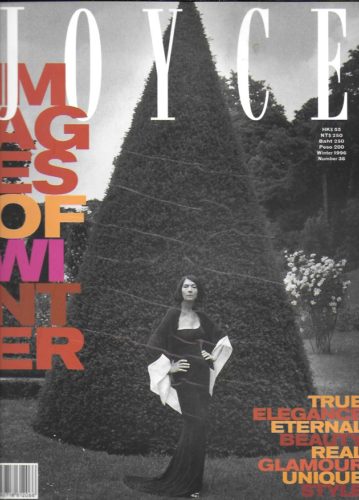 photo by Gustavo Ten Hoever, styled by yours truly for JOYCE
The meticulous curation of this exhibition by Virginie Chardin, with the support and contribution of Studio Frank Horvat and Fiammetta Horvat, brings to light the genius of Frank Horvat. By focusing on his early career, we gain invaluable insights into the development of his distinctive style and the profound influence he had on fashion photography and beyond.
I cannot stress enough how strongly I recommend visiting the Frank Horvat, Paris, the World and Fashion exhibition at Jeu de Paume. It is a celebration of a true master, offering a rare glimpse into the world of a visionary artist who shaped the way we perceive fashion and its relationship with the world around us. From June 16 to September 17, prepare to be inspired and moved by the extraordinary images that fill this remarkable exhibition.
Curator: Virginie Chardin With the support and contribution of Studio Frank Horvat, Boulogne-Billancourt, and Fiammetta Horvat, daughter of Frank Horvat.
Jeu de Paume 1 Pl. de la Concorde, 75008 Paris
Later,
Diane