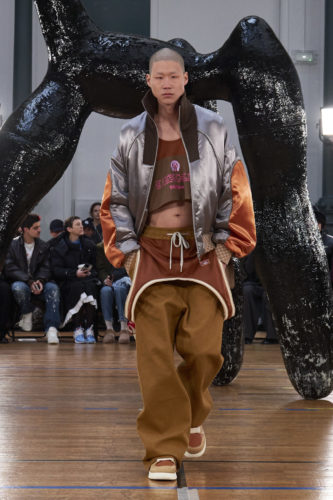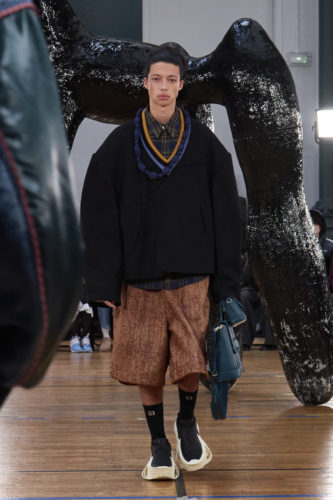 A basketball court possesses a distinctive quality that allows us to feel closer to the elasticities of life, specifically the determination needed for success. For Hsieh brothers, Namesake designers,"Silk Road" was their next runway collection in Paris – where inside a gymnasium, a veiled centerpiece stood amidst an arrangement of chairs signifying the duo's close relationship to basketball culture references. 
Jerseys, coogi sweaters, souvenir and leather jackets are revisited as utilization of vibrant Kvadrat upholstery fabrics, special embroidery plaids and debossed eco-leather create the foundation for their new vision behind their "varsity team". Within the context of clothing, shirts became interchangeable to dresses and pants and as an addition to each look, a new version of the "Skater Boot" was introduced, stemming from subcultures the Hsieh brothers grew up on. 
As a new offering, sporting spirit inspired bags and headwear such as trophy-esque vanity bags, Harlem-inspired paneled hats and eco-leather bags were seen. Subtle yet distinct points of attention were the double-layered bags in various looks which overlaid the hand and shoulder bags, also the white crown, which was an homage to the late basketball player, Kobe Bryant, a rendition of his tattoo on his right arm. This comes as a cue to redefine the house's current interpretation of casualwear and formalwear "Casual garments can still have a formal feel, like baseball heroes can have tormented pasts passes."
The centerpiece is revealed as a "trojan horse" by the Chilean artist, Alberto Vitelio – whose work's rigid notions of beauty combined with the runway's soundtrack installation of Kobe Bryant's iconic farewell speech served as a perfect metaphor for the designers' bold yet witty journey into fashion and a fitting tribute for the sports figure.