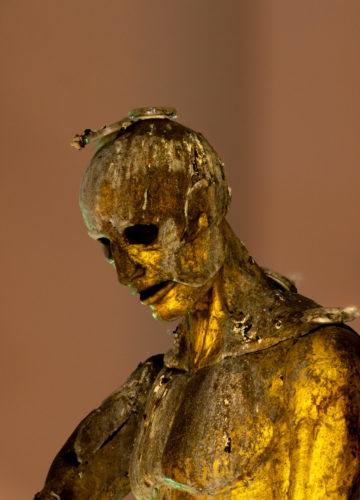 Document Photographique. Référence pour HUMPTY \ DUMPTY, Paris, Mars 2022.© Cyprien Gaillard. Crédit photo : Max Paul.
Dear Shaded Viewers,
HUMPTY \ DUMPTY is a new project by Cyprien Gaillard: an exhibition in two chapters, presented at the same time at the Palais de Tokyo and at Lafayette Anticipations.
It is through a reflection on time, its traces, its effects, and the relationships that humans form with it, that the artist imagines this exhibition. Inspired by the times, when Paris is frantically restoring its most prestigious monuments and erasing the marks of erosion in preparation for the Olympic Games, Gaillard reveals how the city constitutes a privileged terrain for the expression of entropy (degradation, disorder and unpredictability), and how, in return, humans tend to fight against this state. It is in the margins, nooks and crannies, and spaces of dissent that the artist probes our desires for order, permanence and constancy and finds the narratives of possible new balances.
HUMPTY \ DUMPTY, a title taken from Lewis Carroll's novel Through the Looking-Glass, refers to the egg-shaped character who has fallen from a wall and who, despite many attempts, cannot return to his original state. At the Palais de Tokyo, HUMPTY, the first chapter of the exhibition, brings together a selection of works never before shown in France, as well as those of guest artists. Through the relationship between the body and architecture, abandoned territories, evocations of war and invasive species, Gaillard paints a portrait of our link to collapse and reconstruction. The obsession with the preservation of beings and the conservation of things, and the permanent temptation to maintain or regain a certain order in the world, are revealed.
At Lafayette Anticipations, for the second chapter of the exhibition, DUMPTY, the artist gives new life to a work that has fallen into oblivion. A monumental sculpture installed since 1979 in the heart of Paris in the Horloge district, which was then under construction, this automaton, a unique clock in the world, consists of a man perched on a rock equipped with a sword and a shield. The last movements of the automaton took place in 2003, and it has remained paralyzed ever since, gradually abandoned to a colony of pigeons and to erosion. Cyprien Gaillard proposes to bring it back to life and to work towards its rebirth. The movements of this permanent battle against time, which he is trying to catch up with, are thus resumed.
Curator: Rebecca Lamarche-Vadel
Credits: Photographic Documentation. Reference for HUMPTY \ DUMPTY, Paris, March 2022. © Cyprien Gaillard. Photo Credit: Max Paul.