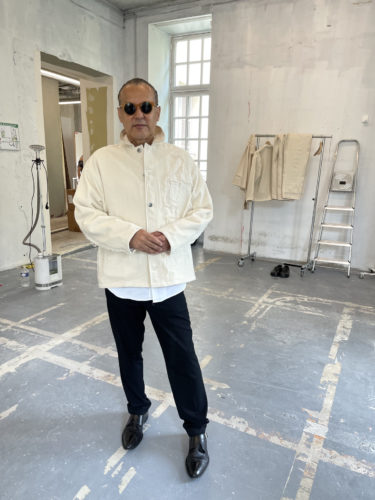 Dear Shaded Viewers,
When the designer of AIREI, Drew Curry, was in college he bought a one way ticket to Calcutta and ended up spending 3 months there and staying in a building called Sunflower Gardens. The installation at 35/37 represents a Mother Theresa location in Calcutta where he did some charity work. With no art or fashion background he worked for the past 11 years, nothing happened for the first nine years and then Adrian Joffe of Comme des Garcons and Dover Street Market and 35/37 gave him an opportunity and today he is in Paris and showing his collection that happened during COVID. So there are some good things that came out of that difficult period.
Now for the unfortunate part, the video above is basically just to look at because about one minute in the sound disappeared. No idea how that happened as it is the sound in my mobile and I only noticed it now when I was replaying the video. So a few things…
Cotton comes from india but the garments are made in LA for the most part except the blanket cotton coats that are hand made in Calcutta. The pieces, that you can see but cannot hear…have fine embroidery threads that are like a web that in time will break. A pocket hidden in between two layers of fabric, you need to break into the fabric to use it. Drew wants the wearer to be a participant in the process. Some of the knit pieces are dyed the colour saffron that goes beyond what one would imagine from any colour, it feels like the energy of monks is embedded into the textile. There are bucket hats made out of it as well …you can see but cannot hear anything he is saying. Enjoy the silent film.
What can I say…technical problems, maybe you can lip read for the top video?
Later,
Diane