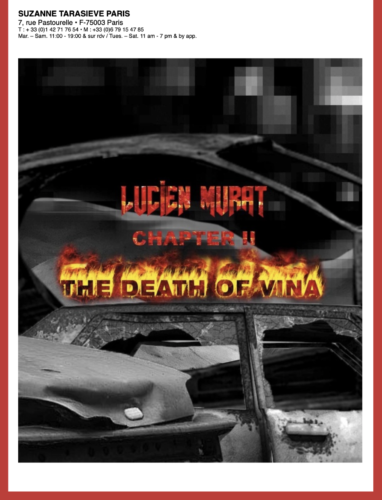 When he launched Meta, Mark Zuckerberg conceded that his little project could only happen if he could
transcribe a feeling of presence, i.e. to give the virtual the flavour and texture of life. For the past few years, however, Lucien
Murat's work has been situated exactly in this paradox of virtuality, this existence, omnipresent even, but which lacks being. We have been able to retranscribe the sensations of the body virtual environments, have you noticed how the sensation of vertigo confuses us and how the sensation of vertigo confuses us and fools us? How our body expects pain when it crashes to the ground, but it doesn't happen? Like our brain knows that the universe around it is fake while the body believes it is? There is a cognitive dissonance we manage, for a while, to deceive our perceptions and our brain. But only for a while. The looks of the avatars we meet remain lifeless, with uncanny expressions when they try to simulate reality in their overrated smiles, the textures are bland, no physicality, no matter, while the body is paradoxically engaged…
With Lucien, we often speak of "disembodied figuration", both to describe this strange sensation, but also to describe his painting, and that of a significant number of artists of our generation, who grew up in the 1990s, that is to say the pivotal moment when the virtual and the internet, at least the www, fell upon us, came down on us in a big way. The artists of disembodied figuration all have the particularity of representing virtuality by using paint: polygonal volumes, garish colours, from magenta to Atari green, the twilight skies of Doom without weather, the lifeless looks of the avatars, their slightly incoherent movements… A painting that proposes, in fact, to reincarnate this lifeless figuration, to give being to the iconography of virtuality, to put in it the matter and the
physicality that is missing. The interest of these painters lies in the fact that they offer an alternative to the rather silly social figuration of our time and the rather cold post-digital abstract painting that has recently invaded us. Painting embodies, it lives, at least when it is well done, at least that is what we've  been told for centuries and have experienced it. In fact, it proceeds in the opposite way to the virtual: flat, immobile, but saturated with being and matter.
Clément Thibault
LUCIEN MURAT The Death of Vina Chapter II 04 juin – 16 juillet 2022 Vernissage le samedi 4 juin 2022 de 18 h à 21 h
SUZANNE TARASIEVE PARIS 7, rue Pastourelle – 75003 Paris