Dear Shaded Viewers,
Yesterday at the Protestant temple of the Louvre oratory, the Parisian label EGONlab founded in 2019 by Florentin Glémarec and Kévin Nompeix unveiled its first show, Fall/Winter 2022 collection, an invitation to escape the real world.
"It is the end of the world as we all know. Come and find refuge in the temple EGONIMATI " wrote EGONlab under an Instagram post. This sacred place has been transformed for the occasion into a world where a secret society is in charge of establishing universal happiness – a new world order based on total freedom of being and thinking – where the models are not men, not women, not aliens or humans but creatures going to the same future, which they created, which we created, the metaverse. That is to say that there are no more genders, religions, different politics, but a universal cohesion with the same hopes and dreams, questioning transhumanism, and making fashion the perfect receptacle, itself infinitely renewable. With music announcing the end of the world,  a man dressed as a priest with  tattoos on his face, came out of a vaulted door on which was written: The gift of God is eternal life, in Jesus Christ our Lord.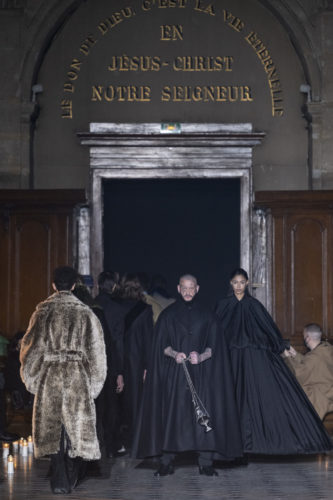 EGONlab will launch its collection on its immersive website, its metaverse, which is totally in line with today's news and the infinite possibilities of the internet. The eternal life of the models parading, soon in the metaverse, joins the experimental and inclusive DNA of the brand which merges the real and virtual worlds. This season, the designers revisited Dalí's surrealist pyramid affixing the face of Aphrodite on the shirts – a print duplicated in a filter dedicated to social networks.
This season, the label has collaborated with several brands including Crocs, the two brands have imagined five pairs of crocs set with Swarovski crystals, to be auctioned as NFTs.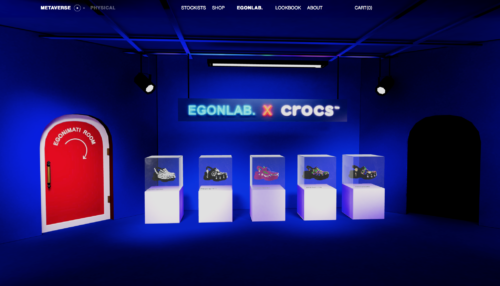 Some of the silhouettes are adorned with esoteric symbols such as the mesh dress which exposed the model's breasts through the cross. Other strong silhouettes included the long capes which looked more like togas and the strong shouldered outerwear that appeared to have been constructed as a protection for the wearer from the outside world. 
A pyramidal construction in black crinoline closed the show, a nod to the Illuminati.
There were also classic looks.
EGONLAB won the Pierre Bergé Prize at Andam in 2021 and currently is a finalist for the Woolmark Prize 2022. For now they are entering the metaverse, creating NFT's and understanding the importance of the virtual world.
www.egonlab.com