Kitsuné Camp – Spring Summer 2022
Dear Shaded Viewers,
The new Kitsuné Spring Summer 2022 collection Kitsuné Camp, inspired by the countryside, makes us want to leave Paris or Tokyo and join the great outdoors and breathe the fresh air.

The Franco-Japanese brand founded almost 20 years ago by designers Gildas Loaëc and Masaya Kuroki, invites guest designers to create its collections, Marcus Clayton, the new artistic director has signed for two years and succeeds the Korean Yuni Ahn, who was formerly at Celine. After graduating in fashion design at Central Saint Martins in London, Marcus Clayton worked for Jean Paul Gaultier, Christian Lacroix, Alexander Wang, Givenchy, Golden goose and Fenty. For this new house he has imagined Kitsuné Camp, a mix and match between the city and the country, always breaking a city piece with a sportswear one, like this jogging suit worn with a trench coat or this silk scarf worn on a cap, creating casual chic looks.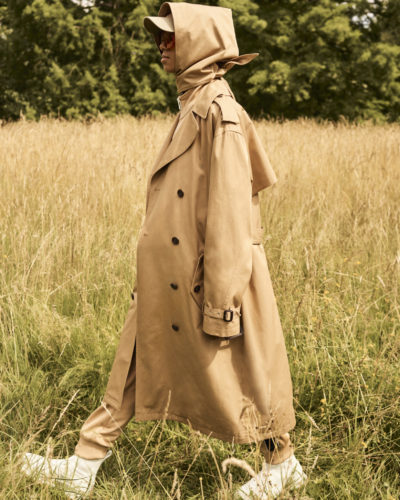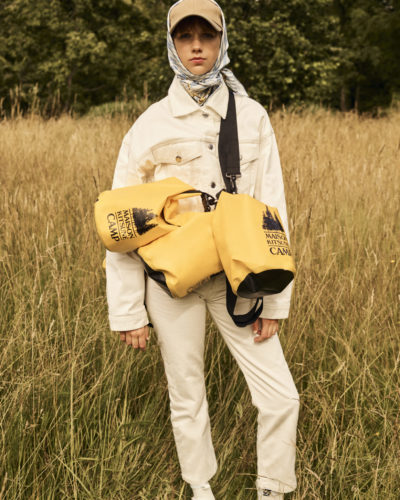 Kitsuné Camp – Spring Summer 2022 
Parkas declined in several materials, short pants, reversible pieces … Clothes adapt to us, we have the choice to wear them in several ways and to layer them. This 80 percent unisex wardrobe is designed for the outdoors, the pieces are practical for a hike or a walk in the woods, in shades of khaki, beige, camouflage, brick … the cuts are slightly oversized, we can put this windbreaker over this jacquard fleece with the head of the little fox, or just wear it with jeans if we want to stay by the fire.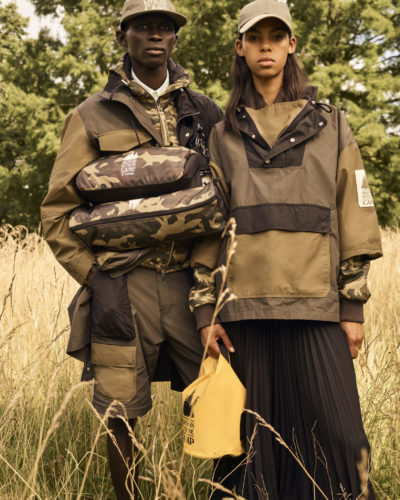 Kitsuné Camp – Spring Summer 2022
For this collection, Kitsuné collaborated with several Asian brands for accessories. Like Chromis, the Hong Kong eyewear brand, but also Helinox, a Korean brand of nomadic outdoor furniture, they offer a folding chair, which can also be worn on your bike in the city while being fashionable. For the shoes, it is an English brand, Shotgrit, which proposes a pair with vibrating soles, a technology which allows to walk longer and more comfortably. 
He also designated pieces closer to the basic DNA with minimal and simple cuts of Japanese denim in shades of beige and navy blue, suits and sweatshirt, their motto being "Choose well and do well".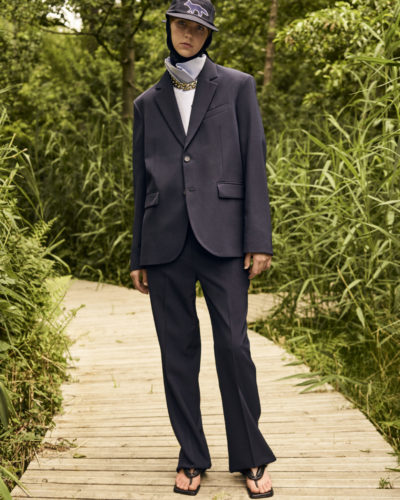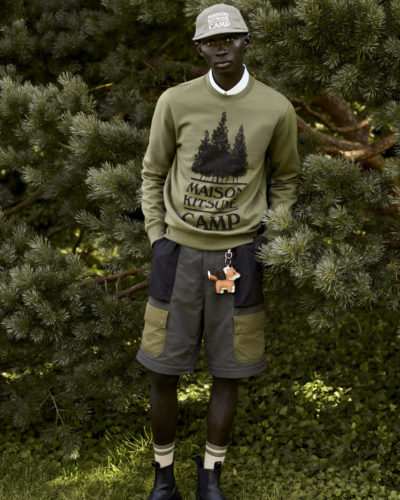 Kitsuné Camp – Spring Summer 2022
And clothes that are more summer vibes with its pastel colors. There are striped shirts in blue, pink, yellow … to which we always bring with an original touch and a concern for detail, a silver and gold chain.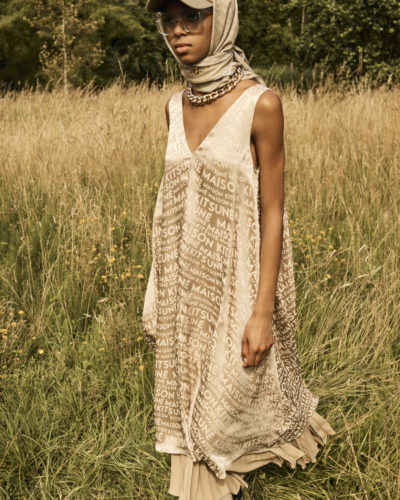 Kitsuné Camp – Spring Summer 2022
With Kitsuné Camp, the brand that was originally a music label, and discovered the daft punk, celebrates its philosophy of thinking, its life style. We feel the love for the clothes in which we can live, while the autumn arrives we want to wear them around a good coffee, because Kitsuné also has a roasting workshop, and to let go of the city by going with friends or family in green spaces. This collection couldn't be closer to the brand's iconic logo, whose name means fox in Japanese, a feisty animal that lives in the countryside.
Maison Kitsuné – 52 Rue de Richelieu, 75001 Paris – 18 Bd des Filles du Calvaire, 75011 Paris – 2 Rue du 29 Juillet, 75001 Paris
Café Kitsuné – 51 Gal de Montpensier, 75001 Paris
Photographer : Bruno Staub
Podcast: Entrepreneurship in fashion Gildas Loaëc.