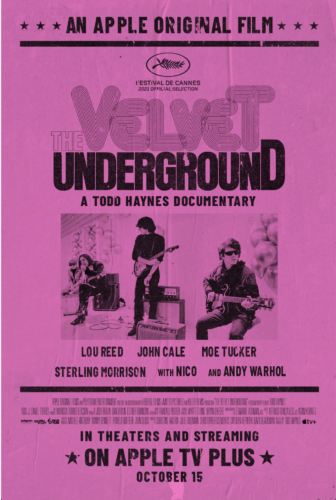 Dear Shaded Viewers,
I've been a fan of Todd Haynes since the first time I saw Poison then "Superstar: The Karen Carpenter Story" back in the late 80's early 90's. I've watched all of his films since then and had the great pleasure of meeting him in New York while invited for the "Persol Magnificent Obsessions exhibition: 30 stories of craftsmanship in film" at the Museum of the Moving Image in NYC. I was so enchanted talking to him that I should have asked him to switch places with me so he wouldn't have been back lit. At any rate he remains one of my favourite directors.
Todd Haynes Documentary "The Velvet Underground" documents the 1960's group that was once managed by Andy Warhol. The film is a series of archival footage, interviews with band members and those around the Factory, key players as well as music executives and critics of the era. Their initial run from 1965-1970 was not commercially successful however they went on to influence generations of musicians from Patti Smith to Beck and beyond.
"The Velvet Underground" is the first documentary from Haynes and had its world premiere at the Cannes Film Festival and will debut on Apple TV Plus and in select cinemas on October 15th.
Later,
Diane