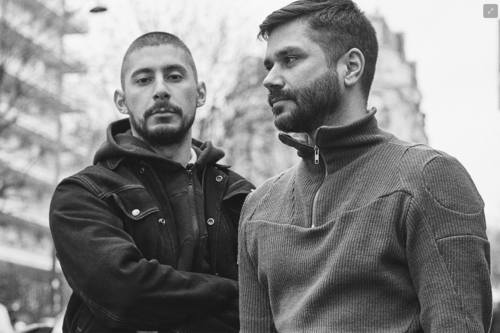 Dear Shaded Viewers,
It has only been five years since the niche Berlin-based brand, GmbH was launched. Benjamin Huseby and Serhat Işık are the designers behind the brand and thanks to Ritual Projects I've followed them since the beginning. The duo is looking to inject some GmbH philosophy into Trussardi. They said, "With GmbH we have helped bring topics of inclusivity and responsibility to the forefront of the fashion discourse. Our vision for the revival of the house of Trussardi will be founded in these exact values."
Trussardi was founded in 1911 and started life as a leather glove manufacture, before turning its hand to creating more leather goods from the '70s-onwards after Nicola Trussardi took over from his uncle.  Huseby and Işık intend to continue to take the brand into a new era.
In a statement published by WWD, the duo added, "Trussardi comes charged with pedigree and enormous untapped potential. We were drawn to the possibility of building a house anew." WWD continues with a statement from Trussardi chief executive officer Sebastian Suhl, who said, "Serhat and Benjamin bring a distinctive and powerful vision to Trussardi… The team and I are profoundly excited to embark on this journey with them, in view of bringing a contemporary and responsible lifestyle experience to the market."
"GmbH is known for its leather-clad collections that are rooted in the Berlin underground club scene, drawing influence from this and icons such as the techno-haven Berghain. With Trussardi's roots founded in leather, the creative directors feel like a perfect match to bring it into the new age." Hypebeast.
GmbH – Autumn Winter 2021 Men's – PFW – text by Ivo Barraza Castaneda
Later,
Diane