Dear Shaded Viewers,
As we are all wondering about the future of fashion and what the next big thing will be, perhaps we should all turn attention towards the metaverse. Nowadays, the word gets thrown around quite a lot without sufficient information on what it is and what it could mean for all of us. Meta, meaning beyond and verse, as in universe is the latest technological revolution that is expected to change our lives. Though there isn't a fixed definition on what the word suggests, it can be defined as a fully interactive reality where the virtual world is layered on top of the physical world, becoming one.
In the VRARA's Global Summit, Nokia's Head of Trend Scouting Leslie Shannon explained that the metaverse as "… the idea of taking information about things, locations, or historical events and actually locating that information out there in the world where it's most relevant." Instead of reading information or seeing content, imagine being surrounded by it. An interesting visual example of what the metaverse could be, can be found in the Adobe MAX 2019 video below.
Today, the idea of metaverse goes beyond what currently exists. But imagine in the future, you are wearing a pair of glasses that allows you to enter the metaverse, while you are walking down the street, the people you come across are wearing digitally designed clothes, perhaps the latest digital collection by Gucci, but when you take off your glasses, they are in a pair of jeans and a t-shirt. This version of the world may seem far away, but major tech companies are already betting big on the development of the metaverse. Snap (the company which owns Snapchat) recently revealed that they had built a new version of their Spectacles, a pair of glasses that would let you see digital content in the real world. Though they are not currently for sale, the company announced that the glasses would let the users try on virtual clothes in the future.
Another initiative came from Adidas's former Head of Digital Innovation Strategy, Ryan Mullins revealed that before the pandemic they had created an app called Aglet. Similar to the Pokemon Go game which is a close example of what the metaverse promises (virtual content located in the physical world), the users would be hunting for virtual sneakers of limited drops scattered around the city, instead of rare Pokemons. The points you earn in the game would have gotten the users real discounts at the Adidas stores and be used for in-app purchases. The users could then display their virtual sneakers on their accounts and eventually trade with each other. However, due to the pandemic the app couldn't launch.
Though there have been initiatives and continuing research towards the subject, the fashion industry must pay attention to the digital revolution and understand the opportunities the metaverse will bring to the arena.
Here are some reasons why the metaverse matters and how it will affect the industry.
Dressing the "self" 
Today, we project different identities online and offline. In the physical world, fashion plays an important role in expressing ourselves and how we wish to be perceived by others. Our way of dressing can give hints about our social status, economic income, attitude, personality, age, gender and so much more. Fashion again plays a crucial role in developing a personalised bond with our virtual identities or in other words, our avatars. With the possibilities of digital fashion, we'll be able to form a new understanding of our body, movement and self, re-discovering our relationship with materials and re-invent who we are in the virtual space.
Brands are already tapping into this area, by creating digital looks for people to customise their avatars. One of the biggest platforms for digital fashion at the moment is IMVU, an online metaverse and social networking site founded in 2004. In the platform, you create your own avatar that you can dress with the coins you buy, curate your own living space, invite guests over, go to the coffee shop, start chatting with a stranger… What makes IMVU different than other social networking sites is that it allows you to become a Creator and design digital clothes for other avatars to buy. The purchases are made in VCOINs (the site's own cryptocurrency) which translates to real-money. The avatars can then feature their new outfits on their accounts, send it to their friends as a gift and share it with the world by posting it on the site's Discover Page (similar to Instagram). IMVU proves that though the clothes do not exist in the real world, it does not mean they don't have value and I must say, when I first entered the platform I was struck by diversity of the avatars and the creative imagination of its users. The real Instagram page feels quite boring after checking out the world of IMVU. Perhaps, in real life we should all start dressing like how we dress our avatars.
"Fashion is at the epicenter of why people create avatars and connect with others on IMVU, part of that is because dressing up an avatar in a digital space gives people access to anything that they want to look like, and it's hard to do that in the real world." says IMVU's Senior Director of Marketing, Lindsay Anne Aamodt in an interview with Vogue.
With the social distancing rules in place, luxury brands turned their attention towards new online platforms to showcase their collections. While Balenciaga created its own game called "Afterworld: The Age of Tomorrow",  Valentino and Burberry presented their seasonal collections in the Nintendo game: Animal Crossing. This year, with the aim of being pioneers for digital fashion, IMVU will host its first virtual fashion show on May 27th with emerging labels Collina Strada, Gypsy Sport, Mowalola, Freak City, Bruce Glen, My Mum Made It and Mimi Wade who will present their one of a kind digital collections for the site's users to buy and dress their avatars. The fashion show will allow IMVU to present a new experience for their users, the brands (without wasting any resources) will have a platform to express their creative visions, gain a new digital market and the users will have access to high-end designer clothes for cheaper… a perfect match made in heaven for all parties.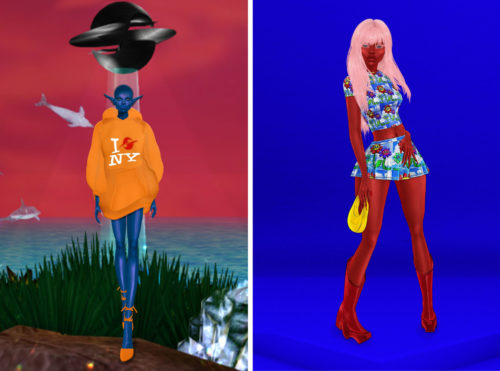 Sustainability
Sustainability is one of the drivers of the digital change in the fashion industry. The start of the pandemic has accelerated talks on production and consumption habits, with more and more consumers demanding brands to adapt eco-friendly and socio-economic policies to tackle pollution, carbon emissions and violation of labor rights. Thankfully, digital fashion wastes no actual resources and may be a sustainable replacement for the current system. In 2019, mass producers Hugo Boss and Tommy Hilfiger announced that they envision the future to be digital in all aspects, even in production, expressing that they are switching to 3D design software programs to create their latest collections, in order to cut down on resources and samples.
The Fabricant, the digital fashion house from the Netherlands received a lot of attention back in May 2019 when it sold the world's first digital couture garment called 'Iridescence' on blockchain for £6,800. The company expressed that it aims to encourage the fashion industry to move into a virtual arena, where brands start producing less physically and more digitally, "The Fabricant wastes nothing but data and exploits nothing but imagination. Digital garments vastly reduce fashion's impact on the planet's resources and the natural world. When clothing is always digital, never physical, pollution and waste reduction are non-topics. In this new sector, there's no need for samples, high retail stock levels or size ranges. It's sustainable by its very nature." the company expressed in the press release.
Digital fashion will also have an impact in the democratisation of fashion. Everyone regardless of age, body, gender will be able to share the experience of wearing a digital garment, in support of inclusivity. Not to mention, the customers will have an easier access to high-end designer clothing that they normally wouldn't be able to afford in real life, such as the case with Gucci, who launched their first pair of virtual sneakers in the Gucci app for £8, which could only be worn online in the app and other virtual platforms. If you are thinking, well who would buy digital fashion, the answer is simple. Just look at the late-Millennials and the Gen-Z generations who are growing up in the world of gaming where everybody expresses themselves through their avatars. They will need more fashion brands to dress them up and if it is sustainable, then why not?
Shopping Experience
Shopping is a social interaction, an activity where we engage with others and step inside an experience which leads to a transaction. With the pandemic, just like shopping, we had to switch our social interactions and experiences online; having our graduation ceremonies over Zoom, forming friendships in gaming platforms like Fortnite, family reunions over Skype, ordering groceries online… With most stores closed down, shopping for most customers have been through e-commerce; buying clothes online, trying it on at home and keeping or returning it as they please. The process seems rather tiresome and out-of-date for many. But with the possibilities of augmented reality and digital fashion, customers won't need to go through all that trouble, yet alone go to a store. Instead they will be able to try on clothes in the virtual space, experience the garments holographically on their bodies, see how it fits and purchase it after. Imagine looking at yourself in the mirror as the latest collection by Valentino is projected on you. Today, company SPATIALx is working towards the "virtual try-on", hoping to change the shopping experience in fashion by mixing reality with holographic projections. The virtual try-on shopping experience will move us from the physical store to the metaverse, not only changing the way we experience dressing up but creating a positive impact in the environment by lessening carbon emissions, lowering transportation costs and easing the logistical traffic. Perhaps, it is time to ditch the dressing rooms.
Another innovative idea came from the collaboration between Hong Kong based luxury retailer I.T. and the digital fashion house The Fabricant. To celebrate I.T.'s 30th anniversary, the retailer set up pop-stores where digitally recreated garments were presented to the customers. Featuring no-real clothing but only the digital versions, the customers were then encouraged to make their orders via the app and website. An interesting approach to what fashion stores may look like in the future but it must be mentioned that if these technologies replace the current system we have today, then we are eliminating one of the most important aspects of fashion, the "touch". The value of a garment is measured not just by its design, name and heritage but also with its craftsmanship, quality of fabric and the fit. If you take these three values of measurement out of the store, then what will be the values replacing them and pushing customers to buy an expensive piece of clothing?
Window Shopping
Window shopping is a fun activity for many of us, it's easy, exciting and most importantly free. The shop windows are our first point of contact with a store and an effective window display can turn a passer-by into a customer. With augmented technology and algorithms, in the future brands will have the chance to customise shop displays according to each customer's profile. While you are walking pass a store, by holding your phone or other electronic devices over the shop window, you'll be able to see personalised content featured in the space. Two years ago in the Web Summit conference in Lisbon, Daniel Grieder (CEO Tommy Hilfiger Global & PVH Europe) spoke about the future of window shopping, revealing that "Due to augmented reality and the data, the shop window will always look different. As soon as you pass by, you are detected and the shop window is adjusted and personalized. Maybe you can see yourself in the shop window, dressed in the clothes that are hanging in the shop." While there still may be some time for that technology to develop, an initiative towards interactive shop displays came from Zara in 2018. In an effort to reach millennials, the brand completely emptied its shop windows and encouraged people to download the Zara AR App and point their phones to the display, only to see Léa Julian and Fran Summers model the latest collection by the studio.
Augmented and customised window displays can help brands engage with their customers in a more unique way and start the brand experience even before they enter the store. The personalised displays may prove beneficial for customer loyalty, helping brands form a deeper connection with their customers based on the data they've collected.
The technologies we are surrounded by are taking us one step closer to the metaverse, considering the speed of tech developments in the past 40 years, in no time our physical and virtual realities will be bridged. We are giving new meaning to digital, whether it is investing in Bitcoin or buying digital art as a collector's item with NFTs… the value of what doesn't exist in reality but exists in the virtual is gaining ground in our lives, becoming institutionalised and normal. This will give fashion a new territory to explore with a wave of new consumers to address, demands and needs to answer, marketing and communication strategies to discover and experiences to present. The idea of the metaverse offers a fully interactive reality for brands to bring in their creative visions. Whether it is dressing avatars, digital store concepts or augmented reality shop displays, fashion brands must be aware of the digital revolution and take action.