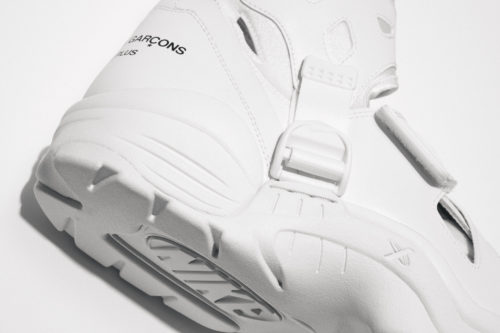 For a few seasons now, Comme des Garçons has provided fashion people with big, sleek, on-point drip through their sneaker collaborations with Nike. It's not strange to the brand, to Kawakubo (?) to display a mastery for ultradesirable footwear design. You just have to take a look at how Converse x PLAY is far from being a niche fashion guy whim, but rather a hegemonic, well-established code in the worldwide understanding of fashion. Of course, the Nike collaborations are a bit more sophisticated than that, they are meant to be.
I was personally, quite intrigued when I discovered the new Nike x Comme des Garçons Air Carnivores, which debuted in Tokyo in July 2020 during the Comme des Garçons SS'21 show, themed 'Metal Outlaw.' The gladiator aesthetic of the sneaker feels quite new (to my knowledge) to the Japanese brand's aesthetic, although, as soon as I wrote this past phrase, links of gladiator, punk style sandals, and platforms come to my mind, and that makes the perfect bridge between the Nike x Comme des Garçons Air Carnivores and the Japanese cult brand. These sneakers are probably a 2021 version of those punk sandals. Something Lil Uzi Vert would definitely honor, Ghostemane should!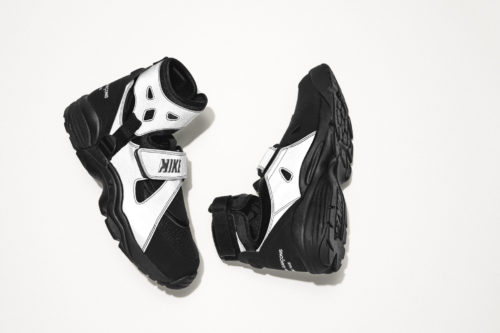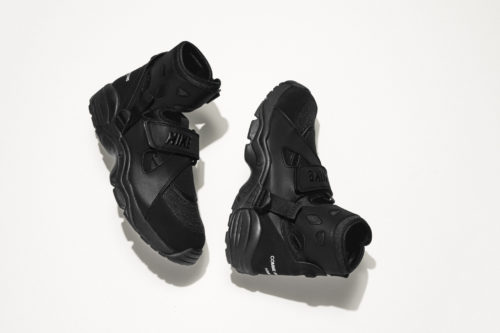 The original Air Carnivore was originally released in 1993 by Nike. The modernized Nike x Comme des Garcons version is available in two colorways – monochrome white and black – both stamped with the distinctive Comme des Garçons Homme Plus logo. The shoe will retail for 310€ and will be sold exclusively at all Comme des Garçons and Dover Street Markets globally (excluding Japan) and DSM E-Shops, followed shortly thereafter by all of Comme des Garçons's best retail partners. We will probably see them at The Broken Arm in Paris.