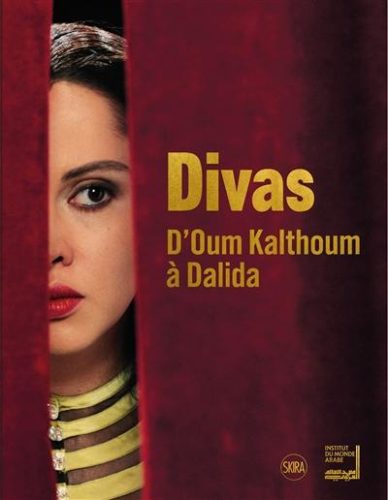 Dear Shaded Viewers,
I've been looking forward to the exhibition at the Arab World Institute " Divas. Next month a book Divas From Oum Kalthoum to Dalidato invites you to discover the life and career of the female legends of the golden age of Arab music and cinema, from the 1920s to the 1970s. From Cairo to Beirut, from the Maghreb to France, it highlights outstanding personalities,
who were the voices and faces of the Arab world including Oum Kalthoum, Asmahan, Fayrouz, etc. and Warda for the song; Samia Gamal, Tahiyya Carioca, Faten Hamama, Laila Mourad, Souad Hosni and Sabah for the cinema.
The book starts with Cairo  in the 1920s highlighting  the role of feminist pioneers from the Arab world, avant-garde personalities and visionaries who paved the way for the great female figures of the post-war period. Several essays thus help to discover the different political and social contexts, intellectual and artistic progress in which these women were evolving and the progress
techniques that allowed them to become an international celebrity. The years between 1940 and 1960 were the heyday of music and film production.
What you will find:  posters of films, concerts, archive photos, stage costumes, or
contemporary creations, Divas also questions the legacy of these women today and
their impact on Arab societies.
"Divas. From Oum Kalthoum to Dalida". is under the direction of Hanna Boghanim and Élodie Bouffard, in charge of collections and exhibitions at the Arab World Institute and curators of the exhibition
Texts by Diana Abbani, Leyla Dakhli, Séverine Gabry-Thienpont, Yvan Gastaut, Amal Guermazi, Henda Haouala, Zeina Saleh Kayali, Frédéric Lagrange, Zeina Maasri, Franck Mermier, Salma Mobarak, Silvia Naef, Hervé Pichard, Nicolas Puig, Sherifa Zuhur.
Bound edition with flaps in French in 20 x 26 cm format – 224 pages – 150 illustrations ISBN 978-2-37074-134-9 – 29 €.