Los Angeles-based hip-hop group, Minus Gravity is back with a new vibrant album, Moods, Vol.1. The trio consists of San Antonio natives Mic Apollo, Sir Blaze, and Rob Will. We recently jumped on a Zoom call to get their personal perspective and insights on music and fashion. 
For the ordinary mortals who don't know Minus Gravity, could you introduce the group? Once upon a time…
Mic Apollo: We've been making music for over 10 years. We were initially friends and started to make songs together in San Antonio, Texas. Moved to Atlanta and got enrolled in an art school for music. I remember this teacher telling us, "you guys are late to class," and we simply responded, "we were recording, sorry". The teacher then said: "Oh, you guys think you can make music? Ok, play a song". We played a song we've just been working on, and the teacher was like, "this song is a hit. Why are you even here?". We questioned ourselves about school and decided to move to LA. We lived where we could, slept where we could for the first 4 years. We started to move around, meeting everybody. It got a lot better when we first signed our first deal with Capitol Records. So for us, it was mission accomplished even if it's still not accomplished.
Getting to know you…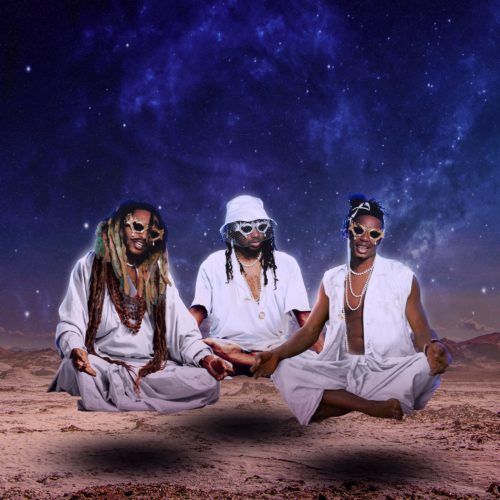 Your primary musical influences? 
Rob Will: Of course, I will have to go with Stevie Wonder, Al Jarreau, a lot of soul and old school music; music that I was raised on. 
What are your top 3 favorite albums of all time? 
Minus Gravity: Lil Wayne Carter II most definitely! Mood, from Minus Gravity for sure. Go pick that up! Kid Cudi the WZRD album.
Who are you listening to low key? 
Minus Gravity: We're from Texas, so we've been jamming to Don Toliver for probably 4 years now. T-Wayne also, now he's signed with Travis Scott, and he's blowing up. He's about to take over. A lot of people are dope and young like Chanel Westcoast and Maya B. Shout out to our bro Mecca, Suspect, in London. 
What inspires your writing? 
Minus Gravity: Our inspiration primarily comes from real life; who you're dating at the time, what you are going through in every relationship, or what it is like to be single. We're all going through different things, losses, heartbreaks—any kind of raw emotions. 
Da album 
38 tracks for the new album, got damn, is it the covid creativity syndrome? 
Minus Gravity: That was actually the cut-down version. We've made a lot of music when we were in Miami, just high, and it came naturally. The album was initially just gonna be like a regular 17 tracks, but we came up with something new. It's not really an album; it's more like a playlist that flows well. It's called Moods, so you know, each section of the album has a different mood, you can listen to it when you feel like a certain type of way in life, something like every day when you are going through things. You can play a certain section of the album, and it can resonate with you. You just let it ride on a rollercoaster of emotions.
Between chill mood, party mood, bedroom mood, and fall in love mood, which one is your favorite? 
Sir Blaze: Of all the moods, I am gonna go with the party mood. Big time. I also like to get into the chill mood. 
Rob Will: Probably stuck in between the money mood and chill mood for sure. The chill mood is perfect to set the vibe.
Mic Apollo: I like to Fall in Love mood; it's probably the most musical part of the album.
Robin Thicke features on Six Foot Model, can you tell us about the collaboration?
Minus Gravity: First off, Robin Thicke is fucking genius, and we were already fans. One day we went to his house to record. Robin has a guest house, where he set up a music studio. It exceeded any energy that you could think of. During the session, he was just trying to drag the best part of us, but individually at the same time. He has such unique energy that you wanted to give the best of yourself. Robin randomly started asking us what we did yesterday, so Rob Will simply said, "we were just with some 6-foot models". We did 3 more sessions at his house and have more songs coming with him. 
Da look 

Get a stylist asap. If you do get money and you look ridiculous, that's not acceptable.
So what look are you rocking today? I see different inspirations. 
Apollo: This is how I woke up, a real quick vibe, casual. Early Zoom meeting look. Little Dior Hat Monogram, Dior frames. It's just like our album, it's called moods, it's an expression of ourselves. 
How do you stay so fly?
Sir Blaze: It's essential to be yourself. Don't follow trends period. It's all about what you believe. It doesn't matter what everybody would say. I personally like to stand out. If I wanna paint my nails gold and black, I will do that. I won't be worried about anybody. I know somebody that likes it!
Apollo: Don't worry about being a weirdo. Don't worry about what people think of you. We started painting our nails like 8 years ago. People were making fun of us, and we were in our own zone. Most people couldn't understand cause it was something new. You can't be afraid of being first and not worrying about following the crowd. 
Who's your fashion icon? 
Minus Gravity: Alexander McQueen was dope. His vision, what he did with the runway. How McQueen transformed the runway from a regular runway to like walking movies and sets. He was a visionary.
Who's lit or who's outta pocket? 
We rock with Lil Nas X, but those platform shoes are unacceptable.
Cam'ron Dipset 
Minus Gravity: Cameron in the pink outfit, that's legendary. So icy. For a dope boy from NYC to come out all pink, that's big. He didn't give a fuck. 
will.i.am
Apollo: Damn Will, Alright. We're cool with the Black Eyes Peas. They're legendary. I think Will I AM might want to go back to this. I think that's the hat for me †hat's throwing me off. Will I AM you're my dog, but you're outta pocket for that outfit, man. Is he wearing a lego hat? Lowkey, the jacket is hard. Individually the pieces are nice.  
Asap Rocky
Minus Gravity: It's hard. Just gonna say that I was rocking the scarf way before he did. I did that all the way back to 2015, with the Gucci scarf. 
Lil Nas X
Sir Blaze: Outta pocket. Let me look it up one more time. It's definitely a no. We rock with Lil Nas X, but those platform shoes are unacceptable. These boots look uncomfortable; they look like they were made out of cardboard. 
Lil Uzi Vert 
Minus Gravity: Uzi is on some other. The boots are hard; I rock with it—little Goyard pouch. It's a light day. Rocking the Pirate of the Caribbean, Jack Sparrow swag. 
Post Malone 
Minus Gravity: He got some designer boots we've never seen before. Crazy design. He's just chilling on the red carpet with his red cup. Rockstar look, you can't lose with that. What put the cherry on the top is the facial expression. 
What advice you can provide when you don't have any dough, but want to look fly?
Minus Gravity: That's why they have thrift shops. You can find everything you need. It doesn't matter where you get your clothes from, either you have the flavor or not. 
What advice you can provide when you're balling but with no style?
Minus Gravity: Get a stylist asap. If you do get money and you look ridiculous, that's not acceptable. You need to use your money on a stylist. Buying a bunch of designer clothes isn't gonna do anything good for you. It looks worse, actually, because you have all the opportunities and you still didn't succeed. 
Follow the group on Instagram @minusgravity  
Listen and get their new album on iTunes