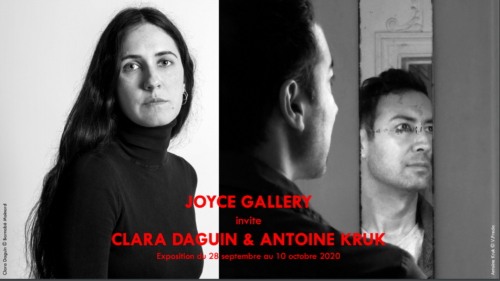 Dear Shaded Viewers,
Opening today, and a little chat with my friend Antoine Kruk who repurposes the Shopping Bag.
"Shopping-pong " includes 35 frames of shopping bags.
Lots of famous fashion brands as well as  Joyce bags are in the frames .
"A special big  canvas in a shape of a giant bag called "Cage dorée"  is also made of about 35 different black or white and beige shopping bags , partly covered of gold leaves, see below.
You can see it as a dance , or as a fall ; As  consumer society is , a never satisfied pleasure .
My vision here is recycling material, and idea at the same time . All those logos, publicity, and products we are surrounded with, are becoming something else ."
ANTOINE KRUK
"I like to reflect society with humor and turn the mirror on it. What's more common and even disposable as a shopping bag? Yet with two or three interventions, this object of the consumption of everyday life can become a source of dreams and amazement.
Born in Kyoto, Antoine Kruk is a multifaceted French-Japanese artist and illustrator, author, art director, freelance designer for luxury brands such as Louis Vuitton, Valentino, Thierry Mugler, but also costume designer for opera or Crazy Horse of Paris… Impossible to classify it in only one box. It is of these rich collaborations, encounters and travels that, as a keen observer of the air of time, he draws inspiration from. all in line with humor, preferring freehand drawing to restore his emotions.
Since 2015, in parallel with traditional media, he has been interested in shopping bags and their logos as a source for recycling ideas.
SHOPPING PONG…
For this exhibition, Antoine Kruk mixes drawings, collages, cut-outs on shopping bags and
brand logos. Reinterpreted, they give birth to a new message. Joyce bags
will not escape the rule!
Starting with a shopping bag rather than a blank sheet of paper means having to deal with what exists.
already: the weight of a paper, a particular format, a color, a typography, a choice ribbon, voluntary spacing. These are all constraints decided by the marketers or the
artistic directors. Antoine Kruk enjoys it and inscribes his artistic approach in a game of manual and mental juggling. By erasing and even keeping some basic lines and patterns, by adding new graphic proposals, the artist reappropriates the very meaning of the object. However, he leaves certain traces of his past life so that our  eyes and our mind travel in a subtle game of before and after. Starting from the reality of the advertising, pure consumption, to transform it into a completely different vision, more
sensitive, poetic, humorous, this is what frees us from preconceived ideas, from everyday life and we allows us to escape to the distant and so seductive horizons of the artist.
Antoine Kruk lives and works in Paris. His humorous traits are regularly published in the
Madame Figaro.
Instagram : @antoine_kruk Translated with www.DeepL.com/Translator (free version)
CLARA DAGUIN
The designer Clara Daguin was born in France and grew up in Silicon Valley, California.
Her work takes hold of these two cultures: intertwining know-how and technology, embroidery and electronics, natural and artificial. She uses fashion to Explore how technology accompanies our bodies in today's circumstances and the future realities: digitalization, dematerialization, surveillance.
By using light as a material, it borders on the esoteric, evokes energies and flows, unveils our invisible infrastructures to give a glimpse of what is secretly going on underneath our
clothing.
Clara Daguin created her eponymous brand in 2016 following her participation in the Festival International de Mode d'Hyères. In addition to her own creations, she collaborates with artists,
researchers and institutions; Jean-Paul Goude, Hermès, Première Vision, Mines Paris Tech.
TRIPTYCH…
Faced with the incessant pace of the industry, Clara Daguin decided to focus her exhibition on a
only typology of clothing: the bomber. It offers a range of three pieces that works
like a triptych: a ready-to-wear jacket, an intermediate – experimental – piece, and
an exceptional couture garment presented as a clothing art installation.
Variations of different creative scales, the pieces reflect each other. Together,
they reveal the facets of Clara Daguin's creative universe and the plurality of modes
of experimentation and imagination. An augmented reality version of the ready-to-wear bomber
has been realized in collaboration with Change of Paradigm, allowing those who can not
be present to see him in their homes. A video filmed in Tadao Ando's meditation space at
UNESCO will also be presented in the gallery and online.
Instagram : @claradaguin