Image by Katerina Jebb.
Last week I attended the launch event of PHILEO, a new sneaker brand founded in Paris. I must say, despite what the general public around the globe imagines about the "capital of fashion", there are a lot less creative projects of this dimension in Paris, young people dare much less than they do in other cities around the globe. Is it that they feel intimidated by the fact that the biggest fashion houses have headquarters here? Or that production costs and methodologies seem unimaginable in the world capital of bureaucracy? In any case, Philéo is truly the exception to this case. He is only 18 years old, and his energy and the charm of his promising youth should be taken as an example to all Parisians and youth around the globe. The brand was launched in the Trading Museum, the Paris Dover Street Market, which is very intriguing considering Philéo is so young and already hosted in such a reputed stage.
PHILEO's first collection features a very concrete line up of sneakers. The construction of the sneakers themselves is very minimalist and the color range is composed of black, blue navy, violet, gray, copper and white. All the soles are black and all the shoes have some raw edges somewhere in the construction. The aesthetic of the collection is very mature and somehow intellectual. This first drop will be sold at the Trading Museum in Paris, Dover Street Market London and Dover Street Market in LA. Which makes absolute sense, PHILEO's collection really fills up a gap for intellectual easy to wear designer sneakers, which I can very well imagine loving to find in any of these stores.
During the launch of the collection, I had the chance to sit and have a small talk with the designer where we discussed a bit about his life milestones, production line and work ethics. Phileo interned for a week for Céline when he was only 15, he is sure that the experience at Céline really shaped the way he approaches design. When I asked him "How did you get this internship at only 15?", he made a gesture with his hands as if he was handing me a book as he looked me in the eyes. He also founded a scooter business when he was 13, from which he sold his part to his business partner to pursue more creatively ambitious goals.
He also spoke to me about the fact that they are producing very limited quantities for his sneaker collection as well as  sourcing all the components locally in Europe to keep things ethical and ecologically smart. I was curious about the way and the environment he works in. Most people imagine that you need a big studio and team to develop a collection, although Phileo told me about how he might work from a café, or anywhere he can bring his computer to. He enjoys collaborating and sharing ideas with his friends, who actively participate in the process of making the collection.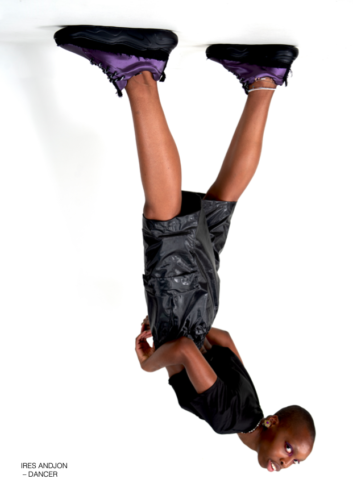 IRES ANDJON – DANCER
PHOTOGRAPHY BY:
Thomas Chaulet Faria assisted by Auréa Saint-Cyr