100 COVERS, 100 STORIES, 100 COVER STARS:
THE INCREDIBLE PROJECT FOR VOGUE ITALIA'S SEPTEMBER ISSUE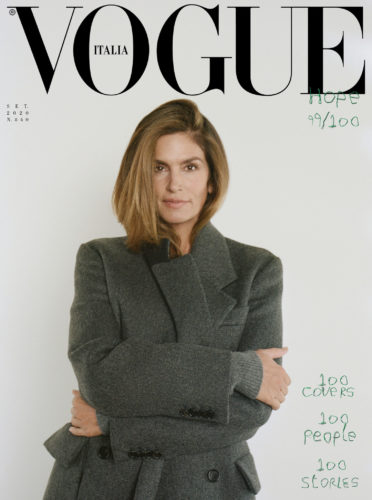 Milan, 27 August 2020 –
The September issue  is built on an exceptional and  unprecedented project involving 100 people across 100 covers. The covers feature actresses, social rights activists, models, social media personalities, artists, writers and everyday people, each with their own unique story to tell. Vogue Italia's September issue hits newsstands on 28 August.
The Vogue Italia September 2020 Issue is a collectible item, where the numbered covers become a work of art themselves. All covers convey the  message of diversity, beauty and hope.
"Last April, when we decided to leave our cover white, we were convinced that silence was the right message of respect and reserve," writes Emanuele Farneti, Editor-in-Chief of Vogue Italia in his editor's letter. "Now instead, with the onset of a new season that will in many ways be crucial, we think this is the moment to raise our voices and talk about hope and beauty. For the first time, we have created 100 printed covers. Each of them is dedicated to an individual protagonist –  different by age, physical appearance and the colour of their skin. It is the portrait of a community that, having waited diligently, now finds itself making a fresh start, within the new context of distancing and restrictions."
Creative Director Ferdinando Verderi, who conceived this project, said: "The idea is very simple: more is more. We wanted to challenge the standards of quantity with which fashion has always measured itself, to express a desire for rebirth and to celebrate diversity and uniqueness in a way that becomes a collective experience. We photographed the 100 cover stars individually in a studio in New York. The photographer Mark Borthwick is one of the long-standing contributors to Vogue Italia who returns to the pages of the magazine after decades. The cast brings together 100 people including models, actresses, artists, talented people from a wide range of fields, icons from the past and people who aren't part of the fashion industry."
The 100 people differ vastly in terms of age, ethnicity, profession and lifestyle. All side by side, no filters or photographic or cosmetic tricks. The covers feature iconic supermodels from Cindy Crawford to Pat Cleveland, Patti Hansen and Donna Jordan. Today's top models Kaia Gerber, Bella Hadid, Julia Nobis, Freja Beha Erichsen, Sasha Pivovarova, Irina Shayk, Alek Wek, Raquel Zimmermann, Saskia De Brauw and Rebecca Longendyke.  Social personalities from Emily Ratajkowski to Paloma Elsesser. Actresses, such as Chloë Sevigny. Emerging young talents. Non-binary, genderless and transgender models, such as Indya Moore, Juno Mitchell and Cici Tamiz, who are fighting for LGBTQI+ rights. Black activists, such as Bethann Hardison. The covers also spotlight a long list of pioneers: Ugbad Abdi, the first to walk down a catwalk in a hijab, and Precious Lee, the first plus-size model of colour to appear on the cover of Sports Illustrated, as well as Cameron Russell and Trish Goff, key figures in the #MeToo movement and Ash Foo, back on the catwalk after a year of chemotherapy. Internationally-renowned activists, writers, photographers and artists, like Dominique Duroseau, who explores themes such as racism, black feminism and gender; painter Elizabeth Peyton and Avery Singer; video artist Rachel Rose; the deputy director of the New Museum of New York, Karen Wong; and star architect Gisue Hariri. The covers also highlight our everyday women, such as Uber driver Debra Solomon. Finally, Cassi Namoda and Delphine Desane, two of the artists behind the covers of Vogue Italia's "Illustrated Issue" (January 2020), make an appearance.
The project represents an hymn to print media with a strong digital soul. The 100 people will in fact also tell the story of their life in a one-minute video that will be featured on Vogue Italia's instagram account.
The Vogue Italia September Issue also features a manifesto by Tyler Mitchell dedicated to the struggles of the Black Lives Matter movement, accompanied by a text written by playwright Jeremy O. Harris. The issue will also see fashion editorials from Chanel and Gucci, photographed by Mert & Marcus and Tina Barney, respectively. Collier Schorr, with his 20 portraits of women, showcases the looks for this season, whilst digital artist Jason Ebeyer conveys his vision of the fashion of the future. To celebrate the 30th anniversary of Martin Scorsese's documentary "Made In Milan" on his long time friend Giorgio Armani, Vogue Italia runs an exclusive interview with the director and an editorial inspired by the iconic event. The magazine brings together, for the first time in 40 years, the entire Rossellini family for a group shoot, as part of the docufilm "The Rossellinis", to be presented at the upcoming Venice Film Festival.
The September issue of Vogue Italia is part of the global Vogue "Hope" project: a collaboration between the 26 editions of Vogue printed across the world for the September issue. The initiative represents the first time in Vogue's 128-year history in which all the editions have agreed upon a single editorial theme, to convey hope, optimism and solidarity at a time when the world is undergoing change on an extraordinary scale.
Vogue Italia's social profiles have garnered 8.2 million total fan followers, up +19% YOY. In particular, the official Instagram profile has crossed the 4million-follower mark. The Vogue website was visited by an average of three million users each month in the first half of 2020, an increase of 48% compared to the previous year.
The complete list of the 100 figures featured on the covers of the September issue of Vogue Italia: Heaven Aaliyah, Ugbad Abdi, Akon Adichol, Adesuwa Aighewi, Diana Al-Hadid, Madeline Allen, Angeer Amol, Kai Avent-deLeon, Zazie Beetz, Munaiya Bilal, Sara Blomqvist, Lexi Boling, Naomie Broquet, Abby Champion, Asia Chow, Susan Cianciolo, Pat Cleveland, Meghan Collison, Giannie Couji, Cindy Crawford, Anisa Dagher, Saskia De Brauw, Delphine Desane, Agyness Deyn, Dominique Duroseau, Denali White Elk, Paloma Elsesser, Freja Beha Erichsen, Ash Foo, Beatrice Galilee, Kaia Gerber, Trish Goff, Bella Hadid, Patti Hansen, Bethann Hardison, Gisue Hariri, Donna Jordan, Xiao Wen Ju, Jake Junkins, KiKi Layne, Precious Lee, Lacey Lennon, Loren Lenox, Havana Liu, Rebecca Longendyke, Dede Anyema Mansro, Carly Mark, Hiandra Martinez, Vineeta Seshasai Maruri, Jade Meehan, Emily Miller, June Miller, Juno Mitchell, Maria Mocerino, Lineisy Montero, Indya Moore, Cassi Namoda, Haley Nichols, Ariel Nicholson, Samantha Nixon, Julia Nobis, Elaine Palacios, Soo Joo Park, Benzo Perryman, Elizabeth Peyton, Sasha Pivovarova, Efna Plaza-Merritt, Kyla Ramsey, Emily Ratajkowski, Missy Rayder, Rachel Rose, Talia Ryder, Ajani Russell, Cameron Russell, Tafv Sampson, Carolina Sarria, Valerie Scherzinger, Yulu Serao, Tschabalala Self, Chloë Sevigny, Irina Shayk, Zora Sicher, Avery Singer, Ming Smith, Toni Smith, Debra Solomon, Gray Sorrenti, Lili Sumner, Cici Tamez, Cara Taylor, Laurel Taylor, Lulu Tenney, Varsha Thapa, Tara Thomas, Kita Updike, Guinevere Van Seenus, Binx Walton, Alek Wek, Karen Wong, Raquel Zimmermann.
Condé Nast Italia
Condé Nast Italia is a multimedia communication company which reaches a profiled audience thanks to its numerous omnichannel assets. It publishes 11 magazines: Vanity Fair, Vogue Italia, L'Uomo Vogue, GQ, Wired, AD.Architectural Digest, Condé Nast Traveller, La Cucina Italiana, La Cucina Italiana USA, Accessory_VanityFair and Wedding_VogueVanityFair. The company was the first Condé Nast branch in the world to open an experience store: Frame; to establish a course for social media content creators: Condé Nast Social Academy; to launch a social talent agency: Condé Nast Social Talent Agency. Its innovative projects include the social content creator unit #Shareable and the magazine Experience Is, dedicated to Generation Z. Today the group also runs successful major events such as Wired Next Fest, Vogue for Milano, Photo Vogue Festival, Vanity Fair Stories and GQ Best Dressed Men. The Condé Nast Italia headquarters in Piazzale Cadorna, Milan, are also home to the La Cucina Italiana Cooking School.
The Group's social platforms have a total fan and follower base of 18.6 million.
In addition, Condé Nast Italia has consolidated its web presence with the launch of 7 websites: VanityFair.it: 9.3 million users \ Wired.it: 4.2 million users \ Vogue.it: 3.2 million users. These, along with Gqitalia.it, Ad-italia.it, LaCucinaItaliana.it and LaCucinaItaliana.com reach more than 22.6 million unique visitors every month and generate over 125 million page visits. (Source: Google Analytics census data – July 2020). – www.condenast.it