Dear Shaded Viewers,
Lucky me, I got to preview Helmut Newton: The Bad And The Beautiful, the documentary directed by Gero von Boehm which was in the official selection: Tribeca Film Festival 2020. Gero von Boehm's HELMUT NEWTON: THE BAD AND THE BEAUTIFUL in the Virtual Cinema via Kino Marquee beginning Friday, July 24.
High fashion comes together with sexiness in the fantasy world of Helmut Newton. Throughout the film you hear the stories told by the likes of Charlotte Rampling, Isabella Rossellini, Hanna Schygulla, Sylvia Gobbel, and others and  of course June Newton who talks about the first time she met Helmut and his visit with her when she was in the hospital and could only bare looking at her stitched up through the optic of his lens.
My favourite story telling came from Charlotte Rampling talking about their first shooting around the time of The Night Porter, neither one of them had done nudes before  and Helmut just asked Charlotte to give him attitude and that is exactly what she did. Turned out to be her all time favourite portraits. Then there is the story about the fried chicken story where he shot a raw chicken in high heels with fine jewellery. Of course the readers had something to protest but Anna Wintour tells how Helmut loved  letters of complaints about his photos and the worse they were the more he liked them.
Grace Jones talks about being called at least 4 x for a casting and  kept calling her back and saying "I forgot you have small breasts"  he really wanted to photograph her and finally it worked out. Helmut describes his search for a locations and likens the experience to that of a dog sniffing out a place to take a pee. He took great pleasure in being 'a naughty boy' and signed his faxes to Anna Wintour your favourite naughty boy. When people complained he did not capture the soul of his subjects  he responded that his interest was to photograph a body and a face, not the soul. He just loved the beauty of women. The film spans 5 decades and if he were still alive today he would have been celebrating his 100th birthday.
"If a photographer says he is not a voyeur, he is an idiot." – Helmut Newton
"Men are just accessories, like hats and gloves." – Helmut Newton
HELMUT NEWTON: THE BAD AND THE BEAUTIFUL (2020, 89 minutes) Written, Directed & Produced by Gero von Boehm. Camera by Pierre Nativel, Marcus Winterbauer, Alexander Hein & Sven Jakob-Engelmann. Editor: Tom Weichenhain. Sound by Elie Aufseesser, Marco Zachalsky, Moritz Springer & Hardy Hergt. Germany. In English, French & German with English subtitles. Released by Kino Lorber.
Presented with support from the Roy Lichtenstein Foundation Fund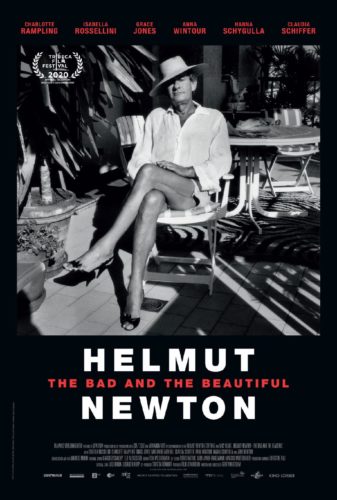 Helmut Newton: The Bad and the Beautiful
is available to watch starting July 24 in virtual theaters with Film Forum in New York and other cities in the US through
Kino Marquee
.
Later,
Diane