Pitti Uomo 98 presents
 The Sustainable Style:
Thirteen Men's Fashion Designers (+ 1)
 How to Combine Eco-Sustainability, Production Ethics,
Aesthetics, Style and Business.
 An Online Project / Special Event on the Pitti Connect Platform
from 16 July to 9 October
 Special Guest: Glenn Martens' Y/PROJECT
Dear Shaded Viewers,
Digital Pitti Uomo launches The Sustainable Style today in the Billboard, the schedule of events and editorial content within the Pitti Connect digital platform where virtual editions of the summer trade show will be hosted.
The Sustainable Style showcases  13 + 1 menswear designers with a green heart and is curated by the fashion journalist Giorgia Cantarini. The project focuses on the topics of ecological sustainability, production ethics and social commitment. The Sustainable Style, marks the beginning of a three-year collaboration between Pitti Immagine and UniCredit focusing on the issues of sustainability and innovation with a focus on policies that support the internationalization of Italian companies.
"They come from Argentina, France, Hungary, Italy, South Korea, Ukraine, United Kingdom and Thailand.  They are different from one another in terms of aesthetic choices, but are united by a common commitment" explains the curator Giorgia Cantarini.  "Each of these brands is rooted in concrete ethical principles ranging from the selection of sustainable materials to the choice of production processes, to workplace safety and distribution strategy, integrating design with responsible choices.  Each of these designers has a clear vision and exceptional creative expertise, and they deserve international recognition.  Responsible fashion is the future.  This is only the beginning; it is nearly impossible to be 100% sustainable, but we have to start somewhere."
Here are The Sustainable Style's featured brands:
FLAVIA LA ROCCA, KSENIA SCHNAIDER, KIDSOFBROKENFUTURE, MYAR, NANUSHKA, NOUS ETUDIONS, PHILIP HUANG, PHIPPS, RAEBURN, UNIFORME, VIRÒN, VITELLI and YOUNG N SANG.
Special Guest Y/PROJECT
In addition to the thirteen designers, The Sustainable Style will also be hosting a special guest:  Y/PROJECT.  After appearing as special guest at the January 2019 edition of Pitti Uomo, the French brand will be presenting "Evergreen," a new 100% sustainable line for which the designer Glenn Martens has just won the ANDAM Family Fund Award, one of the most important acknowledgments for emerging designers.
The Sustainable Style project is part of the online programme of Pitti Connect. Lectures, interviews and short films will give a deeper insight into the labels and their sustainable design process.
Following the official launch on July 16th, The Sustainable Style calendar will be enriched by a program of online events, video-analyses and talks.
 A series of video interviews curated by Giorgia Cantarini will document the activity of the designers, their work in the atelier and their perspective on the future of fashion.  The collection of short films is a glimpse into their life as designers and individuals, directed by Conor Gorman, which will be published online on the pittimmagine.com website and on all the Pitti social media channels.  Among the special content:  Viròn's disruptive video in which the designer has chosen not to reveal his identity, the film "Finding Oasis" produced by the brand Philip Huang which takes us directly into the workplace of the artisans of Sakon Nakhon in the Northeastern Thai province of Isan, as they work with natural handmade dyes in a beautiful docufilm made in collaboration with Sayombhu Mukdeeprom, Director of Photography for the film Call Me By Your Name by Luca Guadagnino.
 The Support of Global Fashion Agenda
The Sustainable Style will have the support of Global Fashion Agenda (GFA), the organization that works to mobilize and guide the fashion industry towards what have become indispensable actions of social and environmental responsibility.  GFA shares and supports The Sustainable Style's mission:  to make sustainability a priority of the fashion system, focusing on creativity and the innovative ability of the designers and, at the same time, promoting change and raising awareness also through panels and online talks that bring together fashion professionals and Pitti's vast public.
Along with GFA, the British Consulate General and the Department for International Trade have also given their support to The Sustainable Style webinars initiative in order to underline the strong commitment of the British government to the "Clean Growth" theme and sustainable fashion in particular:  a strategic sector in the light of the COP26 climate conference organized in partnership with Italy in 2021.
"We are dealing with a selection of designers with a clear vision, with exceptional creative skills that deserve international acclaim," Cantarini continues.
Flavia La Rocca
The Flavia La Rocca brand focuses on modularity, sustainability and ethical practices.  Flavia proposes a new way of understanding clothing through garments composed of interchangeable modules with hidden hinges can be disassembled and reassembled to create multiple combinations of looks, a "never ending wardrobe."  Production is entirely Made in Italy reducing the negative environmental impacts of transport and CO2 emissions.  The garments are made using certified, recycled, natural, transparent and traceable processes.  Flavia is the winner of the 2019 Green Carpet Award and also the first fashion designer to grace the cover of National Geographic with a dress created from textile waste.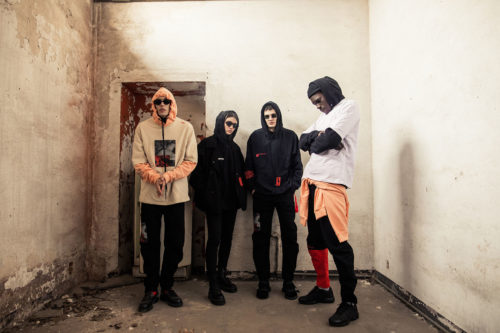 Kids of Broken Future
"We are all tainted.  The kids want to differentiate themselves from the indifference of the masses." The brand's motto echoes its irreverence, represented by a core aesthetic and artistic editing inspired by street subculture at the end of the twentieth century.  Founded by designers Marta Sanchez and Elbio Bonsaglio, the brand choses sustainable fabrics and participates in charitable activities, donating a part of the proceeds of its sales to Street Child, a Nigerian organization that supports the education of children living on the street.
Ksenia Schnaider
Family duo of designers Ksenia and Anton Schnaider began their brand in 2011 with a vision of creating fashionable pieces that combine upcycling, reworked materials and the perfect cuts.   The masterminds behind the brand are constantly experimenting and working hand in hand to redefine the canons of the denim industry.  The core focus is reworking denim and sourcing textiles from the local second-hand markets of Kiev, adding Eastern European cultural quotes to their collections and spicing things up with some innovative digital concepts.
Myar
The Myar line was founded by designer/entrepreneur Andrea Rosso in 2015 with the principle of reconstructing military garments to give them new life.  The name is an anagram of the word "army" and includes his initials.  Intricate tailoring, embroideries and fabric workings using modern technologies adapt military and civilian clothing into contemporary styles in a modern vision of the past.  Sustainability is at the heart of the company's mission:  from the choice of natural dyes and cold dye processes, to the use of dead-stock fabrics and accessories, the selection garment bags made of completely biodegradable vegetable fibre and the employment of small sartorial workshops throughout the Veneto region.  Each step is carefully studied and monitored for full transparency and traceability.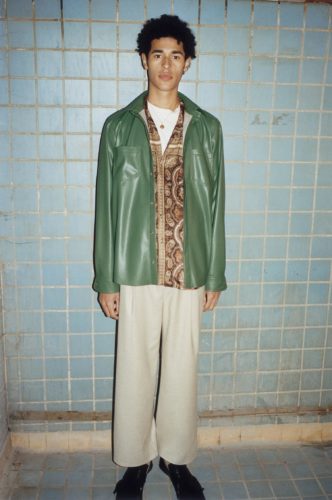 Nanushka
In its collections, the Budapest-based brand designed by Sandra Sandor, continuously draws powerful inspiration from nature and its transformative effect on the human world, thus design and manufacturing decisions pay homage to the planet and its inhabitants.  Sustainable initiatives include working with women in the small Hungarian village of Terény, where unemployment among the female community is high, and hand-crafting all beads and buttons from organic materials, not plastic.  For Pre-Fall 2020, Nanushka's most responsible collection to date, the label's signature materials are deconstructed and redefined, resulting in an array of patchwork of vegan leather looks made entirely from deadstock fabric.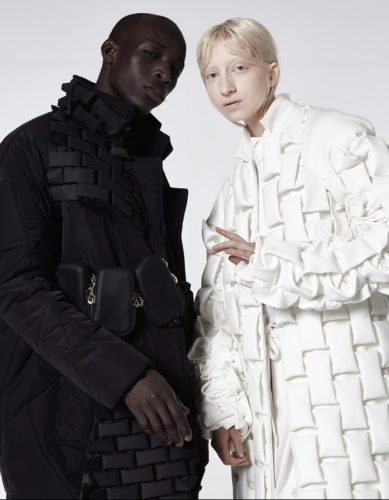 Nous Etudions
Semi-finalist of the LVMH Prize 2020, Romina Cardillo works with a mix of different textures, inspired by the designer's birthplace, Argentina.  Clean, geometric oversized shapes in neoprene, wrinkled tartan fabric and vegan leather harmonize with one another to create a series of genderless tailored garments, hand made with sustainable and cruelty-free practices.  The garments are an exploration of new ways of revisiting the sartorial classics with a fresh eye.  She also has a collaboration with Nike under her belt.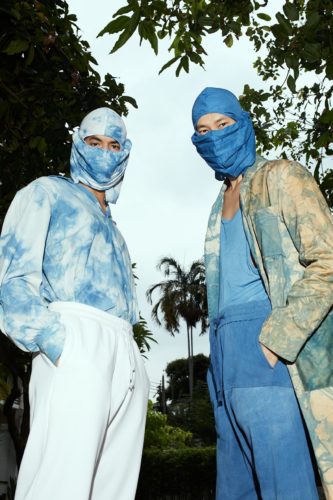 Philip Huang
Founded by Philip Huang and Chomwan Weeraworawit in 2016, Philip Huang's clothing merges indigenous know-how from artisans in the Northeast of Thailand passed down from generation to generation with contemporary design to create versatile, modern clothing with a hand-crafted touch.  Making clothes for today and the future, Philip Huang utilises plant-based natural dyes, organic fibres, homespun textiles and accessories, drawing from the land by working closely with the artisans that he lovingly calls "indigo grandmas," the keepers of this sacred knowledge.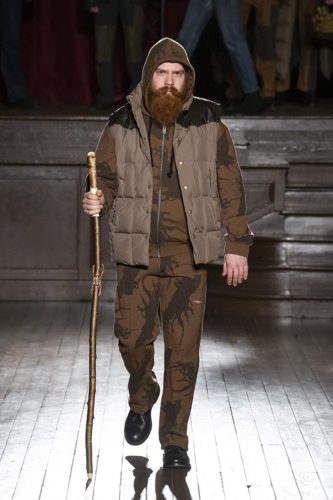 Phipps
Nature and elegance unite.  After cutting his teeth at iconic brands Dries van Noten and Marc Jacobs, Spencer Phipps moved to Paris to start his namesake brand, PHIPPS.  The Paris-based designer and finalist of the LVMH Prize in 2019, has a passion for rock climbing and outdoor activities which he uses as the brand's starting point, inspired by the interaction between man and nature.  The brand has a strong focus on sustainability and environmental responsibility not only in terms of manufacturing choices but also in the style of the garments themselves:  simple, positive, tuned-in, and GOTS certified.  From selecting recycled nylon to the use of alternative energy, every part of the PHIPPS manufacturing process has mother nature in mind.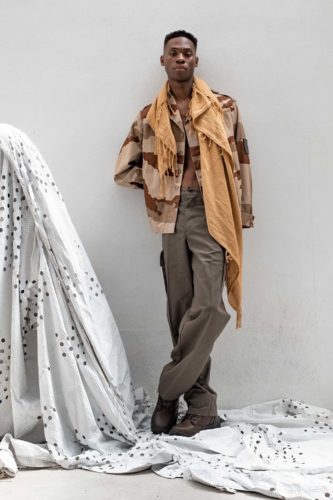 Raeburn
Christopher Raeburn's pioneering work has set an example of responsible design for a wider fashion audience, having become popular for re-working military fabrics into iconic outerwear created from decommissioned parachutes.  A RÆBURN product is defined by its distinctive aesthetic, meticulous detail, intelligent functionality and responsible design.  The designer has just been honoured with "Designer of the Year" at the Drapers Sustainability Awards 2020 and launched the collection RÆFOUND, a curation of military surplus styles selected by Christopher himself.
Uniforme
French brand Uniforme was founded in 2017 by Hugues Fauchard and Rémi Bats.  Having cut their teeth at French luxury fashion houses such as Hermés and Balenciaga, the duo decided to create a brand that mixes utility workwear with poetic tailoring.  With a sustainable approach to the supply chain and local production in France and Italy, the brand carefully selects materials such as natural and renewable fibres of the highest quality, upcycles dead stock fabrics like work uniforms and monitors every stage of production.  The use of plastic is strictly limited.
Virón
Virón is a plant-based footwear brand that follows a slow fashion approach focused on circularity and a philosophy deeply rooted in youth and counterculture.  The founders met while working for a company that produces in the Far East.  After visiting the factories and tanneries, the duo decided to combine their mutual interest in creating a better model of production and consumption.  Based in Paris, Virón is designed to be a democratic platform where new sustainable ideas and practices grow and develop together.
Vitelli
Vitelli has aimed to represent Italian youth culture through contemporary knitwear design since its founding in 2016 by Mauro Simionato and Giulia Bortoli.  Strongly focused on collaboration with local independent laboratories and using sustainable production processes, Vitelli is renowned for an innovative upcycling knit technique that is 100% sustainable.  "Doomboh" garments, as they are called, are obtained through a particular needle-punching of reclaimed yarns, locally collected from Vicenza-area knitwear production waste.
Young N Sang
In their collections for Young N Sang founded in 2018, the duo of young designers and friends Youngshin and Sanglim from South Korea, upcycle traditional textile materials into a new urban chic and refined aesthetic.  Both designers' fashion talent was first recognized in 2015 when they were selected as winners in two of the Council of Fashion Designer of America's (CFDA's) competitions.  As a result of Sang's recognition for her design, the CFDA recommended her as the "perfect creative ambassador" in 2016.  The brand has already attracted the interest of international critics and was invited to London Fashion Week by Fashion Scout in 2019.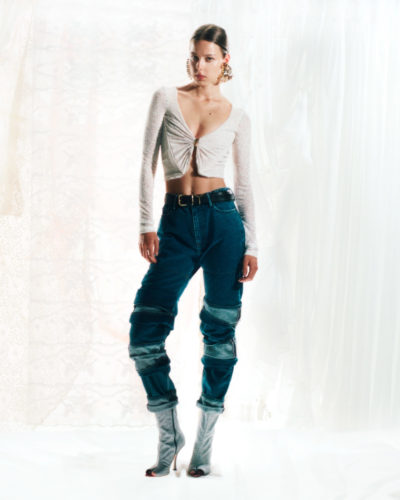 Y/PROJECT
Y/PROJECT has recently been selected to win the ANDAM family fund award, receiving a special prize of €150,000.  The Paris-based men's and women's fashion label led by Creative Director Glenn Martens also won the ANDAM Grand Prize in 2017.  In light of the current global situation, this year's edition has been repurposed from a classic prize model to offering financial and professional mentoring to help former winners and finalists stay afloat during these challenging times to continue to impact the fashion landscape in the long-term.  Y/PROJECT will receive global support and expertise from the ANDAM mentors in different fields with a focus on sustainability.  Glenn Martens will take this opportunity to further develop his new certified, sustainable Evergreen line and a new e-commerce platform, both announced this week.
 About the Curator
Giorgia Cantarini is an independent fashion journalist and curator that began working in the business at a very young age, as fashion has always been her true calling.  Her experience spans from being a fashion writer as well as an appreciated stylist for digital and print publications such as Rolling Stone, Grazia, Glamour, Esquire, VOGUE ITALIA, i-d, La Repubblica, Hunger, Hypebae and L'Officiel, always keen on discovering emerging designers, and shooting and interviewing interesting figures all over the world.  She has earned a Master in Fashion and Sustainability at London College of Fashion and had the honour of being mentored by Holly Brubach (formerly of New York Times Magazine), Sara Maino (Vogue Italia), Terry Jones (i-d), Rankin (Hunger), Federico Marchetti (Yoox/Netaporter) and Giampietro Baudo (L'Officiel Italia).
#thesustainablestylexpitti #pittiuomo #pu98 #pitticonnect
@pittiuomo @pittimmagine @giorgiacantarini
Later,
Diane