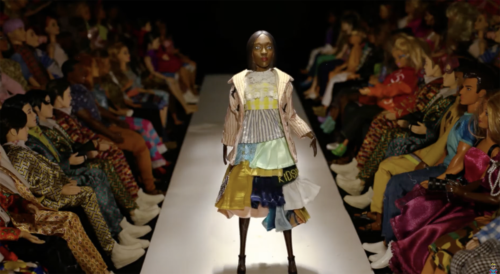 https://parisfashionweek.fhcm.paris/en/everythings-fake-until-its-real-the-making-of-2/
This was one of the hardest thing to make, this video did not capture how tired I am. But it is a nice video. We are the first stop motion fashion show in history. Video Shot by Erik Lauchie of @carbonstories
We could not have worked harder on this. This was our first time accepted into Paris Fashion week. We had to come in with a bang. I always thought stop motion was the perfect art form for KidSuper turning inanimate objects into life like creatures. This is what KidSuper is about, bringing life to any moment, trying as hard as we can, winning Paris Fashion week. From where KidSuper came from to this is absolutely insane. I was selling t-shirts in a high school cafeteria, then on an ironing board on the street in Soho, then turned my college dorm room into a store, then moved into a store front with all my friends, then fucking Paris fashion week. I opened up the both of my first unofficial Paris fashion shows with the rejection letter from the official calendar printed on an outfit because to me that was what the brand was about, it was never about being accepted is about the journey and the unrealistic goals! You bet I'm opening this one with the acceptance letter. NO one has or will ever have done it like us and this video will solidify that even more.
A KidSuper Studios Production
Director: Colm Dillane
Animation: Aarica North Jon Frier Nate Dreschel Colm Dillane
Clothing Design: Lucy Boogaerts Colm Dillane Katya Ekimian
Clutch: Adham Foda Eric Madonna Gustavo Barroso Jochi Saca
Producer: Colm Dillane Nate Dreschel
Editor: Colm Dillane
Music Performance: Lolo Zouaï Music Production: JP on Da Track
KidSuper Spring/Summer 2021 Collection
"everything's fake until it's real"
Although KidSuper is best known as Colm Dillane's clothing label, he prefers to brand all of his creative ventures under that moniker. KidSuper is a creative collective that designs and makes clothing, paints and does art shows, records music, and makes music videos all out of Colm's Brooklyn studio.