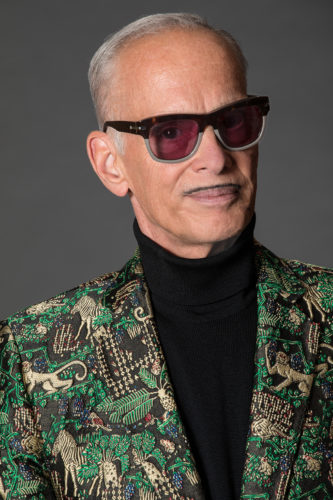 A note from SVA:

Graduation is a huge milestone in the life of a student, and we're not ready to let it disappear completely just yet. That's why we're psyched to share some really big news today. John Waters, our official commencement speaker, will be joining us for a virtual ceremony on Wednesday, May 27 at 1:00pm! 19h Paris time.

Of course, we were all looking forward to seeing him in person, but we are so grateful he'll be able to deliver a bit of much needed inspiration virtually. I'm sharing the full press release with all the details below if you're interested in running any coverage of this (dare I say) historic event at SVA. If you're not able to tune in, we'll have a transcript of the address available by request after the ceremony.

While we're still looking ahead to ways we can eventually gather in a venue to celebrate the hard work of more than a thousand degree recipients, it is extremely important to us that we try and give our 2020 graduates the best commencement we can in the midst of a pandemic.
Author, Auteur and Artist John Waters to Speak at 
2020 School of Visual Arts VIRTUAL Commencement Exercises
Wednesday, May 27, 2020
1:00 pm
New York—May 6, 2020—School of Visual Arts (SVA) is pleased to announce that award-winning writer, director, artist and cult icon John Waters will be the keynote speaker at the College's 45th annual commencement exercises, which will be held virtually. The ceremony will be streamed at 1:00pm on May 27, 2020, on SVA's website and on Facebook Live. SVA President David Rhodes will recognize some 1280 degree candidates from the College's 31 academic programs, including BFA, MA, MAT, MFA and MPS.

John Waters has been a singular voice, taste-maker and boundary-pusher in pop culture since the 1970s. A prolific filmmaker, writer, photographer and actor, he has written and directed 16 films, authored nine books, and exhibited his work in galleries all over the world. Waters has become synonymous with his hometown of Baltimore, hailing it as the "Hairdo Capitol of the World." He has paid tribute to this characterization with films like Cry-Baby, Hairspray, Pink Flamingos, Female Trouble and Polyester, and with his tight-knit community of local performers including Divine and Mink Stole. Waters has won honors from Provincetown International Film Festival, Film Society of Lincoln Center, the British Film Institute and the Writers Guild of America. He has appeared in countless television shows and movies, including Ryan Murphy's Feud and Jonathan Demme's Something Wild. His one-man shows have played to crowds at Bonnaroo, Coachella and the Sydney Opera House.

As a writer, Waters has earned spots on the best-seller lists in the New York Times, Los Angeles Times and San Francisco Chronicle for his 2010 book Role Models and his 2014 book Carsick, which, along with his 2019 best-selling book Mr. Know-It-All: The Tarnished Wisdom of a Filth Elder (Farrar Straus & Giroux), earned a Grammy nomination for the audiobook recording. His 2017 book Make Trouble was also released as an audio album by Jack White's Third Man Records.

Waters' photography has been shown in galleries all over the world for nearly 30 years, including The New Museum of Contemporary Art and Marianne Boesky Gallery in New York, Fotomuseum Winterthur and de Pury & Luxembourg Gallery in Switzerland, Sprueth Magers Gallery in London and The Andy Warhol Museum in Pittsburgh. Multiple catalogues of his work have been published, and most recently he exhibited a traveling retrospective show, "Indecent Exposure," in 2018 and 2019.

As the keynote speaker for SVA's commencement exercises, Waters will join a distinguished group of leaders in the arts, humanities and public service, including musician and poet Patti Smith, activist and author Gloria Steinem, U.S. Congressman and civil-rights hero John Lewis, cultural critic Greil Marcus, artists Laurie Anderson and Carrie Mae Weems, playwrights Edward Albee and Tony Kushner, and historian Robert A. Caro.

School of Visual Arts is a comprehensive college of art and design offering the degree of Bachelor of Fine Arts in Advertising, Animation, Cartooning, Computer Art, Computer Animation and Visual Effects, Design, Film, Fine Arts, Illustration, Interior Design, Photography and Video, and Visual and Critical Studies; the degree of Master of Arts in Critical Theory and the Arts, Curatorial Practice, Art Education and Design Research, Writing and Criticism; the degree of Master of Arts in Teaching in Art Education; the degree of Master of Fine Arts in Art Writing, Art Practice, Computer Arts, Design, Design for Social Innovation, Fine Arts, Illustration as Visual Essay, Interaction Design, Photography, Video and Related Media, Products of Design, Social Documentary Film, and Visual Narrative; and the degree of Master of Professional Studies in Art Therapy, Branding, Digital Photography, Directing and Fashion Photography.

SVA alumni include Guy Aroch, Renée Cox, Paul Davis, Sal DeVito, Michael Giacchino, Genevieve Gorder, Rodney Alan Greenblat, Pete Hamill, Keith Haring, Julia Hoffmann, Justine Kurland, Suzanne McClelland, Patrick McDonnell, Elizabeth Peyton, Alexis Rockman, Carlos Saldanha, Harris Savides, Kenny Scharf, Yuko Shimizu, Amy Sillman, Gary Simmons, Lorna Simpson, Rebecca Sugar and Sarah Sze.

School of Visual Arts has been a leader in the education of artists, designers and creative professionals for seven decades. With a faculty of distinguished working professionals, a dynamic curriculum and an emphasis on critical thinking, SVA is a catalyst for innovation and social responsibility. Comprising 7,000 students at its Manhattan campus and 38,000 alumni in 75 countries, SVA also represents one of the most influential artistic communities in the world. For information about the College's 31 undergraduate and graduate degree programs, visit sva.edu.
https://www.scad.edu/life/commencement