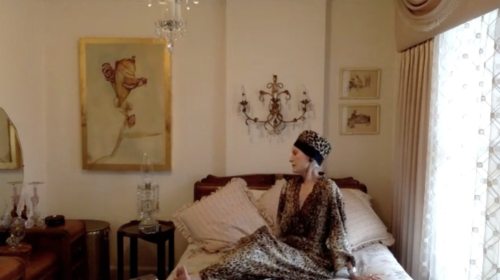 JUDITH directed by Ari Seth Cohen
During the lockdown period ASVOFF 12 has created a new challenge for you…we want to see your home movies. Go to www.asvoff.com click Submissions LOCK DOWN. You can make  it on your mobile and send the link to your material by wetransfer to submissions@asvoff.com along with the filled out submission form. You must have the rights to the music. There are a few sites: you can check out that have royalty free music:
Creator Studio (fb) platform of emerging artists that can be downloaded for free without copyright and can be used on all social platforms without problem!!
Directed by Ari Seth Cohen
Featuring Judith Boyd
Editing & Artistic Director: Amanda Maciel Antunes
Music Panhelion Drum & Lace
Special Thanks to Daniel Noland and Eric Lee
Judith Boyd – Blogger, Climate Activist and Model via ZOOM
JUDITH is a self-portrait film exploring the space between dream and reality in a time where there is nowhere to go other than our own imagination. Judith Boyd, aged 77, invites us into a voyeuristic examination of identity, purpose and style through a collaborative Zoom session directed by Ari Seth Cohen and Amanda Maciel Antunes.
Ari Seth Cohen is a photographer and filmmaker based in LA. He is the founder and creator of Advanced Style. Amanda Maciel Antunes is an interdisciplinary Brazilian artist based in Los Angeles. Her work seeks a conversation between the extremes of selfhood, and our interpretations of myths and memory, for their intentional and unintentional acts of erasure.