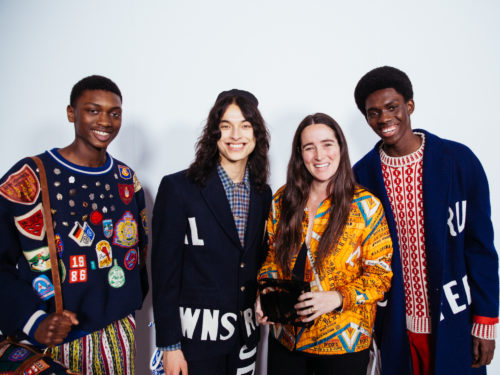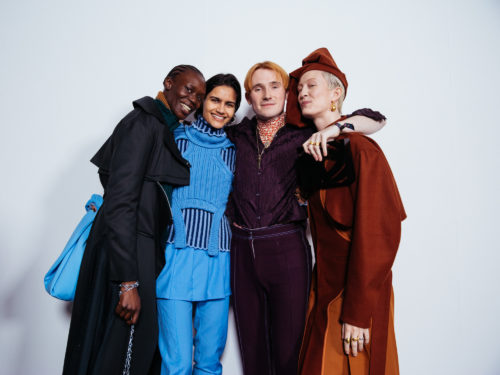 Dear Shaded Viewers,
The award was presented by Carine Roitfeld, Style Advisor of the Maison
KARL LAGERFELD, last night at the International Woolmark Prize ceremony in London.
WHAT:             At the International Woolmark Prize yesterday in London, England, the inaugural Karl Lagerfeld Award for Innovation was awarded to Emily Adams Bode (BODE). The award was announced and presented by Carine Roitfeld, Style Advisor of the Maison KARL LAGERFELD.
Fashion icon Karl Lagerfeld was an International Woolmark Prize alumnus who won the 1954 award in the coat category; the win launched his extraordinary career that would change the face of fashion.
THE PRIZE:       The inaugural Karl Lagerfeld Award for Innovation honors his creativity, cutting-edge innovation, original perspective and forward-thinking attitude. It was initiated to recognize a designer who pushes the boundaries of what is possible — from design, supply chain and processing to a future-focused environmental and social impact. It will be awarded annually, as part of the International Woolmark Prize.
As the 2020 prize winner, Emily Adams Bode will receive AU$100,000 (£52,000/€61,000).
THE WINNER:   BODE is a luxury menswear brand that creates one-of-a-kind garments using deadstock fabrics found in abandoned factories. Each of Bode's tailor-made garments tell a beautiful story of old and new. Bode was the first female designer to show at NYFW: Men's.
THE JURY:        The winner was selected by a jury of esteemed fashion industry creatives:
TIM BLANKS (Editor-at-Large, Business of Fashion)
HAMISH BOWLES (International Editor at Large, Vogue)
SINEAD BURKE (Educator and Advocate)
EDWARD ENNINFUL OBE (Editor in Chief, British Vogue)
KIM JONES (Artistic Director, Dior Men)
TAKASHI MURAKAMI (Artist and President of Kaikai Kiki Co., Ltd.)
HOLLI ROGERS (CEO, Browns & Chief Brand Officer, Farfetch)
ANJA RUBIK (Model. Founder of sexedPL, Philanthropist)
SHAWAY YEH (Founder of yehyehyeh & Group Style Editorial Director at Modern Media Group)
WHO:              EMILY ADAMS BODE, WINNER OF THE KARL LAGERFELD AWARD FOR INNOVATION:
                        "When I first applied for the prize and read about its history, that's what I was most intrigued about. A prize like this is founded in changing people's understanding of materials and material culture. You can image that when Karl showed his designs, people were surprised by them. That's what this prize is all about: being innovative with wool, using it in new ways, printing it, patchworking it, and all sorts of different methods. It's an honor to follow in his footsteps."
CARINE ROITFELD, STYLE ADVISOR OF THE MAISON KARL LAGERFELD:
"Presenting this award is very special to me, not only because Karl was a dear friend of mine, but also because of what the award stands for and represents. Karl was always looking for new talent, and he was instrumental in developing many young designers' careers. I have no doubt that he would have been inspired by all of the creativity here this evening."
PIER PAOLO RIGHI, CEO OF KARL LAGERFELD:
"Our brand has a longstanding relationship with Woolmark, and it's an honor for us to introduce the inaugural Karl Lagerfeld Award for Innovation together. When Karl won the Woolmark Prize in 1954 it launched his career; it's very meaningful for us to continue building upon this legacy and introduce an award that honors his enduring creative spirit."
JOHN ROBERTS, GENERAL MANAGER, THE WOOLMARK COMPANY:
"There's so much changing in the fashion industry right now, so we wanted to initiate this award to focus on pushing the envelope of innovation. Given Karl's history with the event and being one of the first-ever winners, it was only appropriate that we name the award after him."
HISTORY:         At age 21, Karl Lagerfeld won the second ever Woolmark Prize (1954) in the coat category, which launched his career.
THE KNIT          In   February   2020,   The   Woolmark   Company   and   KARL LAGERFELD
KARL BOX      launched the Knit Karl project: a limited-edition "do it yourself" knitting kit with items to hand-knit designs from Australian merino wool.
Consumers can currently win a Knit Karl box through a scavenger hunt. They must search for unique codes in select KARL LAGERFELD stores, on KARL.COM, in magazines, and on the social media feeds of @KARLLAGERFELD @thewoolmarkcompany, and top influencers. Once a code has been uncovered, the player must enter it on www.knitkarl.com and correctly answer a question about KARL LAGERFELD or Woolmark to be considered in the draw. There is no limit to how many codes one person can find, and the final prize draw will take place on March 7, 2020.
WHERE:           AMBIKA P3, 35 Marylebone Rd, Marylebone, London NW1 5LS
@KARLLAGERFELD    @thewoolmarkcompany             #WOOLMARKPRIZE