Dear Shaded Viewers,
I got a real kick out of this announcement: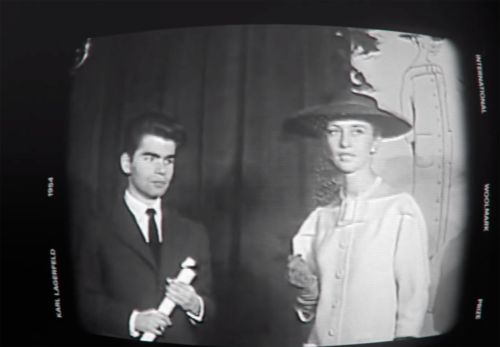 "The Maison KARL LAGERFELD and The Woolmark Company are pleased to announce the launch of the "Knit Karl" box, a limited-edition do-it-yourself box set of items to hand-knit an Australian Merino wool design imagined by the late Karl Lagerfeld. Just 777 exclusive "Knit Karl" boxes are available to be won, between February 7 and March 7, 2020.
To enter the competition, consumers are invited to join a scavenger hunt to search for unique codes in select KARL LAGERFELD stores, on KARL.COM, in magazines, and on the social media feeds of @thewoolmarkcompany, @KARLLAGERFELD and top influencers. Once a code has been uncovered, the player must enter it on www.knitkarl.com and correctly answer a question about KARL LAGERFELD or Woolmark to be considered in the draw. There is no limit to how many codes one person can find, and the final prize draw will take place on March 7, 2020.
Coinciding with the launch of the "Knit Karl" project, the 2020 International Woolmark Prize will include the inaugural Karl Lagerfeld Award for Innovation, in honour of the fashion icon and International Woolmark Prize alumnis. The annual award will be presented to a finalist who showcases outstanding creativity and innovation; characteristics which led to Lagerfeld's history- making success.
The award will be presented by Carine Roitfeld, Style Advisor of the Maison KARL LAGERFELD, at the International Woolmark Prize in London on February 17."