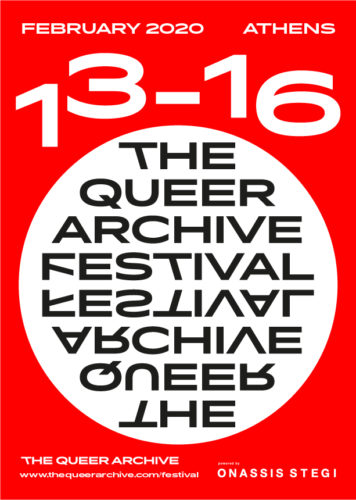 Dear Shaded Viewers,
. In February 2020, art platform The Queer Archive launches a new festival dedicated entirely to queer art. The first The Queer Archive Festival proposes a rich program of multimedia experiences, open and accessible to all. The festival aims to take a different approach to queer community issues by supporting young, well-established, domestic and international artists, while also seeking to enhance personal experience by promoting public dialogue and free expression.
Video installations, exhibitions, walks, workshops, interactive art and performances will comprise the festival's activities, highlighting talent, supporting progressive thinking and encouraging creativity. The Queer Archive Festival will take place February 13-16, 2020, powered by Onassis Stegi in galleries and alternative venues in central Athens.
PROGRAMME HIGLIGHTS
The festival's programme includes the photo exhibition "Introvert / Extrovert" by Greece's Kostis Fokas (https://www.flickr.com/photos/kostisfokas/) and Spain's Gerardo Vizmanos ( https://www.vizmanos.com/ )The subject matter is personal narratives that at the same time reflect a broader theme, which relates to their practice: the exploration of the human body as a place of social and political inquiry (Void Gallery). "Looking for Love" is a series of works by Swiss artist Jeanne Jacob (https://jeannejacob.com/) which tackle the question of seeking love in a patriarchal system with predefined codes and values (Breeder Gallery).
New work by Polish artist Aaron Moth (https://www.aaronmoth.com/) premieres at the festival and is inspired by Greek antiquity, retro porn aesthetics and his unique collage technique, entitled "Objects of Delight" (Romantso Gallery Space). Also, the performance of Greek artist Kiriakos Hadjiioannou (http://www.kiriakoshadjiioannou.com/) titled "Thanaton, Rough Cut," embedded in the body of the "Higher States," series is the raw effort of the fourth part of the series, which marks the biography of a body through existential states and possible future prospects (Six Dogs). Join the Fringe Film And Arts Festival (https://www.fringefilmfest.com/) from London, with a selection of artist videos from around the world selected exclusively for The Queer Archive Festival, entitled "Let's Talk About Gender, Baby" (State of Concept).
In the interactive installation "Diva" by Torben Jost (https://torbenjost.cargo.site/), the public is invited to enter a small cave, a small karaoke space that eventually avoids singing and questions about the experience of pop culture through music (A Hollow Place). A series of photos of Swiss Eden Levi Am (https://edenleviam.com/) seeking sexual identity outside of the dispute, entitled "Réenchantement Des Corps" (Romantso Gallery Space). Participations continue with the installation "Skin Flags" by Stathis Mitropoulos (http://www.stathismitropoulos.com/); the video "ΑΔΕΡΦΗ" by Sam Albatros (https://queerpoets.com/); the Athens Subsumption (http://www.subsumption.space/blog/) interactive workshop "Cruising The Erotic Potentiality of Athens"; and a photography workshop by Kostis Fokas.
In addition, The Queer Archive Festival joins forces with the Athens Fashion Film Festival (https://athensfff.com/), which will take place from February 14 to 16 in Athens. Together they will present the work of pioneering director and photographer Matt Lambert (http://www.dielamb.com/), who successfully combines fashion images with queer aesthetics, working with major fashion brands around the world. The two festivals will feature a collection of artist's videos titled "A Film Selection" (Technopolis Amphitheater).
Finally, as part of the Festival, the team of The Queer Archive Festival in collaboration with Paola Revenioti and powered by Onassis Stegi will release am anniversary issue of legendary magazine "Kraximo." The issue will host articles, essays and works by young artists expressing the Greek queer reality of today. The magazine will be distributed free of charge throughout the festival, at the Romantso Gallery Space. In addition, on the occasion of the magazine's reissue, an open discussion with publisher Paola Revenioti will take place.
Ambassador of The Queer Archive Festival is the talented London based internationally adored drag performer A Man To Pet (​https://www.instagram.com/a_man_to_pet), who performs both at festival parties (see dates and points below), The Queer Breakfast event on Saturday 15/2 and at the main festival party on Saturday 15/2 along with DJ Onio from Berlin.
OPENINGS, EVENTS & PARTIES —–
ΠΕΜΠΤΗ 13/2
Exhibition Opening: Jeanne Jacob, Breeder Gallery, 18:00 – 22:00
Group Exhibition Opening: Aaron Moth, Sam Albatros, Eden Levi Am, Stathis Mitropoulos, Paola Revenioti, Romantso Gallery Space, 20:00 – 22:00
The Queer Archive Festival Opening Soirée, Dj set by A Man To Pet,
Kostakis & Tzef Montana, Romantso Bar Area, 22:00 – 01:00
 ΠΑΡΑΣΚΕΥΗ 14/2
Premiere: Kiriakos Hadjiioannou, Six Dogs Club, 15:00 – 16:00
Exhibition Opening: Torben Jost, A Hollow place, 18:00 – 21:00
Exhibition Opening: Fringe Film & Arts Festival, State of Concept, 19:00 – 22:00
Exhibition Opening: Kostis Fokas & Gerardo Vizmanos, Void Gallery, 20:00 – 23:00
ΣΑΒΒΑΤΟ 15/2
The Queer Breakfast: Performance by A Man To Pet, Six Dogs Restaurant, 12:00 – 14:00
The Queer Archive Festival Party: Hosted by A Man To Pet, Dj set by Onio (Berlin), Jacob of Capadoccia, Roman & Saradis, Romantso Club, 23:00 – Late
ΚΥΡΙΑΚΗ 16/2
The Queer Archive Festival Closing Soirée: Dj set by A Man To Pet, Romantso Gallery Space, 21:00 – 01:00
VENUES
ABOUT THE QUEER ARCHIVE ——-
The Queer Archive art platform was founded in 2013 in London and moved to Athens in 2017. Its founder and artistic director is artist and creative producer Konstantinos Menelaou. The platform has helped many artists to produce and exhibit their work. It has curated a large number of art exhibitions, events and films and has collaborated with well-known artists and curators such as Stuart Comer, Kostis Fokas, Paola Revenioti, Aron Kantor, Antonio da Silva, Olympe de G and Bruce La Bruce, while also giving opportunities to many new creators.
PRODUCED and CURATED BY:
THE QUEER ARCHIVE
https://www.thequeerarchive.com/
https://www.facebook.com/thequeerarchive/
https://www.instagram.com/thequeerarchive/?hl=en
POWERED BY
ONASSIS STEGI
https://www.facebook.com/Stegi.Onassis.Cultural.Centre/
https://www.instagram.com/onassis.stegi/?hl=en
https://www.onassis.org/el/onassis-stegi
________________________________________________________________
In collaboration with: