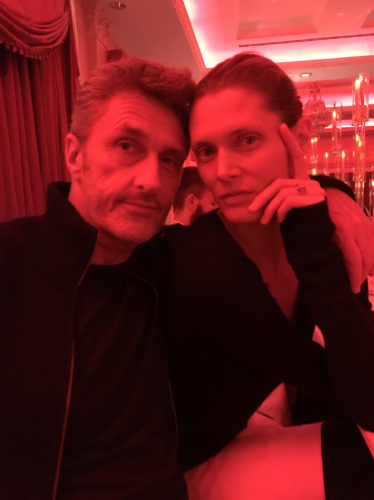 Pawel Pawlikowski and Malgosia Bela
Dear Shaded Viewers,
Recently I was in Tbilisi for Mercedes-Benz Fashion Week Tbilisi thanks to  Sofia Tchkonia while there I met the director Pawel Pawlikowski and his beautiful model/actress wife Malgosia Bela. Unfortunately I arrived the day after he gave a master class. It was funny we met in the elevator of the Stamba Hotel and then later the next evening we were sitting next to each other for the dinner. I took the opportunity to ask him to be on my jury and I wait now for an answer crossing fingers as I know how happy that would make me and all of the participating directors.
A partial list of his awards:
Academy Award for Best International Feature Film 2015 IDA
Cannes Best Director Award 2018 Cold War
Polish Academy Award for Best Film 2019 2014 Cold War and Ida
European Film Award for Best Film 2018, 2014 Cold War, Ida
European Film Award for Best Director 2018, 2014 Cold War, Ida
BAFTA Award for Best British Film 2005 My Summer of Love
Later,
Diane