Fashion Pact, what's next? Paris hosting the first Collective Action summit with measurable goals for everyone to Act for Fashion, now.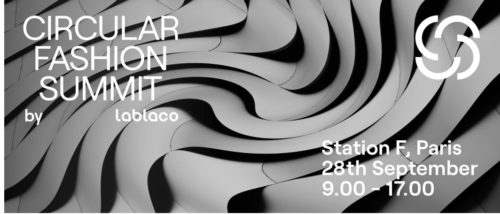 In support of the United Nations SDG 2030 (Sustainable Development Goals), Lablaco, the first Circular Fashion platform, is launching the Circular Fashion Summit, the first Collective Action summit for fashion held during Paris Fashion Week on September 28th, 2019, at Station F in Paris – the largest tech hub in the world, including tech giants i.e. Apple, Google, Facebook, Amazon and more than 200 international startups, including Lablaco.
Why Circular Fashion Summit? Scrutiny of the fashion industry's impact on the global climate crisis has hit new heights in recent months. Globally, the fashion industry is responsible for about 10 percent of all greenhouse gas emissions, according to the United Nations, more than the international aviation and shipping industries combined. Fashion industry will end up using up to a quarter of world' s carbon budget by 2050 and emissions from this sector are estimated to rise by more than 60% by 2030. It is an urgent need to Act Collectively, not only businesses, but also every individual. "We don't need a handful of people doing zero waste perfectly. We need millions of people doing it imperfectly." By Anne Marie Bonneau.
We believe that appropriate application of innovation and technology can effectively accelerate the transition towards a Circular Fashion System and reduce global environmental impact. For this reason, Lablaco decided to provide the open platform, empowering the first Collective Action initiative in Paris, the absolute fashion capital of the world and now also of sustainability, thanks to the Fashion Pact. At Station F, the largest tech hub in the world, to share precious industry knowhow and start implementing measurable actions to make the change happen, now. CFS is also committed to supporting the United Nations Sustainable Development Goals, executing concrete and measurable actions with individuals and companies, all together.
What is Circular Fashion Summit? Circular Fashion Summit is the first Collective Action Summit powered by Lablaco, with a clear aim to tackle environmental issues and to accelerate digital transformation of the fashion and textile industry, by providing the Lablaco open platform as technology enabler, uniting industry leaders from companies such as Kering, IBM, Adidas, Fashion Revolution, Futerra, Eco Age, Future Tech Lab and many others to share knowledge and to take measurable actions all together within a 12-month time frame. CFS is composed of three Panel discussions from industry leaders in Fashion, Sustainability and Technology, and the Impact Design Hub where innovative fashion designers, who are implementing sustainability and circular design into practices, will be showcased "Impact Design" collections at the Open Platform in Station F, and open to the public the whole day of 28th September. The whole Summit will be hosted by Evelyn Mora, Consultant & Founder of Helsinki Fashion Week. At the end of panel discussions, a series of industry catalysts will be announcing the commitment to the goals. Ranging from Cristina Ventura, Chief Catalyst Officer of Luxarity of The Lane Crawford Joyce Group, Patrick Duffy, Founder of Global Fashion Exchange, Shaway Yeh, Founder of YehYehYeh & Group Style Editorial Director of Modern Media Group, Isabelle Lefort, Co-founder of Good Paris Fashion, Kerry Bannigan, Founder of Conscious Campaign & Executive Producer of SDG Media Zone.
2. KEY HIGHLIGHTS OF SUMMIT:
    a) Summit is also paid tribute by Sustainability team of Balenciaga, Fendi, Swarovski, Marine Serre, Helsinki Fashion Week, Europe Parliament and Government from Brazil, Netherlands, France and many more.
    b) The whole Summit will maximize "paperless" practice and use the reusable materials and avoid one-time materials.
    c ) One of the most ambitious goals is to encourage consumer, brands, retailer, organizations and influencers to collectively recirculate 100.000 items in 12-year timeframe.
The result from the recirculated items saved from landfill will save an estimated 2.000 tons of CO2 (equivalent to: an average car could be driven for 8.87 years non-stop; the energy use of an average house could be met for 154 years; a 13-watt CF lightbulb could be lit for 17,562 years continuously!!) and 300 million Liters of Water (which represents 1.1 million years' worth of drinking water for an average American!). 
3. QUOTE OF FOUNDERS, Lorenzo Albrighi and ShihYun Kuo
"One of the most ambitious goals is to encourage everyone, from consumers, brands, retailers, organisations to influencers, to collectively recirculate 100.000 items in 12-month time frame. The result from the recirculated items saved from landfill will save an estimated 2.000 tons of CO2 (equivalent to: an average car could be driven for 8.87 years non-stop; the energy use of an average house could be met for 154 years; a 13-watt CF lightbulb could be lit for 17,562 years continuously!!) and 300 million Liters of Water (which represents 1.1 million years' worth of drinking water for an average American!)"
PRESS MATERIALS
https://www.circularfashionsummit.com/press
AGENDA
https://www.circularfashionsummit.com/agenda
Among the brands which joined the project are companies like  Adidas, Diesel, Eco Age, Fashion Revolution, Fashion Tech Forum, Futtera, Futuretech Lab, IBM France, Isko, Istituto Marangoni Paris, Kering Group, Lukso & Ethereum, Newtech Textile & The Mills Fabrica, Redress & The R Collective, Sensai & Yama Consulting

"Digitalization is the key to make fashion circular, transparent and more sustainable in business." – ShihYun Kuo, Lablaco