For this solo show in Paris, the Greek painter and theorist Miltos Manetas reviews in a short, personal and limpid statement his aesthetic appreciation and depiction of contemporary living with computers and connected devices that have been at the center of his work for the past decades.
In this exhibition, early works are sporadically floating in the space, sending us back in the late 90's and early 2000's, when the Gen X was rapidly getting caught up in the spiral of this magnetic field, excitingly learning new softwares, exploring latests video games, making the first URL art pieces…
On both floors of  Galerie Ghislaine Hussenot in Le Marais,  we're drifting in a poetic, rather nostalgic contemplation, while facing the large oil paintings with compositions of computer cables , video games joysticks and connected devices that were then part of a new and exciting era. Strolling around the composed cables and wired connections, we find ourselves immersed into a dreamy, soft and sophisticated aesthetic of figurative/abstract pieces with a seductive tone of what could be a form of geeks past time paradise.
Miltos Manetas Installation View – Galerie Ghislaine Hussenot Paris
In his statement and with the resurgence of these early works, Manetas also points out the new step we crossed when the world of dot.com, dot.net, dot.org appeared, when our names suddenly seemed "cooler", and when a flood of new domains emerged.
Miltos recalls the registration of Art.com and Love.com in 1998 , while mysteriously outlining that others did register War.com and Sex.com in 1995 …  That was way before we could identify the means of GAFAM data (acronym for Google Apple Facebook Amazon Microsoft )… Nevertheless, Miltos Manetas pursued and marked again his time by founding the Neen Movement _the 1st movement of the 21st Century _ launched at Gagosian Gallery in 2003. He further initiated the Internet Pavillon at the Venise Biennale in 2007,  an alternative and borderless Art Pavillon gathering works and performances of all origins, a stateless space with open freedom of connected artistic expression.
2008 Untitled (Cables XI) Oil on canvas 288 x 190 cm
While wireless and bluetooth connexions have gained space over cables, when the lack of Wi-Fi can trigger feelings resembling to a nervous breakdown, Miltos Manetas states that he got married to computer devices in 1994 and outlines this point of no return. We are now married for life to our computers and smartphones,  with which we actually spend more hours than we spend exchanging with our loved ones, learning, reading, or simply strolling while admiring nature or our surroundings _while being hypnotised by social networks or too busy to take a snapshot_ and when we actually missed most of what we just passed by .
With a warm and abstract melancholy, this exhibition feels as if we were looking at pictures of our past, rejoice one can always share these unique tech-poetic paintings on Instagram…
Discover more work at  www.manetas.com
The show at Galerie Ghislaine Hussenot is open until July 22nd at 5 bis Rue des Haudriettes, 75003 Paris – +33 1 48 87 60 81
Paris,  June 2019 – Géraldine Postel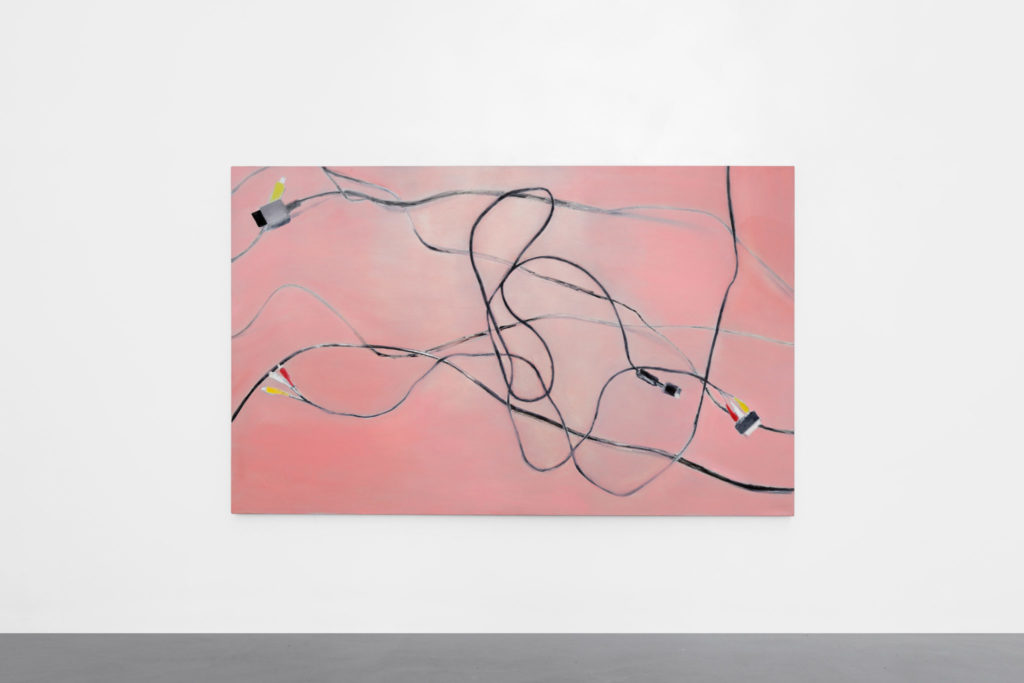 Miltos Manetas, Untitled (Cables XV) Oil on canvas 270 x 183 cm
Miltos Manetas Installation View – Galerie Ghislaine Hussenot Paris
Miltos Manetas, Untitled (V) Oil on canvas 180 x 112,5 cm – 2008
Miltos Manetas, POINT OF VIEW (Mai with Nintendo controller) Oil on canvas 127 x 152 cm- 2001
Paris June  27TH, Géraldine Postel
The show at Galerie Ghislaine Hussenot is open until July 22nd
5 bis Rue des Haudriettes, 75003 Paris – +33 1 48 87 60 81
Discover more work at  www.manetas.com