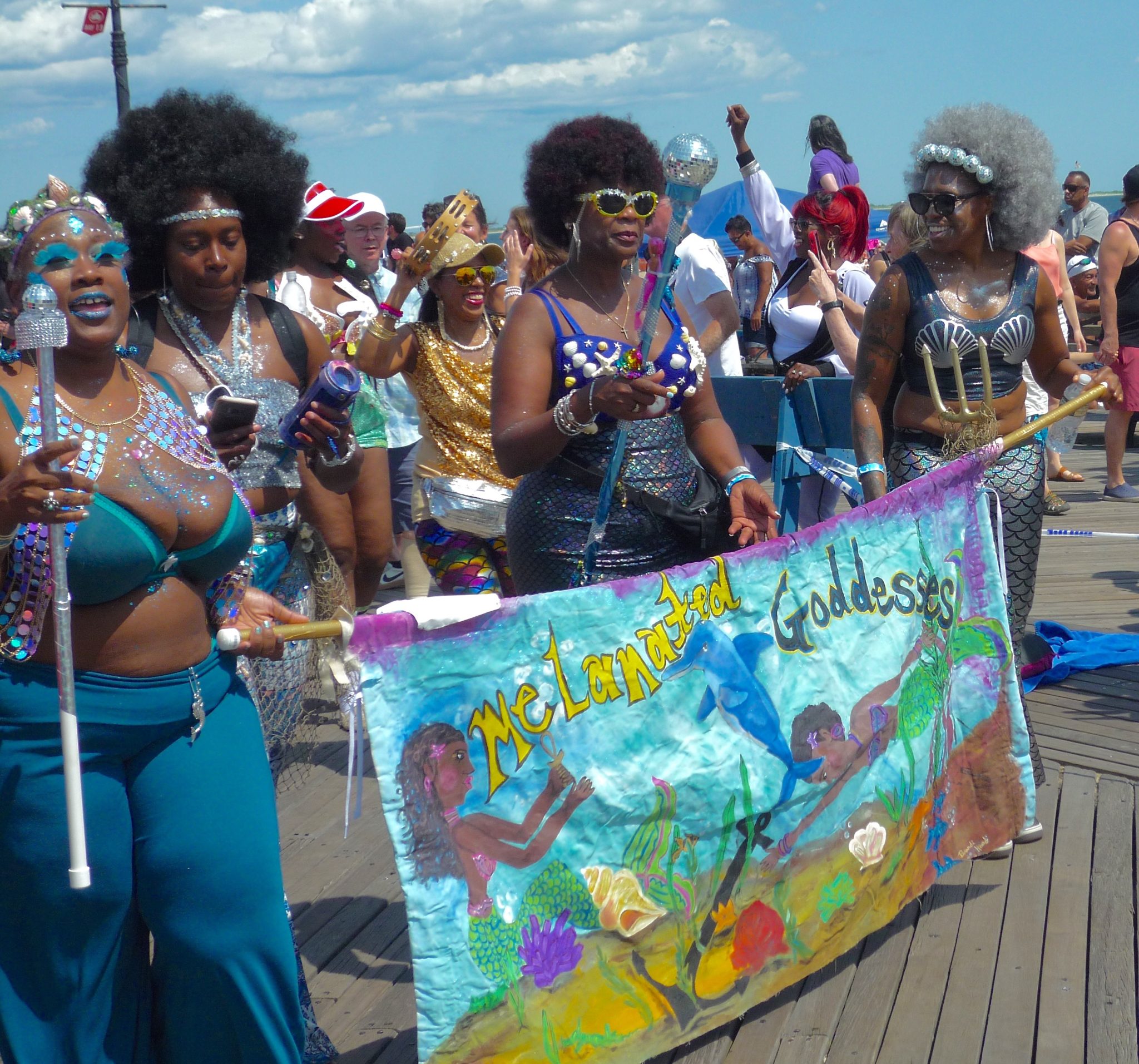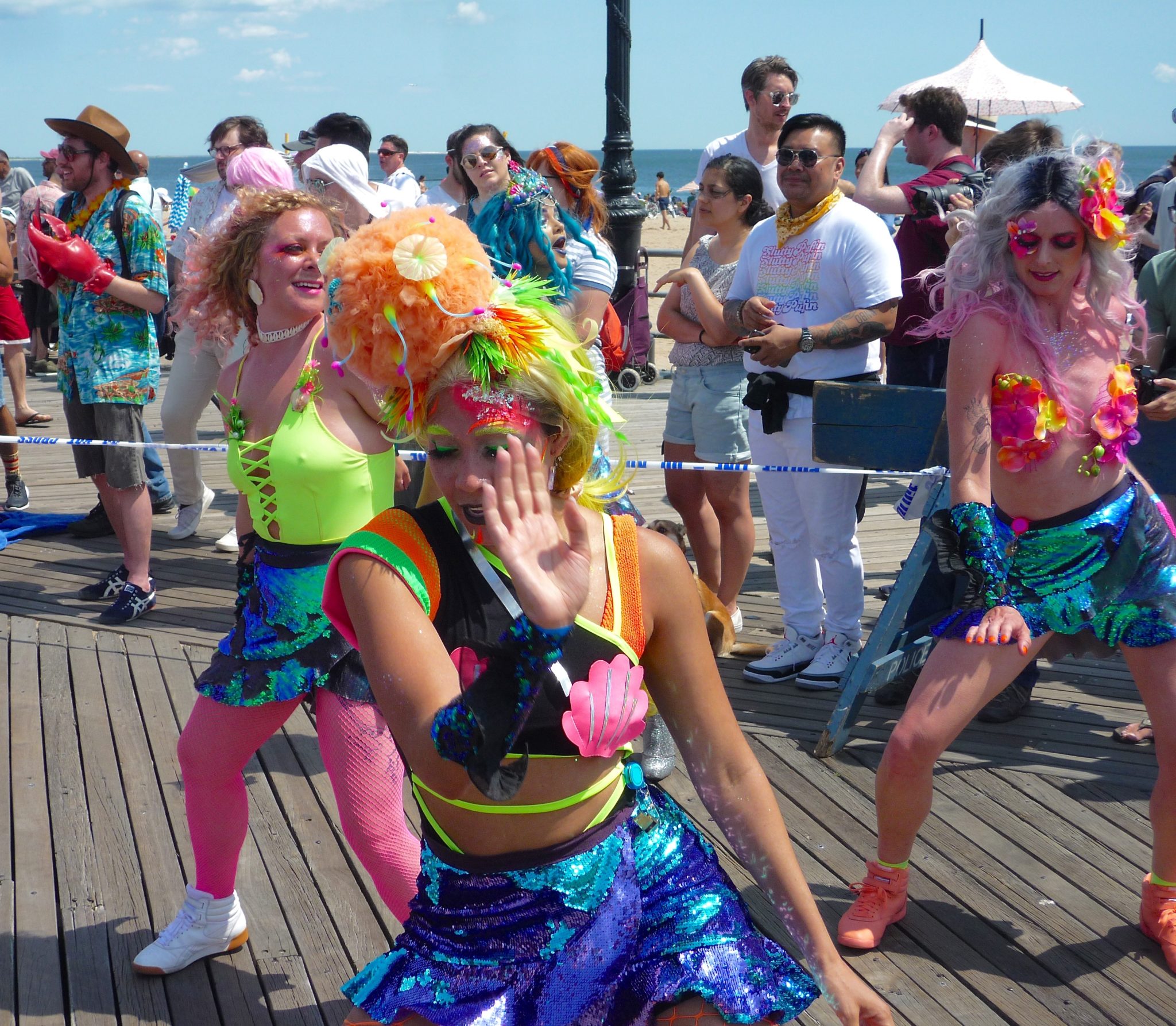 My favorite: Princess Leia mermaid hologram!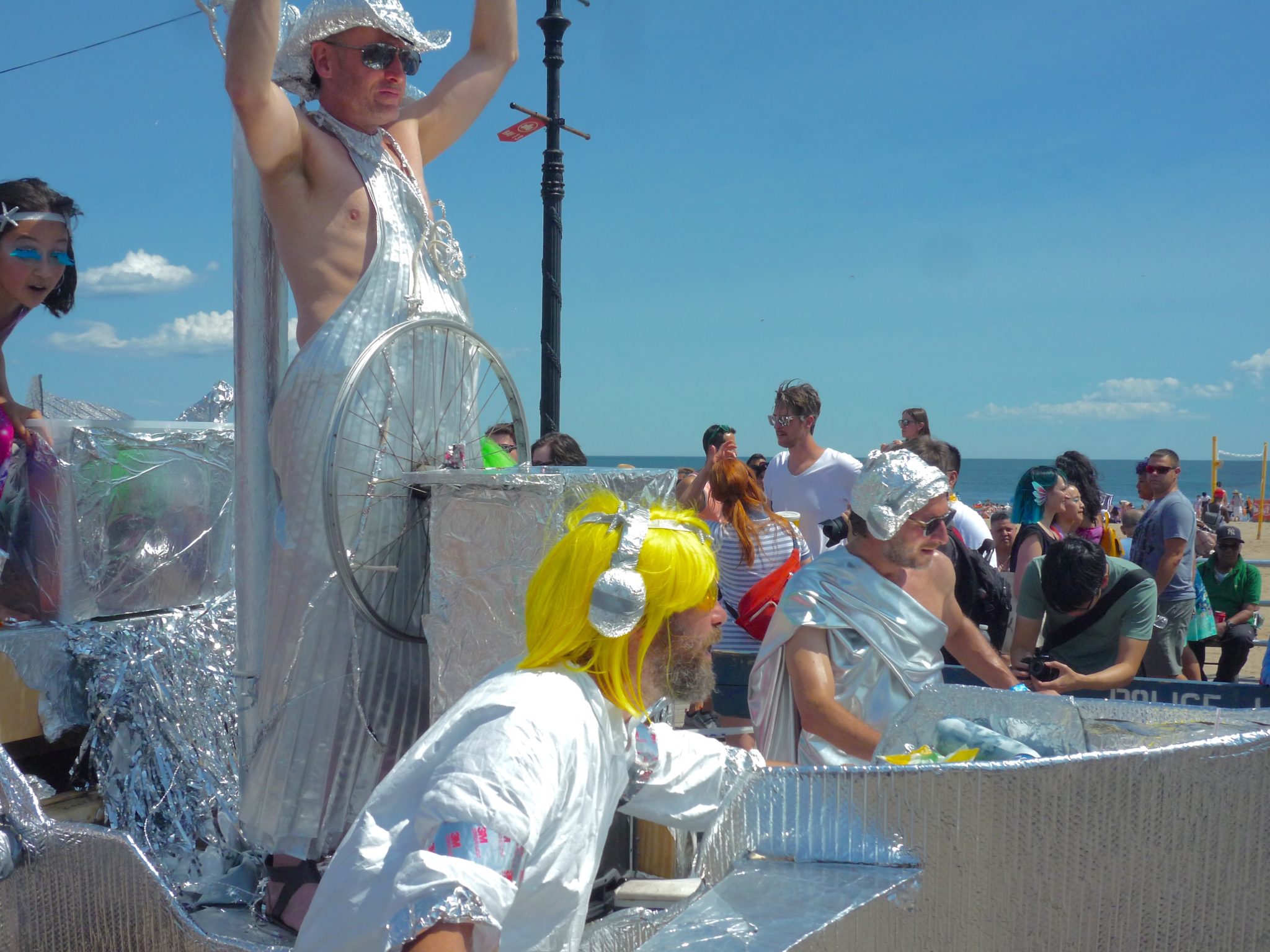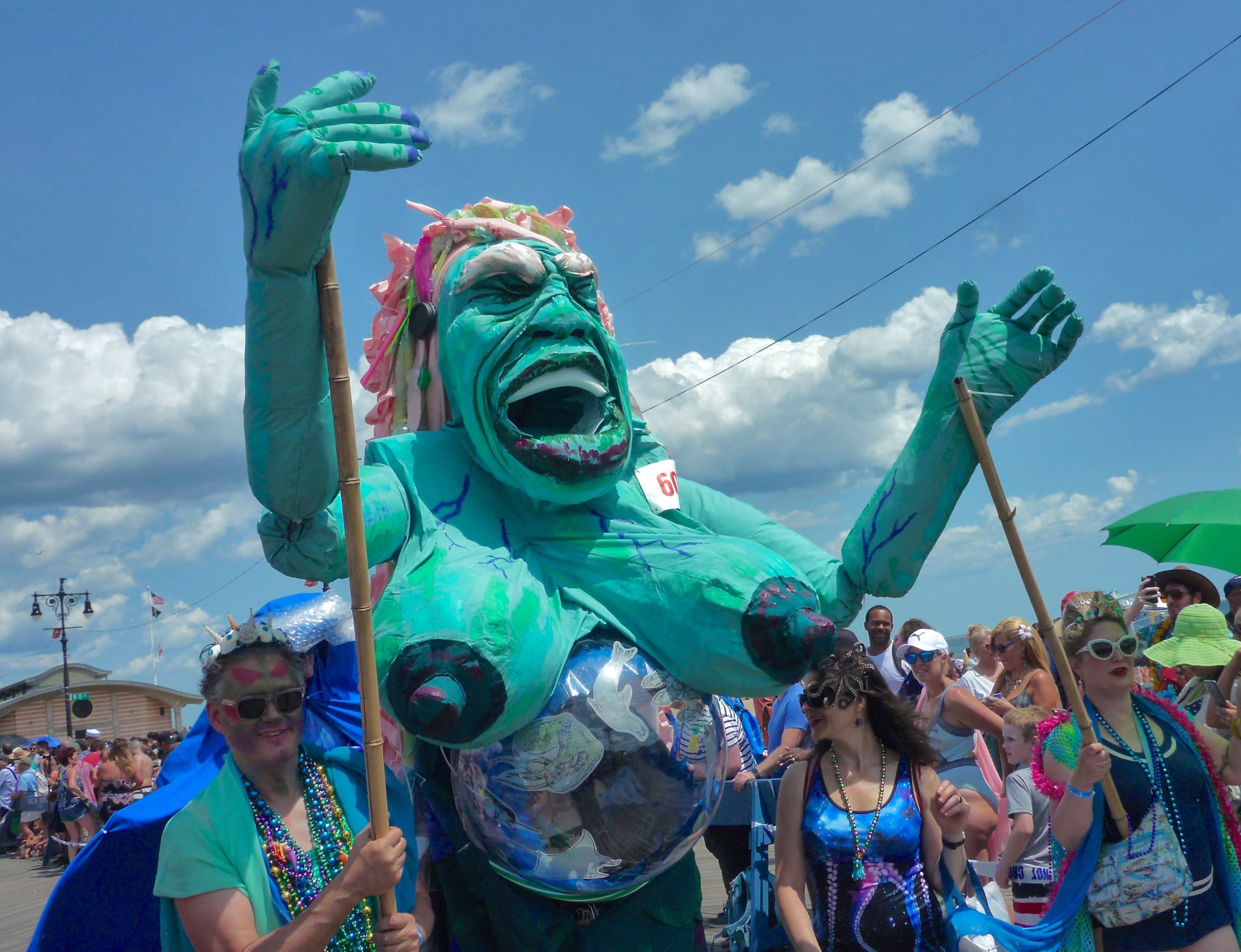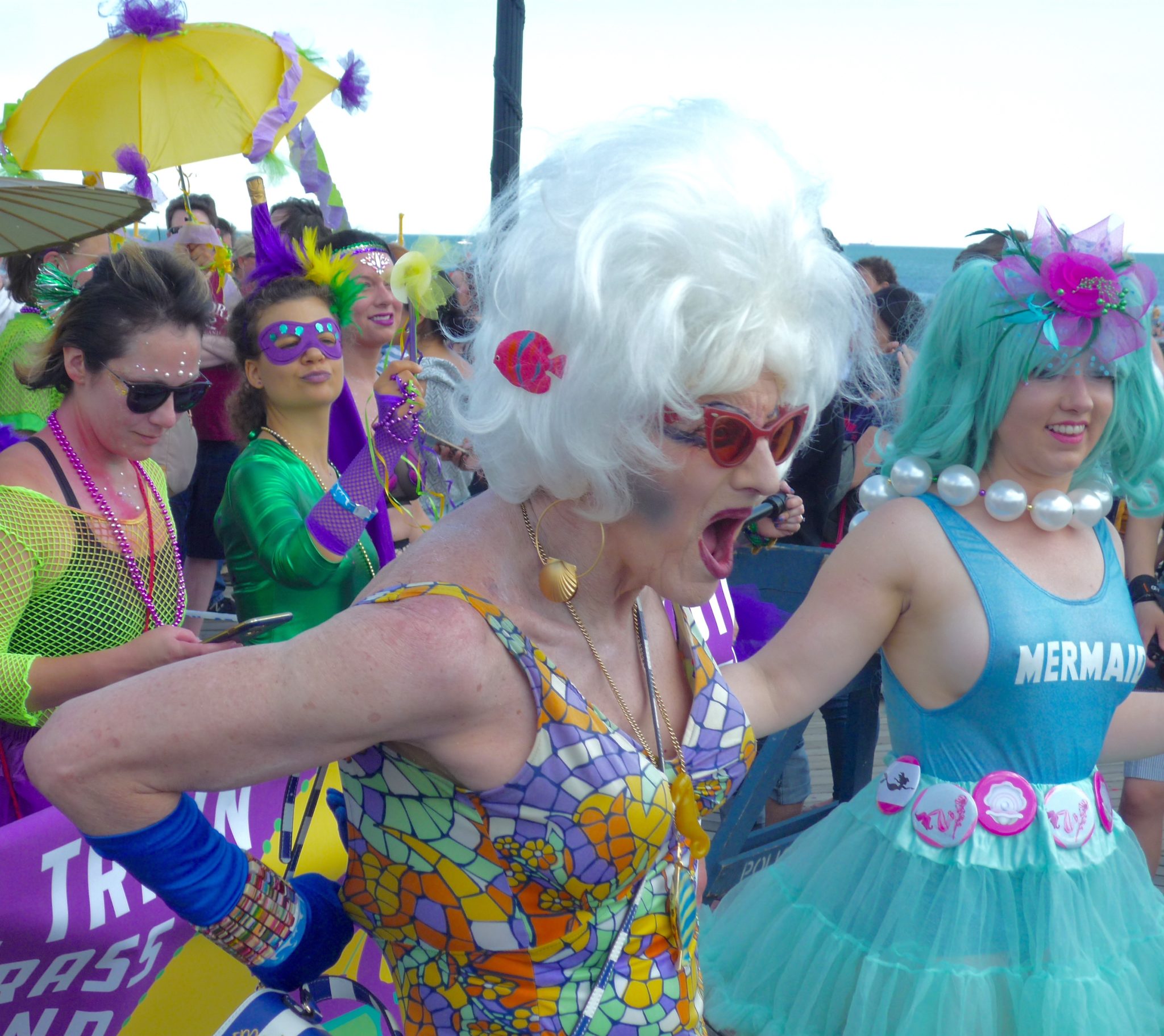 Dear Shaded Viewers,
For me, summer does not officially start each year until the day of the Mermaid Parade in Coney Island. As always, we started the day by converging at Ruby's Bar & Grill—a legendary boardwalk locale that began as a speakeasy in the 1930s—and engaged in the ritual of Hebrew National noshing, raw clam sucking and Ruby's Ale sippin'.
This year I met up with author and Cuban Revolution historian Nancy Stout, wunderkind writer Ben Shields and Mexican artist Martirene Alcántara, whose work is represented in MoMA's collection.
We took our places on the boardwalk (where the giant, tacky monster truck floats are forbidden) and gave ourselves over to the polymorphously perverse pageant of Dionysian mer-people and creative costuming. (It is, after all, the largest art parade in the U.S.)
No, there were no corporations in the parade, no pro-queer mermaid credit card companies and airlines, no rainbow Dunkin' Donuts or snake oil salesmen. (But if you do need snake oil, there is a carny behind the Freak Show who can get it for you wholesale.)
After Ben and I rattled our rib cages on the Cyclone, we met Martirene at the James Beard-award-winning Totonno's, the best pizza joint in the New York area (opened in the 1920s!). Well, long story short, the infamous wait time (long line outside), was stretched even further when we were seated. Beginning with when Martirene saved a place for us in line to the moment our pies finally hit our table, the wait was over three hours. Why? They were having problems with the coal-fired brick oven. (Yes, they burn coal. Shut up, environmentalists.)
Was it worth the wait? Oh, yes indeed. I've been to Totonno's many times and the pizza we had this day was the best I've ever had there.
Well, enough food talk! Behold…..the Mermaid Parade!
A B-movie that needs to be made: Invasion of the Space Mermaids. Roger Corman is still alive, by the way!
Protest singer and folk legend Arlo Guthrie was crowned King Neptune this year and rode with his sister, Queen Mermaid Nora. You can get anything you want, at Alice's Restaurant—and on the Coney Island Boardwalk!
When I yelled out, "Holly Golightly!" this young woman yelled back, "FINALLY! Finally someone gets who I'm supposed to be!" The queen standing next to me cracked, "I guess you're the only gay watching the parade!"
"Searise Movement"? What is going on here….?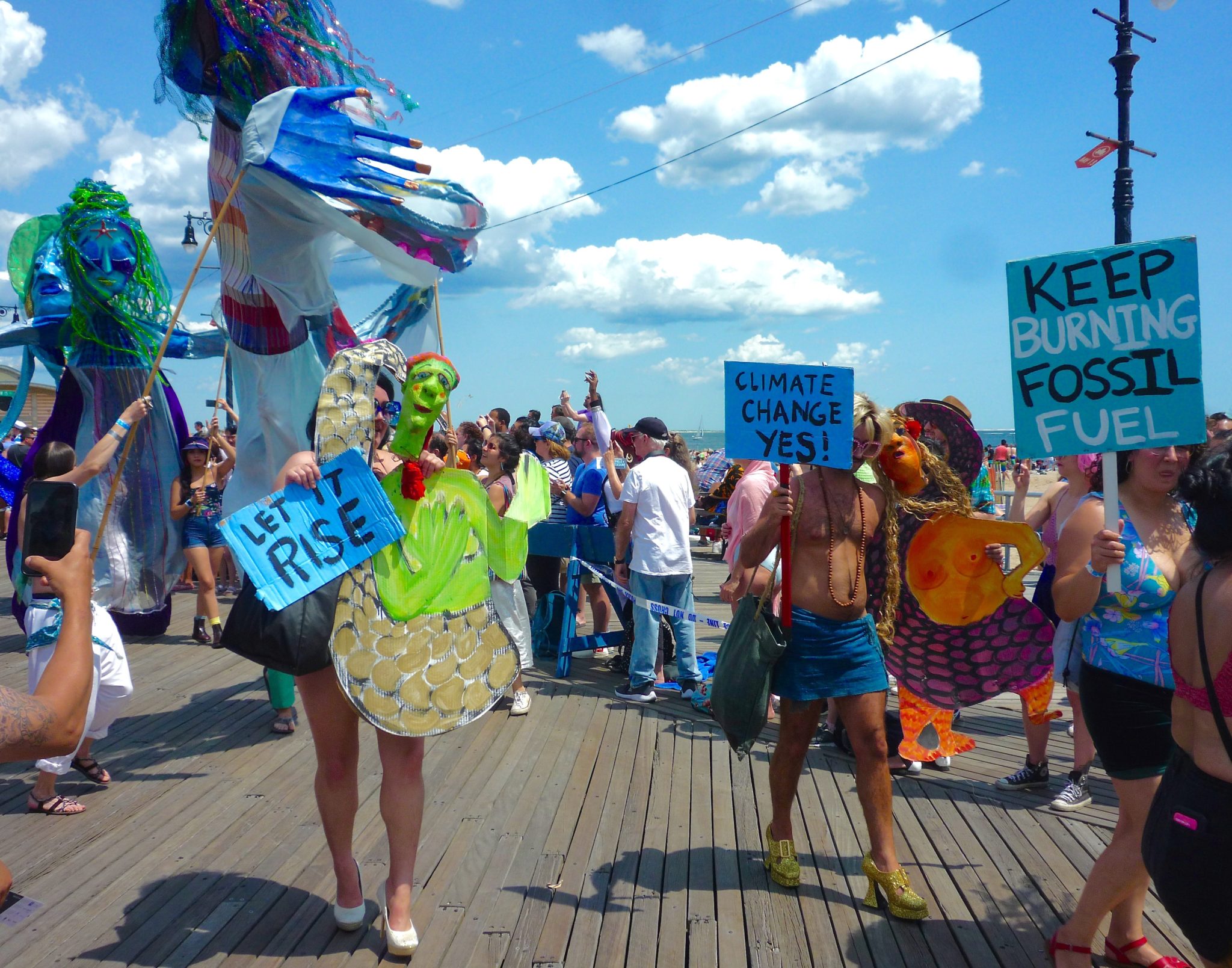 "Let It Rise"? "Climate Change YES"?? …….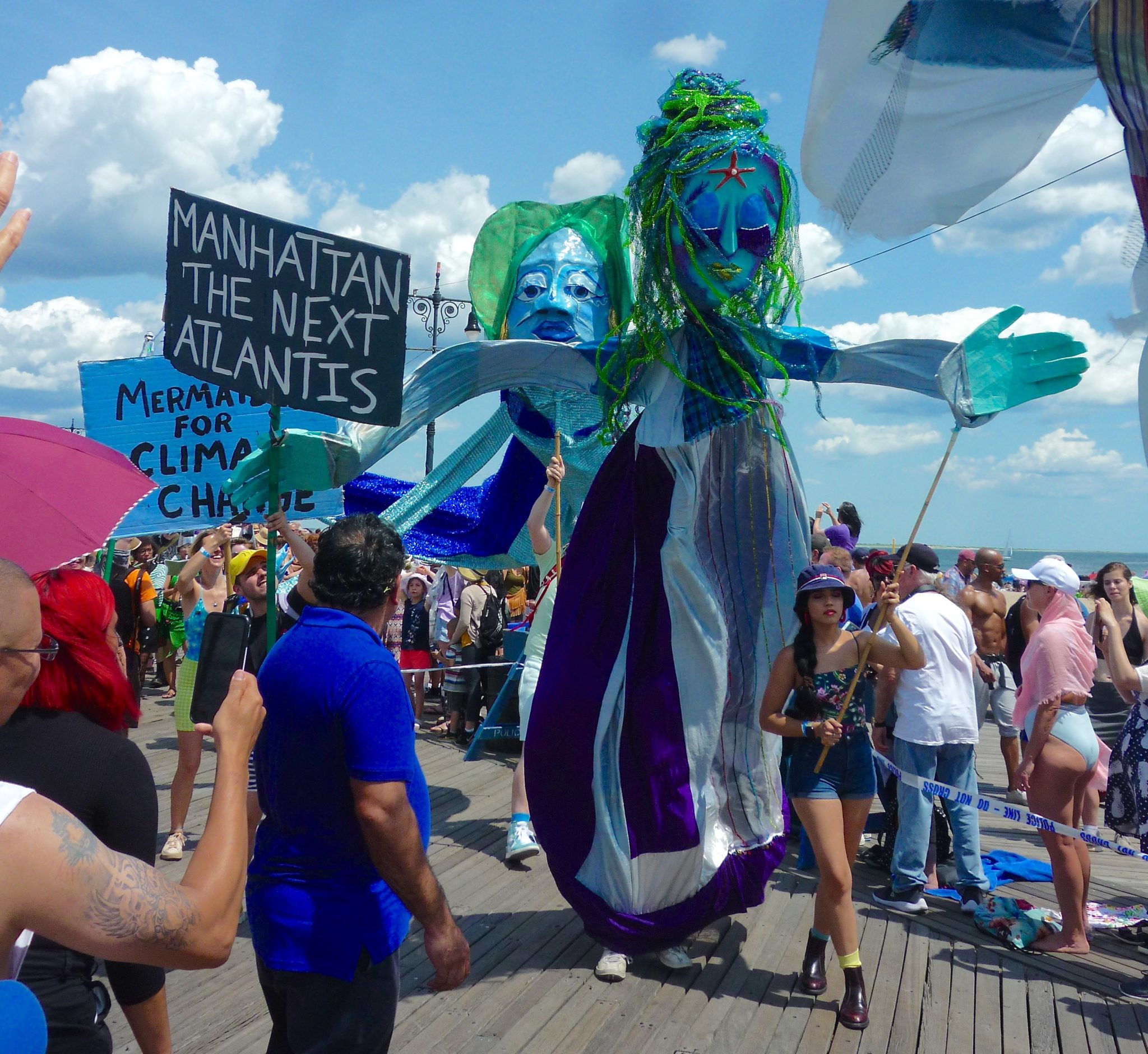 Imagine an underwater Manhattan for the mer-people to inhabit and enjoy….Mermaids for Climate Change! Brilliant socio-political satire that's very reminiscent of Vermont's Bread and Puppet Theater from the 1960s, still active today.
Amidst the tits were slingshot-y cock and balls!
Another star from Invasion of the Space Mermaids?
Mermaid Salome!
Thank you for reading.
Love,
Glenn Belverio