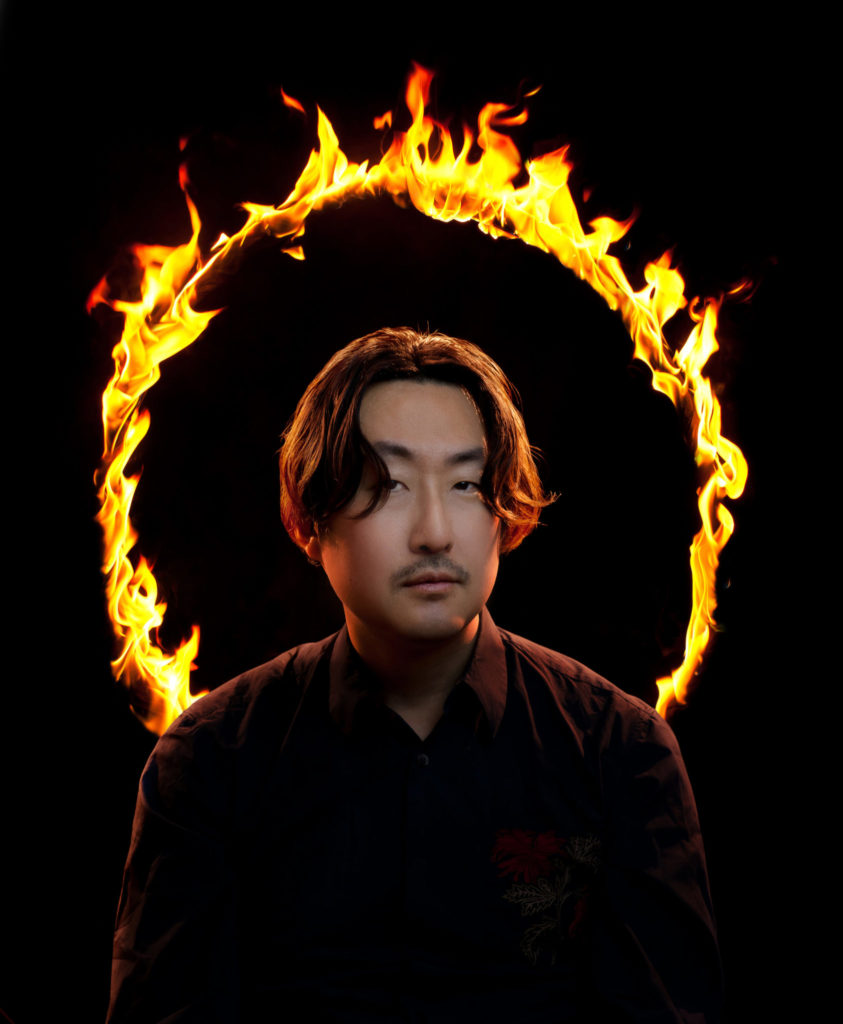 Portrait of Juno Youn by Sean Mundy
How excited are you for the 7 year anniversary of your gallery, Galerie Youn, in Montreal?
Juno Youn: Each year has its own flavor because of the different artists we feature. This year we have Sean Mundy from Montreal, and Daniel Agdag from Melbourne, Australia. It is exciting to show both artists for the first time solo exhibitions with the gallery.
And May is always exciting time because Montréal is finally warmer – (thank goodness.lol) I am excited to see many long lost friends who come visit once a year from all around the globe. And it is so great to see art collectors who are supporters of our gallery.
What can we expect to see?
Sean Mundy's solo exhibition "Barriers" is a new series of mostly black-and-white photography in our main gallery.
"Barriers" use motifs of fire and smoke to individually express discord, ultimately coupling them together. These organic mediums serve as markers for complications developing from within and beyond the individual. Sean'Mundy's highly dramatic and conceptual process is unlike any other digital photography we surface easily.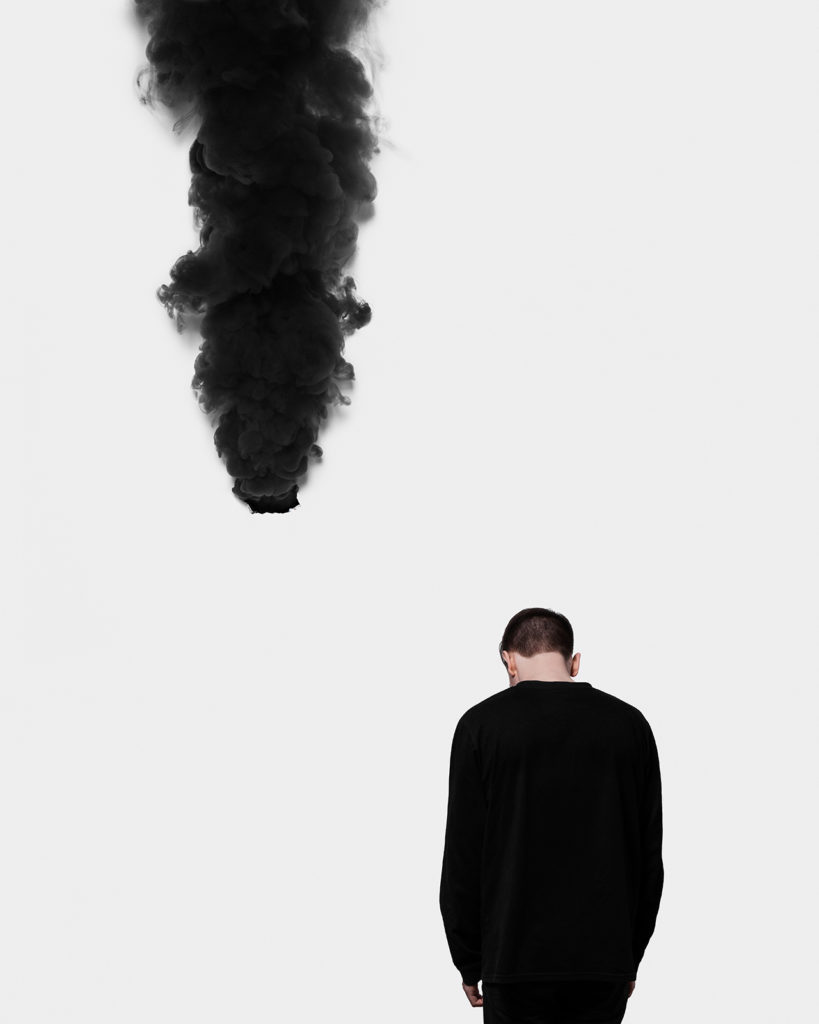 Sean Mundy, Barriers VIII, Digital Photograph, archival print, courtesy of the artist and Galerie Youn
What else?
Daniel Agdag's "Aloft" at our project room is works that are paradoxically anchored by the weight of a symbolic history and desire for place, yet stand in preparation for flight. He explains they are born from familial stories of rootless existence, of explicit and implicit forced migration and the universal desire to establish roots, however tenuous. Daniel's unbelievably detailed hand made card board sculptures inspire us from film to architecture.
Daniel Agdag, Structural Study No.2, 2019 Cardboard, cotton paper, framed in Tasmanian Oak with UltraView glass, , courtesy of the artist and Galerie Youn
Why did you choose these artists?
When you see their works you will agree with me. Just the mind-blowing rich concepts and the execution is enough reason. Also Sean's impressive followers on social media and fan support is impressive as an emerging artist. Daniel's impressive film background and his imagination is beyond this world. When I meet the artist for the first time I can usually feel my instincts. I met Daniel during VOLTA / BASEL 2018, he was exhibiting right next to our booth (exhibition by Hugo Alonso) we immediately connected and I immediately suggested to do a solo show and an art fair with us (four Papier 2019 Montreal). And I met Sean Mundy through gallery artist Damian Siqueiros and from then we quickly started working together and Sean has been exhibiting through the gallery including recent art fair L.A Photo (JAN 2019) in Santa Monica. I am proud and inspired by these two artists. Their work never fails to stand out.
Sean Mundy, Barriers IV, Digital Photograph, archival print, courtesy of the artist and Galerie Youn
What was the biggest misconception about business when you first started the gallery?
I ran SPIN gallery from 1999 to 2007 in Toronto previous to Galerie Youn, so I was well aware of the many ups and downs of this business. From my past experience in the Toronto gallery scene, and working for Gendai Gallery at JCCC (Japanese Canadian cultural centre: on the curatorial board and board of directors for several years), I have learned a lot. I made mistakes, but I learned from the different experiences. I moved to Montréal from Toronto because I felt Montréal has much more artistic charm and genuine interest in contemporary art, fashion than Toronto in the 2000 to 2010 period. Yes, I had some fear of not knowing perfect French and not being as connected in Montreal compared to Toronto which was for years my home town. But I had confidence in this town and for the future. I mean running an art gallery is never an easy business. I wouldn't recommend to anyone to open one haha
In which ways are you a typical Virgo?
Sometimes I am very Virgo, such as detail oriented, loving to plan a schedule 1-2 years ahead of time, wanting to be in control and organized. That applies to and everything I touch from florist arrangement at a vernissage to perfectly coordinated candle, my collection of industrial antiques at the gallery, what I wear, every single details on social media, curating art on the wall, and curating music to go with the exhibition. Though I am a much less worrier than I used to be. I was very hyper when I was much younger days in Toronto. I think I become much relaxed and mature in Montreal.
What has been the biggest joy or pleasure about running your own art gallery?
When a new client comes in discovers my gallery and makes a new acquisition – seeing the smile on their face leaving with art. Educating non-art-enthusiasts and helping public to feel contemporary art can be easier than what people think. It's not tough or strange after all. I had one 17 years old boy walked in to the gallery felt in love but he couldn't afford anything then, but he retuned a few months later with payment plan and ended up getting one art work he loved. It took him awhile but he managed from his part time job. This was so special to me. Not only because I sold the art to a teenager which almost never happens, but I also inspired him and made him very happy. Fortunately my store front is in the hip Mile End neighbourhood; that helps people to drop in without pressure.
What is planned for the main celebration on May 4?
Each year, I try a bit different planning. Once I had champagne and oysters served. Another year we published a catalogue for the anniversary shows. This year we have DJ M. Bootyspoon, who recently played at Printemps Du Montréal (MAC: Musée d'art contemporain de Montréal) at New City Gas, a massive warehouse in the old port of Montreal. He is both a friend and a celeb DJ who will be performing during and after the vernissage. And of course we are excited to have both a rising local artist and one international artist from Australia.
Something your art gallery is known for is being international. What's the secret ingredient to getting into so many art fairs?
There's no secret ingredient in this business. Everything about running an art gallery is unlike other businesses. In fact, many things are the opposite of most business. Art fairs takes extreme hours of hard work prior and post fair. There are tons of details which take really hard work. I started doing smaller fairs at the beginning and now in our seventh year we have gotten to much higher bigger international fairs. l Volta Basel to Zona Maco Mexico City, Seattle Art for to L.A Photo, Drawing Now Paris to Pulse Miami are a few in which we participated. Of course the hometown fair Foire Papier we just completed as well. It's a step by step process. There is no fast way. You have to go step by step from the application process to writing essays for the curatorial, designing the set up for the booth, arranging to ship all the works, lots of forms to fill out, arranging the travel, making sure we have the right team to make sales. And there is the crucial matter of finance. So many things to do for just a few days of art fair! It looks so glam or easy to many people, but it's like making your own film with your own money and hard physical work. When New York city's giant art critic Jerry Saltz was in Montreal recently for a talk – he mentioned how much he loves art gallery owners because we spent our own money to promote and discover artists to the world. I don't think that many people out there understand how really art fairs works and how much work and finance get behind. Something needs to be talked about.
What do you hope for Galerie Youn in the future?
I hope I can keep doing what I do in a bigger scale space, working with different top curators to exhibit interesting international artists. I also have a few plans for some really good surprises in the coming years – you just have to wait and see.
Check out the Galerie Youn website here. Check out the upcoming exhibition at this link. Here is Galerie Youn on Instagram.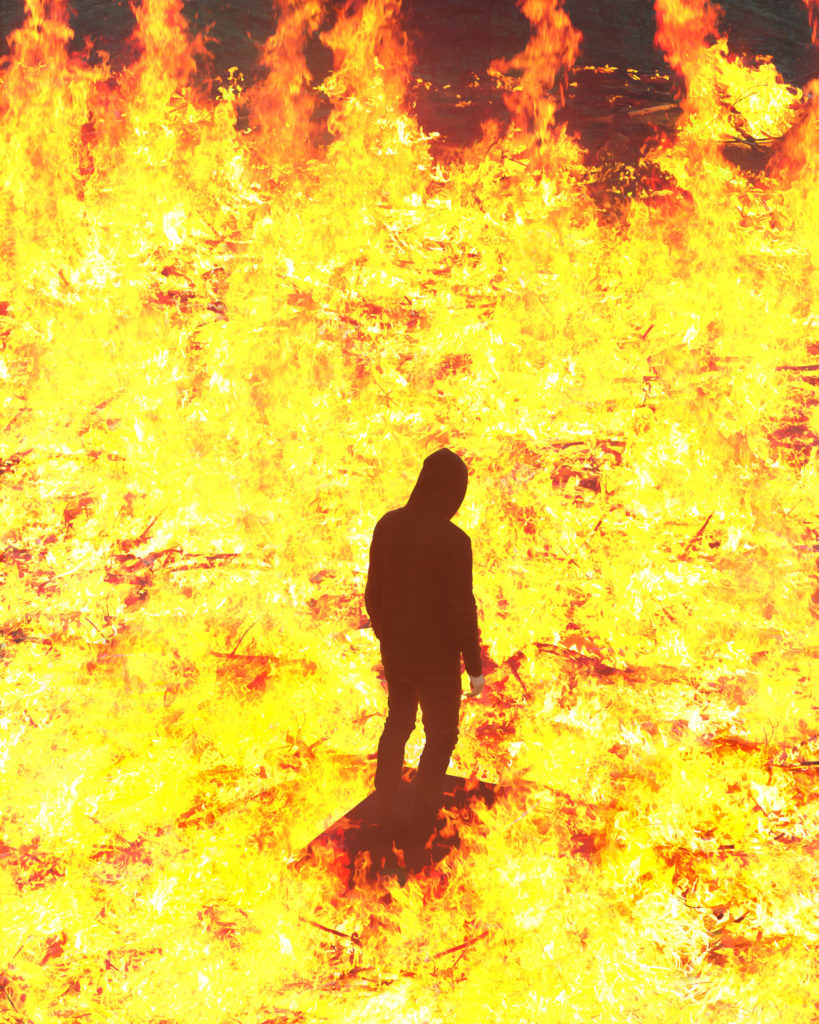 Sean Mundy, Barriers I, Digital Photograph, archival print, courtesy of the artist and Galerie Youn